Have you always wanted to try a Burga phone case but are curious if they're any good? We're here to help! Here, we'll discuss Burga phone cases in depth, including their key features and the benefits of owning one.
By the end of this article, you should have all the information you need to make an informed decision about whether or not you want to get your hands on one of these cases!
The best way to keep your phone safe is to put a protective case on it. However, for the specifics, we will talk about Burga's.
Burga is a modern, stylish brand that designs cases for the protective and fashionable phone that helps you express yourself. They offer over 100 designs, so you'll have a look for any mood. For this reason, I give them 10 points in the style department. I've always found them to have cases to suit my taste, no matter what I do.
Table of Contents
Burga Phone Case Review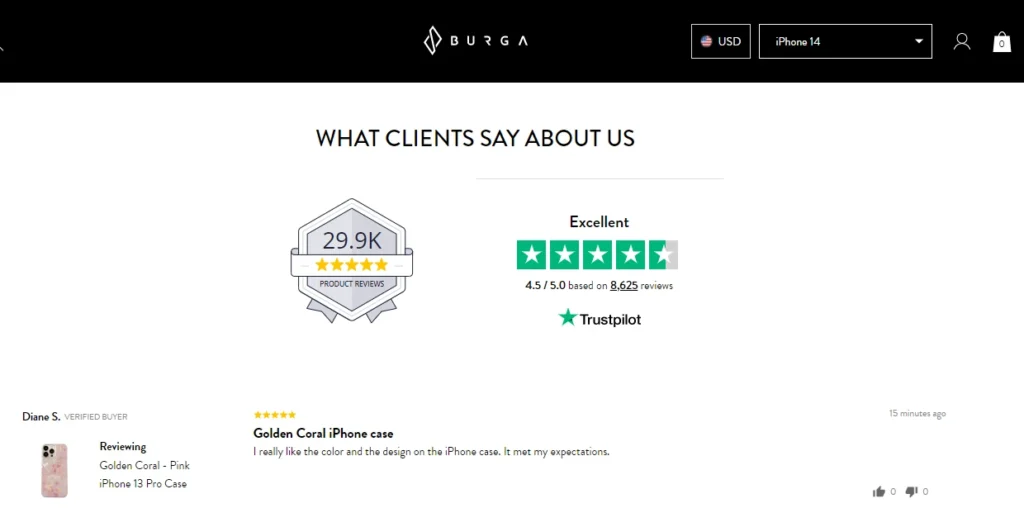 BURGA is a leading European fashion and lifestyle brand to empower and inspire people to express their style with our premium tech accessories. They sent us over two cases for the iPhone 12. The products look quality, and there is a variety of many types of phone models.

The first product for discussion is a classy-looking marble case for the iPhone 12. As the saying goes, if you buy cheap, you will buy twice.
You will only find a little when reviewing phone cases other than discussing the quality and the type of materials. After reading many case reviews on this site, it is easy to spot quality compared to cheap cases. These cases are a rate buy and look great on your phone.
With ports that work well and offer the best protection, you can find if the phone happens to fall. With so many colors and designs, you'll get exactly what suits your taste without worrying about anything else. What's more? Their service is second to none as they always go out of their way to ensure everything runs smoothly, whether by answering queries or sending refunds promptly if an order doesn't arrive.
Design
I'm an EXTREMELY visual person. I prefer pretty things and like them to match my daily style, including my accessories. In one fell swoop, I went from looking at Instagram ads to getting pulled in by the almond latte case, which is the beige leopard print case.
From there, I strolled into the new Shades of Earth collection, where I found my beloved So Lush case with all the Beverly Hills Hotel vibes that suit me best. Once I saw that these cases had a matte finish, it was hard for me to stop browsing. After swiping through photos on Instagram and making this post, Burga has so much more to offer than just phone cases!
Ease of Use
The snap case is my favorite choice. Why? I use my phone without much care, and I keep it in my pockets most of the time, and this ultra-fit, lightweight phone case is perfect for my needs because it won't bulk up my already max-sized phone! It snugly fits over the edges, protecting your phone's screen when the device is placed face down.
It also has a raised bezel that protects your screen from being shattered if the phone falls face down. Besides its fitting design, another thing I love about this case is how secure it feels in my hand – the texture on its back makes it easy to grip with wet or dirty hands.
Different designs are available so that you can choose one based on your preference. And since it comes in five colors (white, black, blue, pink, and green), you're guaranteed to find something you like.
In addition to this phone case review, I've gathered some more information about Burga for all interested.
Protection
This is what I meant when I said Although the silicone layer and plastic layer can be separated – you cannot put the plastic case on by itself, as it is different sizes. I also said you could not put a Snap Case on top of the silicone layer made for Tough Cases due to size. I hope that this is clearer!
The protection does not just come from the silicone layer alone- it's about using both together so that you are covered all over. When I say safety, I mean how well-protected your phone will be. If there were no protection at all, then the only thing keeping your phone safe would be its glass screen.
If you use a thick enough piece of glass, which some phones have already adopted in their design (such as Samsung), if there were an impact from an object or person hitting it head-on, then there would be no problem at all with protecting your device.
Price
The Snap Cases are $25.95, and the Tough Cases are $31.95. Since phone cases can be so expensive, these cases are well priced for what you get and high quality. They are having their mid-summer sale, which provides double the products at no extra cost with your purchase.
With this offer, customers will receive two of each product they order. Plus, shipping is free in the US! That's amazing! If you're looking for a phone case that isn't going to break the bank but has top-notch quality, Burga may be the company you've been looking for.
Overall Thoughts on BURGA
I was impressed by the care BURGA put into designing each of their items, considering usefulness, durability and convenience.
For example, its easy-to-access buttons when using a phone case or its rubber around the ring holder really makes it worth the purchase.
Be sure to check out the BURGA website if you need any of these items. Additionally, regardless of your country of residence, you don't have to worry as they ship worldwide.
With a soft silicone inner layer and a hard plastic outer layer, this case will protect your phone without losing style!

It's an excellent case for travel or any other time you'll have your phone out and are on the go. It's also great for people who prefer slimmer chances. Every time I go somewhere, I usually take a million pictures. If you take your phone in and out of your purse frequently, it is more likely to fall.
It's the perfect time for one of these challenging cases! The Burga case offers protection for your expensive device, and its sleek design keeps you looking good no matter where you're going.

I'm also impressed with how thin it is – about 1/4 inch thick! Most slim cases range from 1/8 to 3/4 inches wide, so this fits my needs perfectly.
SNAP or TOUGH?
So I'm telling you, they have a variety of designs and two phone cases: SNAP and TOUGH.
Made of a single hard plastic, the snap case retains your phone's original shape and style, is perfect for coffee dates, and is thin and slim. Plus, it also has a raised edge to guard against screens and cameras.

On the other hand, the TOUGH case has an inner layer of silicone to keep the phone in pristine condition while having full access to the buttons and ports. It also comes with a protective bumper, a layer of hard plastic with a premium design, and a raised screen protector of 1.2mm.

I suggest the TOUGH version, designed to endure rough treatment and last long enough to accompany the wearer anywhere they need it.

We should talk about these extras that made me fall in love with Burges. They include glossy, high-quality prints that are resistant to scratching or fading. Suppose a faulty product is returned within one year of purchase. In that case, you will be sent a replacement free of charge, and their customer service department is always ready to help you.
The Basics of BURGA
One of my phones is for work, and the other is for personal use. The personal phone I have is like my work phone. I use it to read, email, shop, text, take pictures, etc. I use it to read, email, shop, text, and take pictures. The loss of it would be a massive inconvenience for me. It would be even worse if the damage could have been prevented by simply having a case and screen protector on the phone.
Plus, I need my phone to be as stylish as the rest of my wardrobe. But after looking at all the cases out there, they all look the same. I don't want something boring and predictable; I want something that expresses my personality. So when one of my friends recommended Burga's phone cases, I was intrigued.
My Favorites from BURGA
It all sounds fantastic on paper, so I have chosen two of my favorites to highlight because they are simply stunning!

The perfect marriage of two things I love – marble and green – is the Emerald Pool phone case. Whenever I use it on my phone, I get complimented on it. In addition to being lovely and sumptuous, this model offers durability and protection from my phone.

Drifting Shores is easy to get on. The line-art-inspired design reminds me of topographical maps. Because I travel, maps, and my favorite combination, it is perfect. As someone who enjoys traveling and using a map, I must have a new case with a map theme. The topographical map trend was popular in the 1940s but has only recently come back into style again.

If you want your device to be protected and look great, these cases are for you.
What is BURGA?
From loungewear to rain jackets to swimwear to sneakers, BURGA's innovative takes on everyday clothing and accessories have made people eager to see and wear them.
They offer phone, MacBook, and tablet cases, AirPod cases, and travel mugs. Alongside accessories for keeping your phone charged and protected.
They take pride in manufacturing high-quality products and delivering them directly to you.
The folks from BURGA sent me three of their items to test out.
BURGA Shewolf – iPhone X / XS Case Review
I am still using my trusty old iPhone X and always looking for a protective case for it. BURGA offers two different case types, one being the snap design and the other the tough case. I have dropped my phone on so many occasions that I consider having a sturdy case essential.

Although this is a stricter phone, the clever design allows all buttons to remain accessible, even if the wireless charger can't be used.

The BURGA website features 121 different case types. Feel free to choose one that you enjoy because you are sure to find at least one that will satisfy your tastes.

This case has kept my phone safe despite a whole month's worth of misadventures and a few drops. It's also in entirely better shape than I expected it would be.

Phone cases are 20% off, costing £17.95 for a snap case and £26.95 for a tough case. Also, on a buy, two get two free offer.
Burga Phone Case Video Review
Conclusion
So if you're looking for a reliable case that will keep your phone safe from drops, the Burga case is a solid choice. It comes in all sorts of colors and designs, is made of durable materials, and has an affordable price tag.
Plus, it's backed by a lifetime warranty! If you're looking for something more stylish or fancy, this may not be the right option. However, if safety and affordability are top priorities on your list, then this is perfect! Keep scrolling to learn how to get 15% off your purchase today!
Also read : JB Dillon Boots Review: The Best Boots for Any Occasion
Instastyled Reviews: Don't Order Until You Read This
Raw Sugar Deodorant Reviews: Is it Worth the Hype?
Marriedbutlooking.dating Reviews – Everything You Need to Know
Lalo High Chair Review – A Mom's Perspective
FlyCurvy Clothing Review – The Conclusive Guide
Deane and White Cookware Reviews: Top Picks for Every Budget
Burga Phone Case Review: Everything You Need to Know
Betmatter Store Reviews: Is Betmatter Safe? Scam or Legit?
Secret Lane's Bare Bralette Reviews: Flattering and Feminine
Quick2Lend Reviews: Everything You Need to Know
Kiddstore.us reviews – What you need to know before shopping
Clay Advisors Reviews: Everything You Need to Know
Love Bonito Review: Everything You Need to Know
Revel Propulsion Review – Everything You Need to Know