Are you looking for a revolutionary golf shoe that will change the game? Look no further than Sqairz Golf Shoes. These shoes are making a huge splash in the golf industry with their unique design and innovative features. In this post, we'll review the Sqairz Golf Shoes and see if they are the next wave of golf footwear. 
We'll explore what makes them stand out from the competition and why they may be the best choice for serious golfers. So, let's look at the reviews of the Sqairz golf shoes and find out if they are worth their price tag.
Table of Contents
Sqairz Golf Shoes Intro
The Sqairz Speed golf shoes were released in 2020 and quickly made an impression with their unique square-toe shape. Designed to provide golfers with improved performance and excellent stability on the course, these shoes offer a range of features to help you gain that extra edge. 
The broad base of the shoe provides enhanced balance and stability, allowing for increased power and distance in your shots. With Sqairz claiming up to eight yards of extra distance, these shoes are perfect for golfers looking to boost their performance. The breathable mesh fabric and cushioned midsole ensure a comfortable fit and plenty of support throughout your round.
The Features of Sqairz Golf Shoes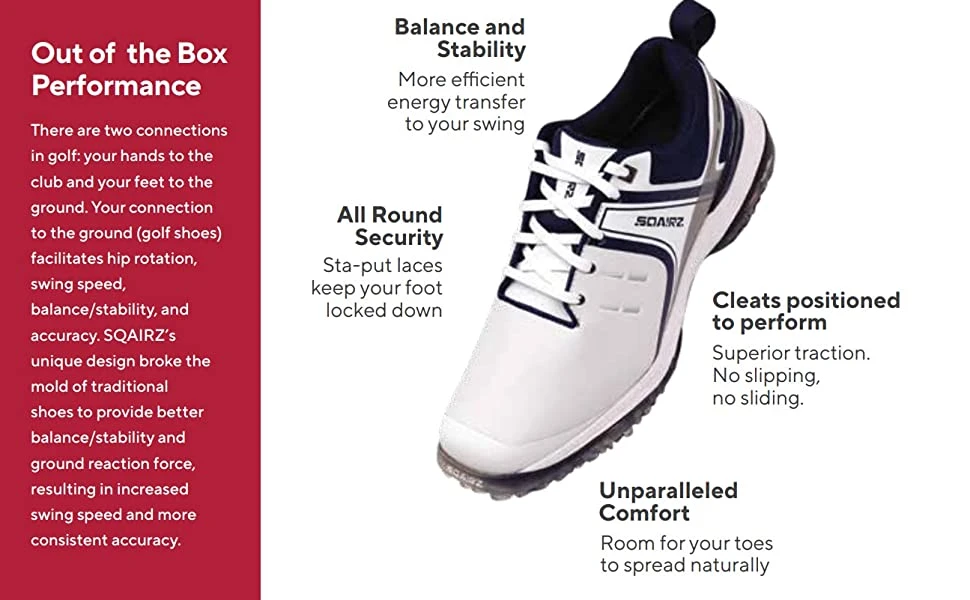 Sqairz golf shoes have unique features that make them stand out from the competition. Their square-toe design creates a broad base for unmatched stability while you're teeing off or playing through the rough. 
The exclusive strategic design keeps your feet on the ground and helps to improve your balance so that you can play with greater precision. 
A TPU heel stabilizer runs from the back of your foot into the arch to help keep your feet planted when you're swinging. This gives you more control over your shots, making it easier to hit the ball where you want it to go. 
Finally, the shoes are designed with comfort in mind, cushioning, and breathability to help keep your feet comfortable during even the most extended rounds of golf.
Sqairz Golf Shoes Review In Depth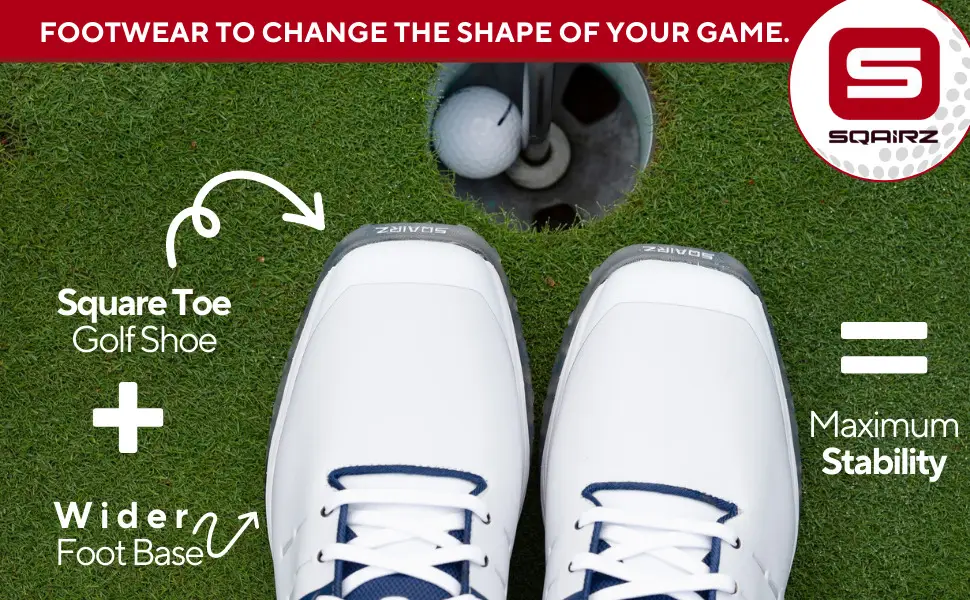 The Comfort
We were pleasantly surprised about the comfort of Sqairz Speed golf shoes. Despite the unique shape, they are comfortable to wear. 
The fit is true to size, and the cushioning is nice. We gave them a comfort rating of 6 out of 10, higher than many of the other shoes we tested.
The shoe's upper part is well constructed and made from a lightweight and breathable material that allows your feet to stay calm and comfortable during those long rounds. 
The tongue is padded, and the laces are robust and keep the foot snugly in place. The midsole is made of EVA foam which provides cushioning while still keeping the weight of the shoe low.
Overall, the comfort level of the Sqairz Speed is excellent, and we recommend them to anyone looking for a comfortable and supportive pair of golf shoes.
The Stability
The stability of the Sqairz Golf Shoes is second to none. These shoes feature a unique two-piece sole system that provides exceptional balance, stability, and grip. The midsole is made from lightweight EVA foam that is supportive and flexible, while the outsole features an advanced rubber traction pattern that provides maximum grip on all terrain. This combination ensures that you remain planted during your golf swing, helping you to maintain control throughout your game.
The midsole also features a flat profile, which helps to promote natural foot movement and reduce the risk of ankle sprains. This flat profile also helps to prevent fatigue and discomfort in the feet and ankles during long rounds of golf. Furthermore, the midsole's design allows for increased flexibility and mobility, enabling you to transition quickly between swings.
The Sqairz Golf Shoes are incredibly stable and will help you stay firmly grounded throughout your round. With this footwear, you can enjoy the peace of mind that comes with knowing that you won't be sliding around or losing your footing during a swing. The advanced technology of this shoe provides unbeatable stability and is perfect for any golfer who needs reliable support on the course.
The Performance
Regarding performance, the Sqairz Golf Shoes are not slouch. They have unique cushioning technology and a uniquely designed sole with an elevated toe design. This combination offers excellent traction while allowing you to move your feet efficiently and sustainably. 
The sole has extra grip and flexibility, helping golfers to stay firmly planted when swinging.
The elements rating is essential in determining how well a shoe will perform in wet weather. 
The waterproof warranty of two years is another central selling point for Sqairz Golf Shoes. This allows you to wear the shoes even if you're a dew sweeper, as the water won't be able to penetrate through the waterproof material. The durable uppers are also designed to last longer than many other golf shoes.
The Traction
The traction of Sqairz Speed golf shoes could have been better. With a rating of 14 out of 30, it's clear these shoes aren't the best for gripping on the course. The main issue is likely due to the wide sole, which makes it hard to create a slip-proof design in wet or rough conditions.
The Sqairz Speed's traction was average at best compared to other golf shoes. They don't have any particular design features to give them a better grip, so consider other golf shoes if you need more traction in wet or slippery conditions.
The Look
The Sqairz Golf Shoes is an athletic-looking shoe with a sleek silhouette. The toe of the shoe is sharp, while the lacing system provides a snug fit. The Arrow is a more traditional-looking golf shoe with a classic wingtip design. 
The upper is made of synthetic leather and perforated for breathability. Both shoes feature the Sqairz logo on the heel, which gives them a sporty touch.
The Sqairz Golf Shoes have been designed to help maximize performance while still looking stylish on the course. The upper is lightweight and comfortable, and the bright colors add a modern edge to your look. The Arrow is a timeless design that will never go out of style. The subtle details make it stand out from other golf shoes on the market.
Also Read

Apothekary Reviews – Everything You Need To Know

Clove Shoes Reviews – Everything You Need To Know!
The Pros of Sqairz Golf Shoes
One of the significant advantages of Sqairz golf shoes is their heel stabilizer, which helps to provide a more natural range of motion and excellent stability during your swing. 
Their two-year waterproof guarantee further complements this, so you can be sure your shoes will last a long time.
The midsole of Sqairz golf shoes is made of an EVA foam that helps to cushion your foot and make the ride much more comfortable.
The foam also helps to increase your swing speed, and the patented square toe ensures a better connection to the ground for more control and power.
The shoes also come with Pivix Softspikes for improved traction and stability. This makes them ideal for playing on any terrain or weather. 
In addition, the shoes are being used by some of the top golfers on the PGA Tour, including Justin Thomas and Henrik Stenson.
Also Read –

The Ultimate Alt Fragrances Review: Everything You Need To Know

Wander Prints Reviews – Is Wander Prints Legit?
The Cons of Sqairz Golf Shoes
One of the main drawbacks of Sqairz Golf Shoes is the somewhat unusual look that comes from their square-toe design. 
While some golfers may find this design appealing and refreshingly unique, others may find it too far out of the ordinary. 
Additionally, due to the level of stability and support that Sqairz Golf Shoes offer, some golfers may have better choices. 
If you prefer a less structured shoe or enjoy the feel of a more traditional golf shoe, then pass on Sqairz Golf Shoes.
Also Read

Joggo Reviews – Is This Running App Legit? ( Complete Guide)

Shapellx Reviews: Is The Body Shaper Legit And Worth Trying?
Should You Buy Sqairz Golf Shoes?
So, should you buy Sqairz golf shoes? If you're the type of golfer who appreciates having the edge on the course and wants a shoe that provides stability and comfort, then yes.
The shoes are designed with advanced technology to help you maximize your game, so if you're looking for something that will give you an edge, then Sqairz is worth considering.
Plus, with the comfort and stability provided, you'll be able to play for longer, allowing you to up your game. And when it comes to golf, every little bit counts.
Also Read

Cymbiotika Reviews – Is Cymbiotika Legit? Everything You Need To Know
Is Sqairz Golf Shoes Worth It?
When it comes to golf footwear, it is essential to ensure that you invest in quality shoes that will help improve your game. Sqairz Golf Shoes offer great features and performance that could be worth the investment.
The traction of Sqairz Golf Shoes is impressive, allowing you to find grip on even the slickest of surfaces. They also offer a unique look that can turn some heads on the golf course. The stability provided by the shoes ensures that your feet stay in place and helps you maintain balance throughout your swing. 
The comfort level of Sqairz Golf Shoes is also noteworthy. The lightweight design allows your feet to breathe and stay cool in hot weather, while the cushioning system helps to absorb shock during contact with the ground.
Overall, Sqairz Golf Shoes offer excellent performance and features that could be worth the investment for any golfer looking to take their game to the next level. They provide the necessary stability and traction for optimal play, and the comfort and looks to match. For those looking for a new set of golf shoes, Sqairz Golf Shoes are undoubtedly worth considering.
Also Read

Mysafebox Reviews: Everything You Need To Know

Dimprice Review: Is Dimprice Legit?
Sqairz Golf Shoes Reviews by Customers
Sqairz Golf Shoes are getting rave reviews from customers. According to the reviews on Amazon, the shoes have 4.3 out of 5 ratings, with 74 global ratings. Customers love the innovative design and features that make Sqairz stand out in the golf shoe market.
Customers praise the stability, traction, and comfort of the shoes. They note that the shoes are lightweight, breathable, and have excellent grip on the greens. Many customers have also commented on the stylish look of the shoes and that they feel like they are wearing performance sneakers while playing golf.
The feedback on the stability of the shoes is significantly positive. The heel and midfoot are incredibly stable, making it easier to maintain balance during a swing. The unique sole design helps to provide better traction for enhanced control, and many reviewers say they feel more secure during their swings.
Regarding comfort, customers report that the shoes are very comfortable and supportive. They also mention that the shoes are very lightweight and breathable. This makes them great for walking a course, as well as for playing a round of golf.
The Sqairz Golf Shoes have earned glowing reviews from customers. With their innovative design, superior traction and stability, and comfortable fit, these shoes offer an excellent option for any golfer looking to upgrade their footwear.
Also Read

Evri Reviews: Everything You Need To Know About Evri Courier

Ecoquest Heater Reviews – A Comprehensive Guide
The Verdict
Sqairz Golf Shoes are the next wave of golf footwear and provide excellent performance, comfort, and stability. They are designed to reduce foot fatigue and maximize power and accuracy with every swing. 
The shoes come in an attractive design with a stylish look sure to turn heads. Despite their positives, there are some cons, such as the comfort level and the traction on wet surfaces. 
Overall, if you are looking for an advanced golf shoe that offers top-notch performance, then Sqairz Golf Shoes are worth a try. Features like removable weights, increased stability, and maximum power offer an unmatched level of convenience and performance on the course.
Also Read

Fruugo NZ Reviews – Is Fruugo NZ Legit?
Also Read

Shein NZ Reviews – Is Shein New Zealand Legit?

Samsung Galaxy S23 Ultra Review: The Best Smartphone Yet?
Also Read

O'malleys On Fourth Reviews: Is It Worth Your Time & Money?

True Classic Tees Review: Is It Worth Your Money?
Also Read

Snaptravel Reviews: Is SnapTravel (Super Travel) Legit?

Traveluro Reviews – Is Traveluro Legit? Our In-Depth Review

Airmoto Reviews: Is This Air Pump Legit & Worth Your Money?

Mirifica Bust Serum Review – Is It Truly The Best Breast Serum?