JB Dillon boots are the best for comfort, durability, and versatility. They come in different styles that fit just about any occasion and efficiently meet all weather conditions. Whether looking for tall leather boots, steel-toed boots, or hunting/fishing boots, JB Dillon has what you need. Here's my review of these boots to help you decide whether they're right for you!
No matter what type of boots you're looking for, JB Dillon has something to fit your needs. Our high-quality leather boots are great for hiking or taking to the office, and our work boots can last for years at any job site. Take a look at what JB Dillon offers and see how we can change how you think about boots! From stylish to practical, we have everything you'll ever need. And even if you're still looking to buy boots, that's okay!
A Bit About JB Dillon Boots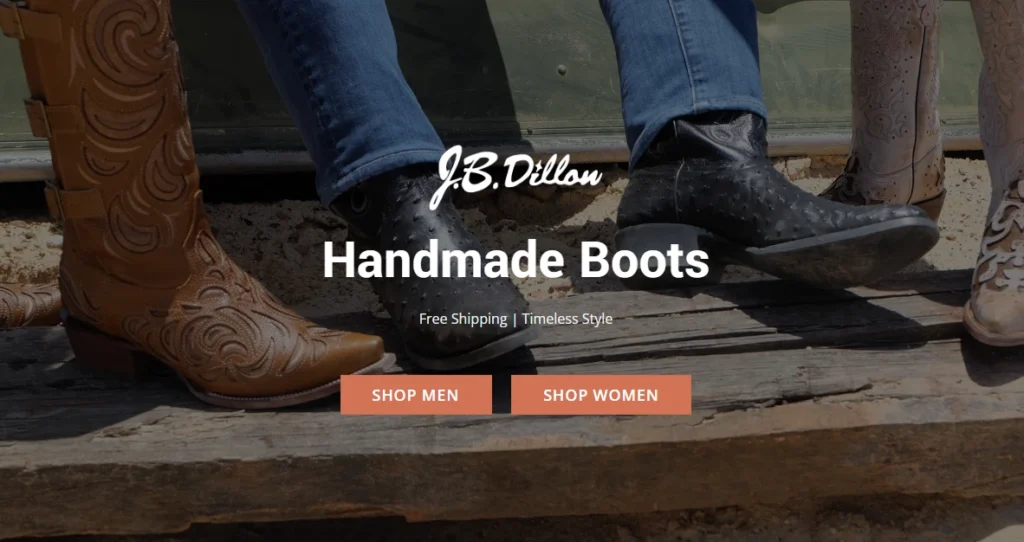 Boots manufactured by J.B. Dillon are handcrafted in Leon, Mexico. I'd rather have boots handcrafted in Leon than ones manufactured in China. These days, many well-known boots are made in China – Ariat, Justin, and Tony Lama are a few of them.
Leon has a proud history of leather manufacturing for decades, and its skilled artisans manufacture excellent shoes, boots, and jackets. Your boot will be of the highest quality, so you can return it if you don't like it. Mexican boots and American boots are virtually indistinguishable.
ABOUT J.B. DILLON RESERVE
With 72 pairs of boots, a storefront in Youngstown, Ohio, and a dream in 1978, Rick Blase was 23 years old.
The quality western boots, quality customer service, and a wide range of selections made Rick's Ranchwear a success.
Aiming to maintain the quality his customers had come to expect, Rick set out to find the best boot manufacturers in the world in 1992.
While searching, he found León, Mexico, where Rick and his team employed only the best high-quality materials, having boots crafters put everything together in perfect harmony. Thus, J.B. Dillon was born.
With one million pairs of J.B. Dillon boots manufactured and sold in retail stores, we're focused on ensuring the same outstanding experience is available to our online shoppers. This dedicated team of passionate boot professionals is based in the U.S.A. and is proud to ship to all 50 states.
Rick, the Head Executive? He's still running the show, ensuring customers come first every day.
Why You Need a Good Pair of Boots
It's no secret that a good pair of boots can be the difference between looking like you stepped out of a fashion magazine and out of a mud puddle. For the woman who needs to look polished from head to toe but still wants to be able to kick up her heels at the end of the day, we have just what she's been looking for. JB Dillon Boots offers stylish boots in various colors and styles that are perfect for any occasion.
Whether you need something dressy for your office, comfy for your commute, or edgy for your night on the town, there is something here for everyone. These waterproof and non-slip boots come with an easy pull-on strap and cushioned footbed, so they feel as good as they look.
What to Look for in a Boot
A boot is a great item to have on hand year-round. That way, you're prepared when the weather changes and you need a new pair of shoes. There are so many different types of boots out there it can take effort to figure out which one is right for you! But don't worry! I will explain all the different things you need to know about boots.
What type of material will they be made from?
How much do they cost? – What color should I get?
How tall should they be?
Do I need them to be waterproof or insulated?
If these questions sound like something you've been wondering about, then let me help. Keep reading, and I'll answer each question one by one!
The JB Dillon Boot Collection
The J.B. Dillon Chambers offers an array of high-end products, including full-quill ostrich leathers in Chestnut (pictured here), Midnight, and Desert Siena. Orders ship free of charge, and if you're unhappy with your purchase within 60 days, returns are free. The packaging and the display are of a first-rate standard. The Chambers are priced at $395. Prices start at $209.
Ladies who like shoes of all shapes and styles will find what they're looking for in J.B. Dillon's full line of Women's boots, ranging from simplistic styles to the outright crazy. I am the owner of a pair of Desert Willow.
Why Choose JB Dillon Boots?
A word of advice when shopping for boots, don't be tricked into thinking they will be comfortable once they break in. Though leather soles may be stiff, to begin with, a good leather boot shouldn't be painful to walk around the store in.
Would you purchase a shoe that doesn't fit? In this case, why buy expensive boots that won't be comfortable if they hurt while they're on your feet? They'll hurt months down the road as well.
My new boots arrived quickly, they were easy to put on, and I could wear them comfortably from the first day I tried them on!
By buying a pair of our J.B. Dillon Reserve boots, you're saving money because there are no salespeople to pay, no janitors to sweep the floors, and no electricity bill to pay.
Additionally, we're still offering the same J.B. Dillon Reserve levels of fit, finish, leather quality, and handmade style.
For less than half the cost of other brands, you can get the quality of J.B. Dillon Reserve boots.
The reason? Everyone should have great boots, and you shouldn't have to spend an arm and a leg on them.
JB Dillon Boots Review – Conclusion
I am impressed with JB Dillon boots when it's all said and done. They are handmade in Leon, Mexico, the cowboy boot-making capital of the world. Good boots can be found at the workstation of Justin, Tecovas, and tons of little-known brands.
These boots are inexpensive for the quality of their materials and their hand-craftsmanship and include shipping. They offer a refund if needed.
On the other hand, the name JB Dillon is fictional; there is no Wikipedia page on famous Westerners, the Westerner Hall of Fame, or the Rodeo Hall of Fame. Several other boot brands also bear the names of once-famous cowboys, which is why I looked in these places for the word's origin.
Also read :
Instastyled Reviews: Don't Order Until You Read This
Raw Sugar Deodorant Reviews: Is it Worth the Hype?
Marriedbutlooking.dating Reviews – Everything You Need to Know
Lalo High Chair Review – A Mom's Perspective
FlyCurvy Clothing Review – The Conclusive Guide
Deane and White Cookware Reviews: Top Picks for Every Budget
Burga Phone Case Review: Everything You Need to Know
Betmatter Store Reviews: Is Betmatter Safe? Scam or Legit?
Secret Lane's Bare Bralette Reviews: Flattering and Feminine
Quick2Lend Reviews: Everything You Need to Know
Kiddstore.us reviews – What you need to know before shopping
Clay Advisors Reviews: Everything You Need to Know
Love Bonito Review: Everything You Need to Know
Revel Propulsion Review – Everything You Need to Know