If you've wondered if Vessi shoes are worth your money, this Vessi Shoes Review is for you. With their unique waterproof design and lightweight construction, Vessi shoes have quickly become popular for those looking for comfortable and stylish footwear. 
We'll look at the features and benefits of these shoes and the pros and cons of owning a pair of Vessi shoes. Read on to find out if these shoes are worth your money!
Table of Contents
What is Vessi?
Vessi is a Vancouver, B.C., headquartered startup that makes waterproof footwear and other accessories. Founded in 2018 by Andy Wang, Tony Yu, and Mikaella Go, the company has quickly become a household name in the waterproof footwear industry. They aim to create waterproof, stylish, comfortable, and breathable shoes. 
Their name comes from the Finnish term for water, and they achieved success with their first kickstart campaign, raising over $1 Million. Since then, they have developed a range of stylish, comfortable, and waterproof shoes, making them one of the most popular brands in rain-soaked cities like Vancouver.
Which Vessi Sneaker is Right for You?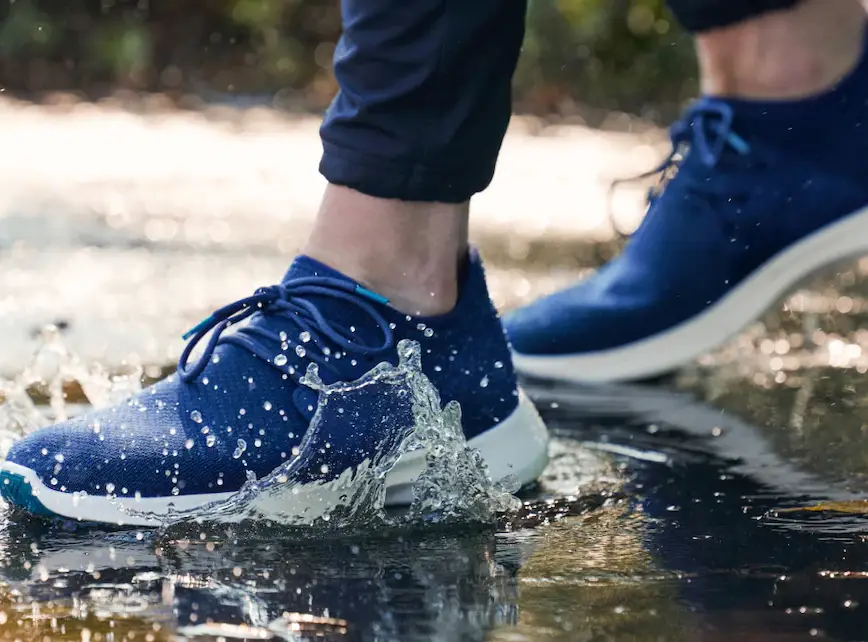 Are you looking for the perfect Sneaker to keep your feet dry in all weather? Vessi shoes are the answer! Vessi is a Canadian footwear brand specializing in waterproof sneakers, making them ideal for various activities and climates. But with so many options, how do you know which Vessi sneaker is right for you? 
The Cityscape Sneaker is perfect for a relaxed day inside or out on the town. Its unique sole design allows maximum stability and flexibility, making it an excellent choice for everyday wear. For those days when you need protection from the elements, the Everyday Sneaker has covered you. It has a water-resistant upper and extra insulation to keep your feet dry and comfortable even in unpredictable climates. 
And if your day requires walking, running, and general adventure, the Weekend Sneaker is just the ticket. Its breathable upper and shock-absorbent sole make it ideal for errands and hikes. 
Regardless of your planned activity, Vessi shoes have the perfect Sneaker to keep your feet dry and stylish. 
Whether you're looking for an everyday casual shoe or something to tackle the great outdoors, Vessi has you covered. So go ahead and explore your options, and find the Vessi Sneaker that's perfect for you!
Vessi Shoes Materials Review
Vessi Shoes are made from water-based synthetic materials, a modified polyurethane four-way knit material, and engineered suede and leather. 
The shoes are 100% vegan, including the glue that sticks everything together. They are also ultra-lightweight and collapsible, making them ideal for travel.
The shoes are 100% waterproof thanks to their Dyma-tex material, which is waterproof and breathable—the Herringbone grip soles channel water out for better traction. Additionally, the antibacterial insoles keep feet healthy and comfortable all day long.
Vessi Shoes Sizing & Fit Review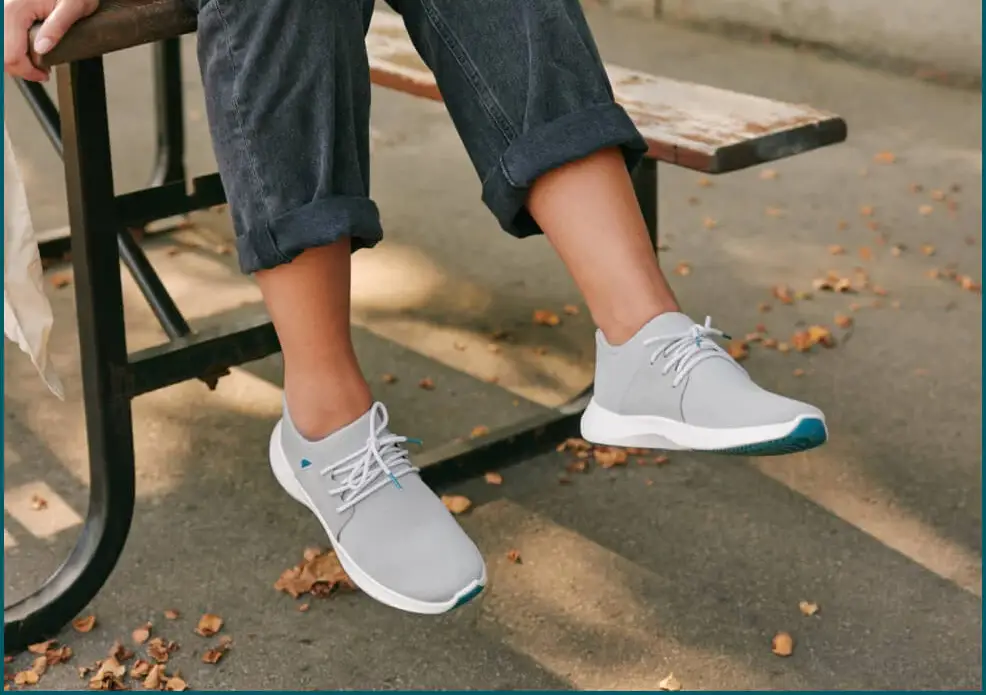 Vessi shoes are comfortable right away and run wide, so they're best suited for people with wider feet. If you have narrow feet, they may feel a bit big. Vessi has a helpful sizing chart page on their website, but here are some tips to help you find the right pair of shoes:
• Measure your feet: Use a ruler to measure your feet and determine your size.
• Go up half a size if you have wide feet: If your feet are on the broader side, it's best to go up a half size. This will ensure your shoes have enough room to move around and not be too tight.
• Check reviews: Read reviews from customers who have purchased similar sizes to you to get an idea of how a particular style fits. 
• Get help: If you're still unsure, don't hesitate to contact customer service for more advice.
Vessi Shoes Wear & Feel Review
Regarding wearability, Vessi shoes are some of the most comfortable on the market. They provide a lightweight and breathable design, allowing you to go sockless without sacrificing comfort. 
The materials make them incredibly lightweight, so you don't feel weighed down while keeping your feet dry in all conditions. 
Their water-resistant construction also makes them ideal for any outdoor adventures, so you can be sure you won't end up with swamp feet at the end of the day. 
Overall, Vessi shoes offer a great combination of breathability, comfort, and durability, making them perfect for travel and everyday wear.
Vessi Shoes Pros
Vessi Shoes are an excellent choice for a waterproof, stylish, and comfortable shoe. 
The patented technology ensures that your feet stay dry in wet weather, and you don't need to wear socks. 
The muted colors are attractive and perfect for city travel, making them an excellent choice for all kinds of trips. 
The shoes are also highly comfortable, so you can wear them all day without feeling uncomfortable.
Vessi Shoes Cons
If you're looking for a pair of shoes your size, there may be better choices than Vessi Shoes. This is because they don't offer any half sizes, so if you're somewhere between two sizes, you won't be able to find a perfect fit.
Also, suppose you have a latex allergy. In that case, Vessi Shoes may not be suitable for you since they contain some latex in their construction. The material used in Vessi Shoes is made from water-resistant microfiber containing some latex.
Narrow-footed people may also find that Vessi Shoes are too wide for them as the soles of these shoes are pretty comprehensive. You may opt for another brand or style if you have narrow feet.
Another con of Vessi Shoes is that they need to come with care instructions. It can be hard to know how to clean and care for them if you don't know what materials they are made of and how to handle them properly.
Lastly, not all of the Vessi Shoes are machine washable. Some models can only be hand washed, so read the label carefully.
Vessi Shoes Reviews 
Vessi Everyday Sneaker Review
The Everyday Sneaker by Vessi is the perfect combination of style and function. The shoes are lightweight and waterproof, making them perfect for anyone who needs a reliable pair of sneakers. 
They also come with extra arch support and sporty soles to stay comfortable while out and about. They come in four stylish but subdued colors that easily match any outfit. 
These shoes are ideal for the urban traveler or the light hiker and keep you dry and safe no matter the terrain you're walking on.
Vessi Cityscape Review
The Vessi Cityscape shoes are stylish, minimalistic, lightweight lace-ups, perfect for work or travel. They come in three classic colors, grey, black, and white. 
They are made of knit material with a 100% waterproof design to keep your feet dry without sacrificing style. 
These shoes don't have the same arch support and traction that the Everyday series offers. However, they're still great for predictable pavement or indoor environments.
Vessi Weekend Review
The Vessi Weekend sneakers are a great addition to the Vessi shoe line. They have all the features of the other shoes but with a unique and stylish silhouette. 
The wider toe box is great for those with wider feet, and the molded insoles, pull tab, and rubber thread provide extra support. Best of all, they're machine washable! 
They look great dressed up for going out, and their breathability is outstanding. All in all, these shoes are perfect for a comfortable and stylish weekend!
Vessi Everyday Move Slip-On Review
The Vessi Everyday Move Slip-On is the perfect shoe for those who want to get out the door quickly without having to deal with laces. Whether running errands, taking a stroll, or running to catch a train, this slip-on will have you out the door in no time.
In terms of comfort, these shoes offer the same technologies that the other Vessi models boast. They are breathable, lightweight, and waterproof—allowing your feet to stay comfortable throughout your day. The slip-on also features an EVA midsole which helps reduce fatigue and keep your feet comfortable while standing or walking for long periods. 
In terms of style, the Everyday Move Slip-On has a classic silhouette that pairs well with casual or semi-formal looks. The options for colors and patterns range from muted neutrals to bold prints. So, no matter what look you're going for, you can find a slip-on that will match your outfit perfectly. 
If you're looking for a shoe that will quickly get you out the door and keep you comfortable throughout your day, the Vessi Everyday Move Slip-On is a great option. This shoe will become your go-to footwear choice with its waterproof technology, supportive EVA midsole, and stylish designs.
How to clean Vessi Shoes?
For all Vessi styles, the best way to keep them clean is to wash them by hand. Gently brush away dirt and debris with a toothbrush and then spot clean with a mild detergent. Rinse with warm water and allow to air dry completely. 
For the Weekend Collection, remove the laces and insoles before using cold water in a washing machine. Avoid tumble drying and lay the shoes flat to air dry. For more detailed instructions on how to clean your Vessi shoes, visit the FAQ section on their website.
Where to buy Vessi shoes?
You can buy Vessi shoes directly from their website, which is the most convenient way to purchase them. You can also find their products at certain retailers, including Nordstrom, DSW, Amazon, and Backcountry. 
They also have occasional pop-up stores in select cities. If you live in one of these cities, this is a great option to try on the shoes before buying.
Can you buy Vessi shoes in stores?
Yes, you can buy Vessi shoes in stores! Vessi has one brick-and-mortar store at Metropolis in Metrotown, Vancouver. 
So if you live in the Vancouver area, you're in luck! You can now go to the store and try on a pair of Vessi shoes to determine if they are the right pair.
My thoughts on Vessi Shoes
Having almost 5-star ratings on every style on their site, Vessi has become the go-to brand for waterproof shoes. They're lightweight, breathable, and make you feel like you're walking on clouds. Perfect for daily routines and traveling, these shoes are an excellent option for anyone looking for comfortable, stylish shoes that will keep them dry in all weather conditions. 
Although perfect for everyday wear, these shoes were not designed for high-intensity activities. So if you're looking for something to run a marathon or hike a mountain in, you may opt for a proper pair of running shoes. 
The Vessi shoes are also effortless to maintain. They come with a special cleaning brush to ensure they look as good as new, but they're also machine washable. Despite being waterproof, my light-colored Vessi were still prone to stains and dirt build-up. Regular cleaning should be considered when purchasing a pair of Vessis. 
Overall, I highly recommend Vessi shoes. They are comfortable, fashionable, and durable. They provide excellent protection from wet and muddy surfaces, keeping your feet dry and happy all day. Plus, they come in various colors and styles so that you can find the perfect shoe for any outfit.
Are Vessi Shoes Worth It?
Yes, Vessi shoes are worth it. For the price, they are stylish sneakers that provide comfort and support for light urban activities and errands. 
Vessi shoes come with a waterproof guarantee, and the wear and feel of the shoes are excellent. They come in various sizes, styles, and colors to fit any preference. They are an excellent choice for fashionable shoes that can handle light urban activities.
Are Vessi shoes really waterproof?
Yes, Vessi shoes are indeed waterproof. When testing the shoes, I found water simply beads and rolls off the surface when held under a running tap. 
However, submerging your foot in water is not recommended as the shoes are only waterproof from the outside, not the top.
Should you wear socks with Vessi shoes?
Ultimately, the decision is yours. Wear socks might be your best option if you need more cushioning or warmth. On the other hand, if you want to maximize breathability, going without socks can give you extra comfort. 
You can also experiment with different styles and thicknesses of socks to see what works best for you. Ultimately, it comes down to personal preference—so feel free to mix and match until you find your ideal combination.
Do Vessi shoes have good reviews?
Yes, Vessi shoes have generally good reviews. Their website has over 5000+ reviews, most of which are 4 or 5 stars. Most customers have praised Vessi shoes for their comfort, waterproofness, quality, and stylish design. 
Many customers have also said that Vessi shoes are very lightweight, making them an excellent option for everyday use. Overall, the reviews suggest that Vessi shoes are worth the money and can be a significant investment.
The Bottom Line
Vessi shoes are a great choice if you're looking for a comfortable, stylish, and waterproof sneaker. With their unique materials and fit, these shoes will last longer and keep your feet feeling good. They may be slightly more expensive than other brands. 
Still, if you're looking for a quality shoe that looks good and stands up to the elements, Vessi is worth the investment. Their reviews speak to the shoes' durability and high customer satisfaction. Overall, Vessi shoes are a great choice and worth the price.
Also Read
Harklinikken Reviews – Is It Worth Considering For Your Hair?
Lilicloth Reviews – Is Lilicloth Clothing Worth Your Money?
Kyzue Reviews: Is This The Best Clothing Store For Women?
Also Read
Lukalula Reviews – Is Lukalula Clothing Legit or a Scam?reviews
Herbaluxy Teeth Whitening Reviews – Is It Really The Best Teeth Whitening Product?
Pawrade Reviews – Is Pawrade a Legit Company or Scam?
Also Read
Knix Underwear Reviews: Is It Worth Trying?
Ogee Makeup Reviews – Everything You Need to Know!
Stick It Rollers Review – Is This Cleaner Worth It?
Also Read
Bellelily Reviews – Is Belle Lily Clothing Legit & Worth Your Money?
Coffee Break Loans Reviews – Is Coffee Break Loans Legit?
Fykee Cordless Vacuum Review: Is It The Best Vacuum For Your Home?
Also Read
Ninja Woodfire Grill Review: A Multi-Use Portable Grill That Packs a Punch!
Sgin Laptop Review: Are Sgin Laptops Good & Worth It?
Orwyy Clothing Reviews – Is Orwyy a Legit Company?
Also Read
Pineapple Street Book Review: Is It Worth Reading?
Sonos Era 300 Review – Everything You Need to Know
NOW Broadband Reviews – Is It Worth Your Money?
Also Read
Love Holidays Reviews – Is It a Reliable Travel Booking Site?
Cazoo Reviews – Is This Leading Seller of Used Cars Worth It?
Onbuy.com Reviews – Is It a Legit Site to Buy and Sell?
Also Read
Cinch Cars Reviews – Are Cinch Cars Any Good?
Pretty Litter Reviews – Is It Best for Your Kitty?
Chicken al Pastor Chipotle Review – Is It Worth Trying?
Also Read
Wocklean Review – Is Wocklean Legit & Helpful For Relaxation?
Ketology Keto Gummies Review – The Truth About This Popular Keto Supplement
AKG Y600NC Wireless Headphones Review – Is It Worth Your Money?
Also Read
Staysure Travel Insurance Reviews – Is Staysure Travel Insurance Any Good?
Is We Fix Money Legit? We Fix Money Reviews
Tngnt Ski Bike Review: Everything You Need to Know
Also Read
Glamnetic Nails Reviews – Is This The Next Big Thing In Nail Art?
Petallush Reviews – Is This Clothing Store Legit & Worth It?
Emmiol Reviews – Is Emmiol Clothing Legit?
Also Read
Is Feetfinder Legit? We Reviewed This Popular Foot Fetish Site
Is Cettire Legit? A Comprehensive Review of the Popular Luxury Fashion Store
Is Grailed Legit? A Comprehensive Review of This Fashion Store
Also Read
Is Otto Insurance Legit? A Comprehensive Review
How to Sell Feet Pics Online in 2023 – The Ultimate Guide
Halara Review: Is Halara Clothing Legit or a Scam?
Also Read
The Ultimate Bio Science Keto Gummies Review – Explore Everything You Need to Know
Legxercise Pro Reviews: Is It The Best Leg Exerciser For You?