Are you considering buying a Sgin laptop but want to know if it's worth it? Look no further than this Sgin laptop review.
We'll break down the features, performance, and cost of Sgin laptops, so you can decide whether they are the right choice for you. 
Read on to learn more about Sgin laptops and determine whether they are excellent and worth it.
Table of Contents
Who is Sgin?
Sgin is a laptop brand that has been around since 2007. The company has built a reputation for producing reliable and quality notebooks and laptops while being more budget-friendly than many other laptop brands. 
All of the internal components in Sgin laptops are sourced from reputable manufacturers. All purchases come with a one-year warranty should any malfunctions arise. This makes Sgin laptops an excellent option for those looking for a reliable yet affordable laptop.
About Sgin Laptop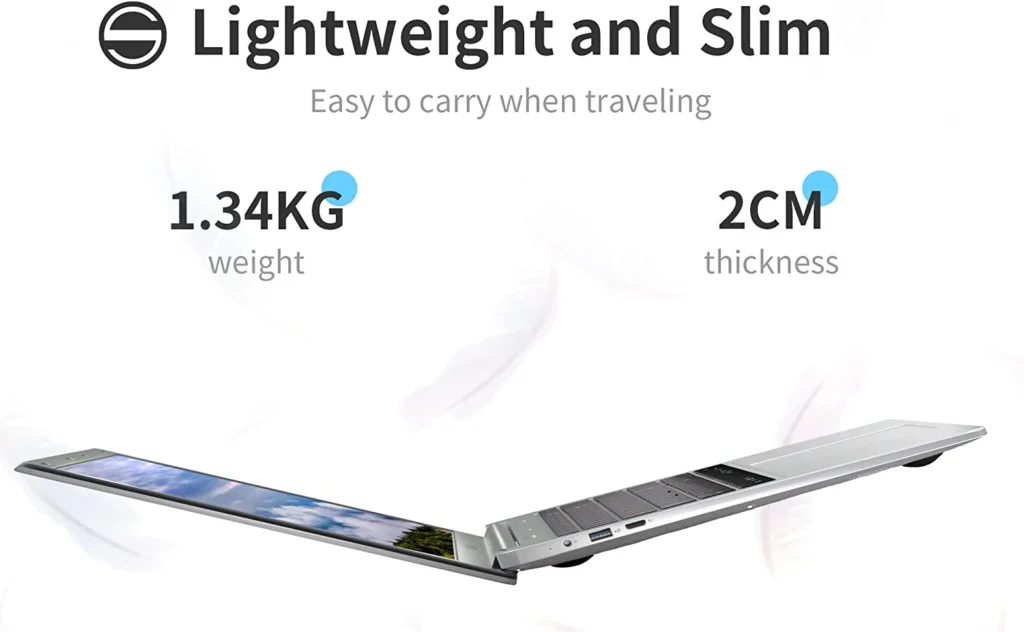 SGIN X15 is a lightweight laptop designed for portability and usability. It has a 15.6-inch full HD display that offers crystal clear visuals and excellent colour accuracy. 
The display also supports 178° wide viewing angles, which ensures a comfortable viewing experience. 
This laptop is powered by up to an N5095 processor with 12GB RAM and 512GB storage, giving you fast and reliable performance. 
It has a WiFi 6 (802.11 ax) and Bluetooth 5.0 connection. It also features two USB Type-A ports, one USB Type-C port, an HDMI port, an SD card reader, and a 3.5mm audio jack. 
In addition, it runs on the Windows 11 Home operating system, which is known for its speed and reliability. 
Sgin Laptop Overview
The Sgin laptop offers users a sleek and portable design with a 15.6-inch Full HD IPS display, 12GB of RAM, and 512GB of storage space. 
This laptop has an impressive 38000 mWh rechargeable battery that can provide up to 8 hours of battery life. It also features a variety of ports, including HDMI, 2xUSB 3.0, USB Type-C, and a Micro SD card slot. 
This laptop is ideal for study, work, entertainment, and internet surfing. It comes with a 365 days warranty service for worry-free after-sales.
Sgin Laptop Features
– Lightweight and portable design
– 12GB of RAM
– 2.9GHz processor
– Expandable memory up to 512GB with a TF card
– Variety of ports for connecting mice, keyboards and external monitors
Sgin Laptop Specifications
The SGIN-X15 laptop features an Intel Celeron processor running at 2.9 GHz, 12 GB of RAM and a 512 GB hard drive capacity. 
This laptop is powered by Windows 11 Home and offers up to 8 hours of battery life. 
It also boasts wireless connectivity with Bluetooth and dual-band WiFi support. 
In addition, this laptop has a 15.6-inch screen size and is manufactured by SGIN. 
It is backed by a manufacturer part number SGIN-X15 and has a maximum RAM support of 16 GB.
Sgin Laptop Pros
Looks as sturdy as more expensive laptops 
Outperforms expectations for its price 
Faster startup than comparable desktop 
Easy to use and add programs to 
Lightweight and user friendly 
Great RAM for the price 
Solid State Drive 
Windows 11 built-in 
Additional warranty provided by seller
Sgin Laptop Cons
Unfortunately, some potential drawbacks to Sgin laptops need to be considered.
One of the main issues is the video output quality, which could be better and prone to skipping and freezing. 
Additionally, some people have reported that the laptop's rating system could be more reliable and easier to use. This can be incredibly frustrating, leading many to return the laptop. 
Additionally, Sgin laptops are not necessarily designed for gaming, so those looking for a gaming-specific laptop should look elsewhere.
Sgin Laptop Reviews by Customers
If you're in the market for a laptop, you may have encountered Sgin laptops. But how do customers rate them? We looked at reviews from two of the most popular retailers: Walmart and Amazon. 
On Walmart, the Sgin laptop had an average rating of 4.7 out of 5 stars based on 115 reviews. Customers praised its battery life, portability, and overall performance. 
One reviewer noted, "This is my favourite laptop purchase ever made!"
On Amazon, customers also praised the Sgin laptop, giving it an average rating of 4.5 out of 5 stars based on 993 global ratings. 
Customers especially liked its build quality and its ability to multitask efficiently. One reviewer commented, "This is an awesome laptop, very well built and reliable."
Based on customer reviews, Sgin laptops seem popular and well-liked. Customers praise their performance, battery life, portability, and build quality.
Sgin Laptop Performance Review
Sgin Laptops are quickly becoming famous for those seeking an affordable yet reliable laptop. Sgin laptops come pre-installed with the latest Windows 11 and have an Intel Celeron N4020C CPU. 
This processor provides lightning-fast response times to handle multiple applications and multimedia tasks, smooth 4K content transfers and powerful gaming experiences.
Sgin Laptop Storage & Memory Review
The Sgin Laptop comes with 4GB of built-in RAM and 128GB of SSD storage, offering 15 times faster performance than traditional hard drives. 
This means you can enjoy improved multitasking and higher bandwidth on the laptop. Additionally, it supports a 512GB TF card expansion, giving you more space to store your data. 
Sgin Laptop Battery Review
For those who are always on the go, Sgin laptops offer the perfect solution. Their laptops are lightweight and compact, with an advanced 38,000 MWH rechargeable battery that lasts up to 8 hours. With this type of battery, you won't have to worry about your laptop dying on you during a workday or when you're out and about. 
The laptop also has a power-saving mode that allows you to conserve battery life when necessary. This feature is excellent for those who need to get more use out of their laptop without constantly charging it. The power-saving mode will also extend the battery's life, preventing it from getting overworked and draining too quickly. 
You can also use the charging cable that comes with the laptop to ensure your laptop is always charged. This makes it easy to keep your laptop powered up so you can work or play without interruption. Additionally, the laptop has built-in fast-charging technology so that you can charge your laptop quickly and easily. 
Sgin Laptop Connectors Review
The Sgin laptop has various connectors that allow users to connect easily to various peripherals. The laptop includes a Bluetooth 4.2 connection and dual-band WiFi for fast wireless connections. Additionally, the laptop has a Type-C port, a Mini HDMI port, a 3.5mm headphone jack, two USB 3.0 ports, and a microSD slot. 
The Type-C port lets users quickly and easily connect various peripherals, such as an external monitor, mouse, keyboard, or gaming controller. The Mini HDMI port lets users connect their laptop to a larger display or television. 
The 3.5mm headphone jack is great for plugging in headphones for private listening or external speakers for improved sound quality. The two USB 3.0 ports offer fast data transfer speeds. The microSD slot makes it easy to expand the laptop's storage capacity with an external card. 
Is Sgin Laptop Legit?
You must ensure you're buying from a reputable company when purchasing a laptop. That's why many people are wondering if Sgin Laptops are legit. The answer is: absolutely! Sgin Laptops are high quality, reliable, and offer excellent value for money.
Sgin has been in the laptop business for over 15 years and has a solid reputation in the industry. They have a wide range of products, from budget laptops to premium models, and all have passed rigorous tests for quality and performance. Moreover, all their products have a comprehensive warranty for added peace of mind. 
The company also offers excellent customer service and support, which is why so many people trust them. Customers can contact Sgin anytime via phone, email, or live chat, and they will provide helpful advice and assistance.
So, if you're considering buying a laptop, Sgin is worth checking out. With their excellent range of products, solid reputation, and outstanding customer service, you can be sure that your laptop will be reliable and built to last.
Is Sgin Laptop Worth It?
You want to ensure you are getting your money's worth when it comes to laptops. Sgin laptops offer great value for their price and good performance for daily computing needs. Sgin laptops offer solid performance, with the latest Intel processors and plenty of RAM, ensuring a smooth and responsive experience. 
In terms of storage, they have plenty of room to store your files and documents with solid-state drives, offering fast read and write speeds.
In terms of battery life, Sgin laptops offer excellent battery life, allowing you to work longer without recharge. And if you need additional connectors, they have USB-C, HDMI and other ports to connect to other peripherals easily. 
Finally, Sgin laptops have impressive features, making them even more attractive. Overall, Sgin laptops offer great value for their price, making them an excellent choice for those who need a reliable laptop for everyday computing needs.
Sgin Laptop Alternatives
If you're looking for an alternative to the Sgin laptop, plenty of options are available. 
One option is the ASUS 2022 14″ Thin Light Business Student Laptop Computer. This laptop features an Intel Celeron N4020 Processor, 4GB DDR4 RAM, 320 GB Storage, and a 12-hour battery life. It also includes a webcam, Zoom Meeting capability, and a one-year subscription to Office 365.
Another great alternative is the HP Pavilion Laptop (2022 Model). This laptop has a 15.6″ HD Display, an Intel Celeron Quad-Core Processor, 16GB DDR4 RAM, and 1TB SSD. It also supports online conferencing, webcam, HDMI, Bluetooth, and WiFi, and it comes with Windows 11 installed.
Finally, the Lenovo IdeaPad Flex 5i 2-in-1 Chromebook Laptop Computer is an excellent choice if you want a laptop that can handle work and play. This laptop has an Intel Core i3-1115G4 processor, a 13.3″ FHD Touch Display, 8GB Memory, and 256GB Storage. It also runs Chrome OS, so you can enjoy fast and secure internet browsing.
Conclusion
The Sgin laptop is an excellent choice for budget-minded consumers looking for a reliable machine. It offers solid performance, good storage, and enough memory to get the job done. It has a battery life that can last up to 8 hours, depending on your usage, and it comes with various ports and connectors for your needs. 
However, some customers have had issues with their Sgin laptops overheating or having other technical issues. The customer reviews are mixed, so it's essential to research before investing in one of these machines. 
Overall, the Sgin laptop is a decent option if you're looking for an affordable laptop that can perform basic tasks without breaking the bank. Research and read customer reviews to decide if this laptop is worth it.
Also Read
Clicgear 4.0 Review: The Best Golf Push Cart Yet?
Garmin Approach Z82 Golf GPS Laser Rangefinder Review: An In-Depth Look
The Ultimate Fly Orb Pro Flying Spinner Mini Drone Flying Review
Also Read
89cash.com Reviews – Is 89cash.com Legit or a Scam?
Clarifion Air Ionizer Reviews: Is This Air Purifier Worth Your Money?
Testerbuzz.com Reviews – Is Testerbuzz Legit?
Also Read
Sounguesu.com Reviews: Is Sounguesu Legit or a Scam?
Poocroct Reviews – Is Poocroct.com Legit?
Testerup Review – Is Testerup a Legit Earning Source?
Also read
Solgaard Reviews – Is Solgaard Luggage Worth Your Money?
Bylt Basics Reviews: Are Bylt Shirts Good & Worth Trying?
Umzu Reviews: Is This Natural Supplement Legit & Worth the Hype?
Also Read
Also ReadVitapod Reviews: Is Vitapod Worth It?
Inno Supps Review – Is the Inno Supps Supplement Worth It?
Is Flight Club Legit? A Comprehensive Review of the Sneaker Store
Also Read
Is MBenzgram Legit? MBenzgram Car Accessories Reviews
Is Kickscrew Legit? An Exploration of This Online Footwear & Apparel Store
Airtalk Wireless Reviews – Is Airtalk Wireless Legit?
Also Read
Is Lucy in the Sky Legit? A Review of Lucy in the Sky Dresses
Abbyson Furniture Reviews – Is it Worth Your Money?
Zeelool Glasses Review – Everything You Need to Know
Also Read
Rihoas Reviews: Is This Budget-Friendly Clothing Brand Legit?
Public Rec Pants Review – Are They Worth It?
Flycatcher Toys Review – Is Flycatcher Toys Legit?
Also Read
Lulububbles Reviews – Is Lulububbles a Legit Online Store for Baby Clothes?
Sora Bra Reviews – Is Sora Bra a Legit Company?
Is Nourishvita Legit? A Comprehensive Review
Also Read
Beachsissi reviews – is it legit & worth your money?
Tourmaline Socks Review: The Secret to Slimming Health Socks?
Zekear Boots Reviews: Are Zekear Shoes Legit?
Also Read
Hey Dude Shoes Review – Must Read Before Buying
Miniolie Reviews – Is Miniolie a Legit Site?
Happy Mammoth Review – Is It Worth It? Will It Provide the Required Nutrition?
Also Read
Harklinikken Reviews – Is It Worth Considering For Your Hair?
Lilicloth Reviews – Is Lilicloth Clothing Worth Your Money?
Kyzue Reviews: Is This The Best Clothing Store For Women?
Also Read
Lukalula Reviews – Is Lukalula Clothing Legit or a Scam?reviews
Herbaluxy Teeth Whitening Reviews – Is It Really The Best Teeth Whitening Product?
Pawrade Reviews – Is Pawrade a Legit Company or Scam?
Also Read
Knix Underwear Reviews: Is It Worth Trying?
Ogee Makeup Reviews – Everything You Need to Know!
Stick It Rollers Review – Is This Cleaner Worth It?
Also Read
Bellelily Reviews – Is Belle Lily Clothing Legit & Worth Your Money?
Coffee Break Loans Reviews – Is Coffee Break Loans Legit?
Fykee Cordless Vacuum Review: Is It The Best Vacuum For Your Home?
Also Read
Ninja Woodfire Grill Review: A Multi-Use Portable Grill That Packs a Punch!