NoonBrew Review – Imagine that it is three o'clock in the afternoon. You're worn out. All you want to do is curl up under your desk and sleep till dinner, but since you're a good worker, you must persevere through the circadian rhythm-induced blahs to finish the workday.
When you eventually clock out, you have no idea where you spent the previous two hours, let alone how well your work turned out.
If you've ever experienced this, you're not by yourself. In 2021, Andrew Case and Allan Shen founded NoonBrew because they were in a similar situation. 
It's a tea mixture designed to keep you going until the end of the day without making you feel like an excitable little child.
It also contains a ton of adaptogens, which can improve your cognitive function. 
Table of Contents
About NoonBrew
Heck, even NoonBrew honey has additional nutritional advantages. This may be how the company amassed more than 29k Instagram followers. 
This NoonBrew review will delve deeper into the offerings, components, user feedback, and more to help you choose whether NoonBrew is the correct choice.
Let's look at some highlights before I start. 
Highlights of NoonBrew
Energy boost in the late afternoon without disrupting sleep patterns
Fewer stimulants than in coffee
Ingredients sourced and produced sustainably 
Plant-based only
Free delivery
ShopPay's financing payment options
The Top 5 NoonBrew Products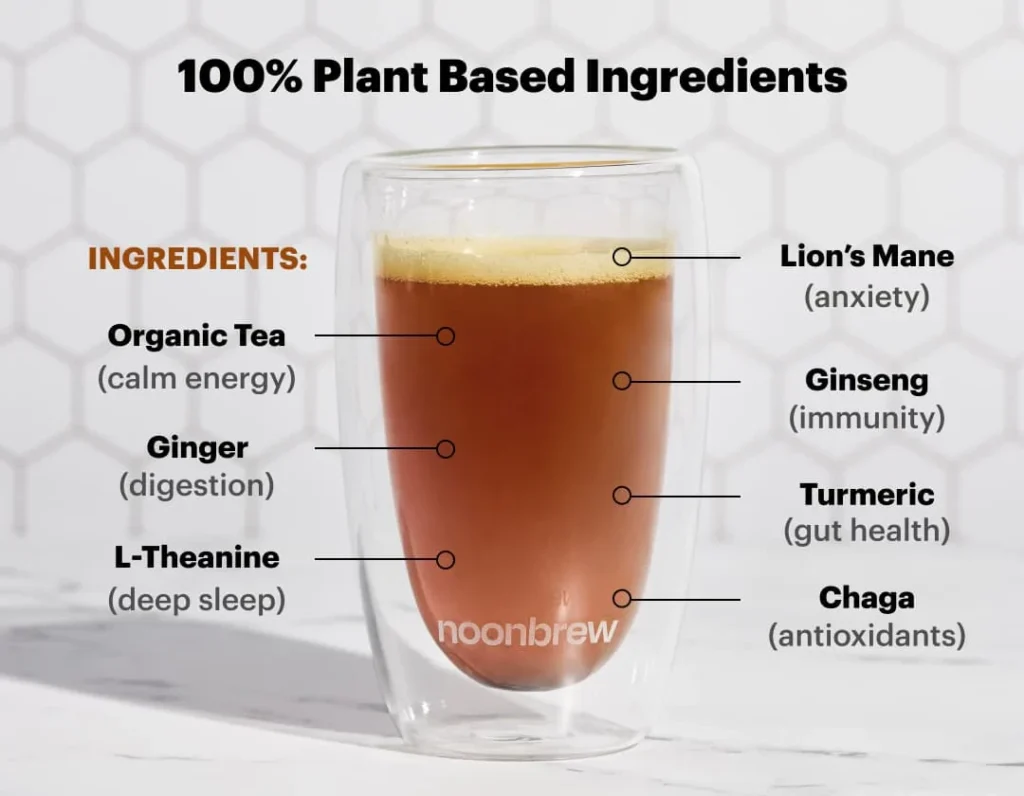 NoonBrew – 30 Servings Review
The focal point of the NoonBrew brand is the first item I'll be reviewing. White tea and oolong tea are combined in the NoonBrew – 30 Servings package with potent ingredient mixes that include:
Ginseng 
Turmeric 
Chlorella
Maca Ginger 
Osmanthus 
Dendrobium 
Schisandra
Additional adaptogens include a custom blend containing 0.35g each of ashwagandha, Chaga, cordyceps, lion's mane, lemon balm, reishi, and astragalus.
As a result, NoonBrew can provide you with a little boost in cognition and attention without interfering with your later-in-the-day sleep. 
Additionally, it has various digestive advantages because of its superfood composition. For $48, you can purchase 30 servings.
"I have been drinking NoonBrew for about eight months now," one customer writes. It is simply incredible. I never have the afternoon slump and can run errands right after work. I highly recommend it if you experience afternoon brain fog.
NoonBrew 30 Servings MoonBrew Review
That wasn't a mistake; NoonBrew also makes a sedative named MoonBrew. 
It contains 2.3g of a unique blend, with a higher concentration of adaptogens than NoonBrew. These adaptogens include extracts from chamomile, lavender, reishi, valerian root, and other plants. 
Additionally, each meal contains 2.7g of l-theanine, magnesium glycinate, and magnesium l-threonate, as well as short rose extract. 
These substances work synergistically to aid in falling and, more crucially, staying asleep. 30 portions Cost of MoonBrew is $48.
I'm not a fan of tea, especially herbal drinks, say customers. This tea not only tastes good, but it also aids in sleep and relaxation. I use it every night. Impressed."
NoonBrew Superfood Honey Review
If you're going to add sugar to your tea, add some extra vitamins. NoonBrew's Superfood Honey is primarily honey, but it also includes a unique mixture of ginkgo biloba extract, royal jelly, propolis, and bee pollen. As a result, it might give you antioxidants to aid in calming your digestion. 
It costs $26 for an 189g jar. 
"I love the taste of the Superfood honey," customers remark. It aids in my recharging.
NoonBrew All Day Bundle – 30 NoonBrew & MoonBrew Review
The All Day Bundle – 30 NoonBrew & MoonBrew sounds like it was created for me because I have difficulties staying awake in the afternoon and sleeping at night. 
At a far lower cost, it contains every item I've mentioned in this NoonBrew review. You will get the following for $109:
NoonBrew is available in 40 serves (a 30-serving bag + 10 portable servings).
40 servings of MoonBrew (10 travel servings and 30 servings in a bag)
189g of Superfood Honey in a jar
"I enjoy both products," customers state. Both are incredibly delicious; however, I do add a little cinnamon to the MoonBrew because it's a healthy spice to consume every day. After drinking the NoonBrew, I feel more energized and like I slept well.
NoonBrew Rechargeable Frother Review
And finally, a decent frother is necessary for a great tea latte. This appliance differs from conventional frothers in that it uses rechargeable batteries. Put an end to the disposable batteries by connecting them to any USB cord.
For $25, you can get the NoonBrew Rechargeable Frother.
"I was so impressed that you had such a high-quality frother," said customers. Over the years, I've purchased a fair number of them, but by far, this one has the most excellent quality! I like how you have two speeds and a double whisk. Nice work.
Is NoonBrew Effective?
Tea has less caffeine than coffee, so it shouldn't interfere with your sleep cycle while still providing a slight energy boost, which is just what NoonBrew claims to do. 
To whom would I suggest NoonBrew?
People like me, who enjoy being busy during the day yet are concerned about their sleep hygiene, might consider NoonBrew. 
To whom would I not suggest NoonBrew?
Those who already maintain a healthy sleep schedule or, unlike me, can refuse a cup of coffee after lunch are not helped by the products in our NoonBrew review.
Options Compared to NoonBrew
If you're seeking a substitute for coffee or NoonBrew, consider these related brands:
Pique Tea: teas for immunity, sleep, and digestive health that doctors recommend
RYZE : An adaptogen-filled coffee manufacturer with a variety of flavors is mushroom coffee.
MUD/WTR: a masala chai, cacao, and mushroom-based substitute for coffee
What Do Professionals Feel?
Oolong tea has been shown to increase energy and alertness, but the other ingredients in NoonBrew's blend of adaptogens have less scientific support, and NoonBrew doesn't publish their amounts.
As a result, experts are still determining whether such components boost the product's efficacy.
What Do Customers Think About NoonBrew?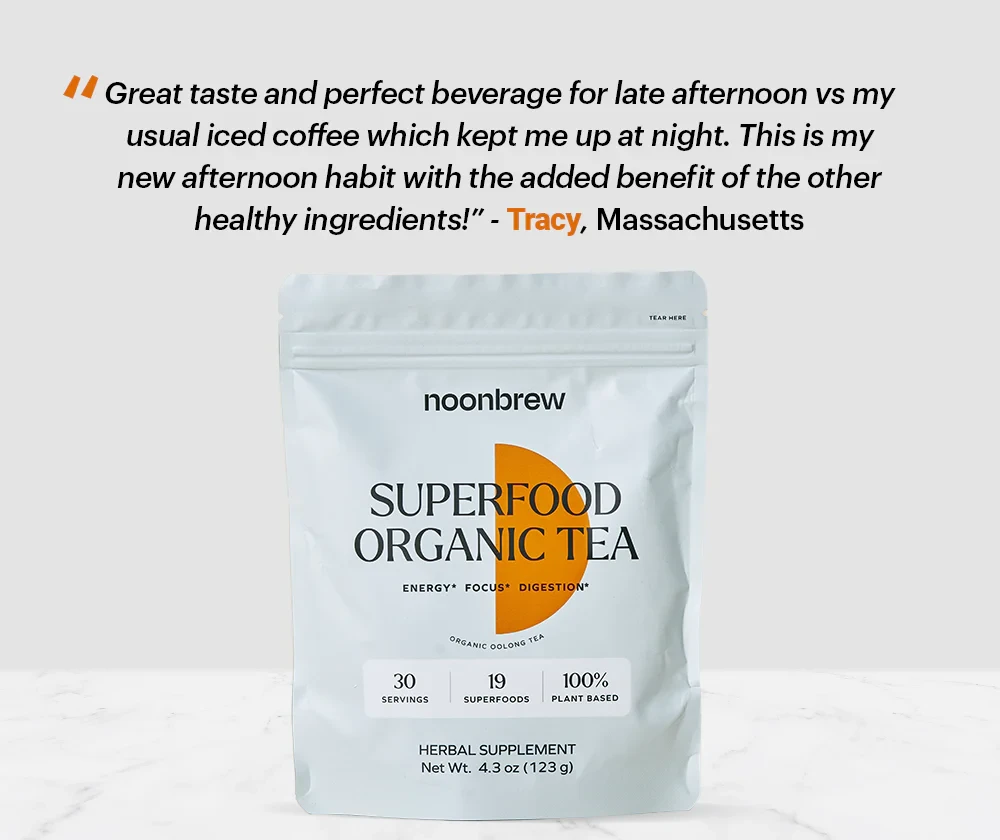 Let's look at some of the review ratings on NoonBrew's website to understand what customers think of it. 
4.9/5 ratings, or more significant, for NoonBrew – 30 Servings, according to more than 1,500 customer reviews.
30 portions 4.9/5 based on more than 170 customer reviews for MoonBrew
Superfood Honey has a rating of 4.9/5 based on more than 95 customer reviews.
These excellent ratings carried over to other websites as well since NoonBrew evaluations were generally favorable. Here are some average ratings from well-known shopping websites. 
5.0 out of 5 stars on Product Hunt, based on seven user reviews.
Trust Pilot has received 4.5/5 ratings after receiving more than 145 client reviews.
Based on more than 380 customer reviews, Amazon users gave the NoonBrew SuperFood Iced Tea a rating of 4.5 out of 5 stars.
Customers generally agreed that NoonBrew delivered on its promise to keep them up during the afternoon without disturbing their sleep. 
"I am very impressed with this product," one consumer remarked. I was able to break my coffee addiction thanks to it, and I now have much more energy and attention. A remarkable calm but concentrated energy and absolutely no afternoon crash or jitters. This was my second purchase, and I want to make more.
Reviews of NoonBrew frequently mentioned how the beverage helped users break their caffeine addiction. Many people switched from drinking coffee to Noonbrewm, including this customer:
I recently tried a sample and immediately fell in love. This is quite important if, like me, you strive to limit your caffeine intake to one cup each day. I really adore it for weekend afternoon activities like bike rides and hikes because it gives your water a lovely little boost.
The NoonBrew's flavor was highly lauded by customers, mainly when mixed with honey. Customers could now incorporate the drink into their day without feeling like it was a chore as a result.
Here is one more customer's NoonBrew review that elaborates on that idea. 
"I discovered that even though it provided me energy and focus to continue the day, I slept well on the afternoons that I drank it. What?? Then I thirsted for it in the afternoons and began eagerly anticipating my iced afternoon beverage. But I discovered I had run out of honey one day. I still mixed it up and discovered I didn't need the honey! I adore this beverage so much! Continue even if you don't first enjoy the flavor. I can assure you that it is worthwhile."
NoonBrew: Is It Legit?
Fortunately, NoonBrew appears to be a trustworthy business, as there were no customer complaints regarding the company's services or communication.
Is NoonBrew Worth It?
You'd be better off switching to afternoon teas, given that NoonBrew employs proprietary blends and doesn't disclose the proportions of each ingredient in those blends. Granted, NoonBrew is for you if you want a single beverage that includes tea and adaptogens. I won't stop you, so don't.
How to purchase NoonBrew?
You can purchase on Amazon via the brand's website, noonbrew.co.
FAQ
NoonBrew's owner?
Andrew Case and Allan Shen, the creators of NoonBrew own the firm.
How far does NoonBrew deliver?
NoonBrew exclusively ships to locations in the United States, according to what I discovered on their website. 
What is the shipping policy for NoonBrew?
All orders are shipped for free by NoonBrew from their Jacksonville, Florida warehouse. Orders are shipped within 1 to 2 business days.
What is the return policy for NoonBrew?
For all products, NoonBrew provides a 60-day return period. If you want to start a return, you must contact them. 
Contacting NoonBrew 
I'll end my NoonBrew review by providing you with the company's contact details. Their email address is hi@noonbrew.co. 
Also Read
Wairlady Reviews: Are Wairlady Bras Worth Trying?
Burolga Reviews – Is Burolga Clothing Legit or Scam?
Withu Loans Reviews – Is Withu Loan Legit or Scam?
Also Read
Belky Online Reviews: Is It A Legit Clothing Store?
Promsstyle Reviews – Is Proms Style Legit or Scam?
David Outwear Reviews: The Best Clothing Store for Men?
Also Read
Contour Swan Pillow Reviews: Does It Make Sense to Buy It?
Bellelement Clothing Reviews – Is It Legit or Scam?
Kerassentials Reviews – Is Kerassentials Oil a Legit or Scam?
Also Read
Clancy's Auto Body Reviews – Everything You Need to Know
Bymcf Body Sculpt Reviews: Is It Really Good For Your Body?
Chicsew Reviews: Is It a Reliable Store for Bridesmaid Dresses?
Read More
Oomiay Jewelry Reviews: Everything You Need to Know
Joreiw Reviews – Is Joreiw Worth It Or a Scam?
Battle Vision Storm Reviews – Is It Good for All Weather Conditions?
Also Read
Civil Car Coverage Insurance Reviews: Is It Trustworthy & Reliable?
Pairr Max Reviews: Everything You Need to Know
Fabulove Jewelry Reviews: Is It Worth Try?
Also Read
Atheniz Earrings Reviews: Does It Really Help With Weight Loss?
Wellow Compression Socks Reviews – Is It Worth Your Money?
Solado Reviews – Is Solado Legit or Scam?
Also Read
UTO Vacations Reviews – Is It Legit & Worth Trying?
Tluly Clothes Reviews – Is It Legit or a Scam?
Evfsrepos Reviews: Is It The Best Place For Car Auctions?
Also Read
Noracora Reviews – Is It Legit or a Scam?
Moonpod Reviews: Is It Really Comfortable? Scam or Legit Product?
Emma Digestive Supplement Review – Does It Really Work or a Scam?
Also Read
Bose Hearing Aids Reviews – Is It Worth Trying?
Bossa Hearing Aid Reviews – Everything You Need to Know
Lucid Hearing Aid Reviews – Is It Legit & Worth Your Money?
Also Read
Horizon Mini Hearing Aid Reviews – Is It Worth Your Money?
Earlens Hearing Aid Reviews – Is It Worth It?
Hey Humans Deodorant Reviews – Is It Worth Trying?
Also Read
Honeylove Reviews – Is Honeylove Good & Worth It?
Homary Reviews: Is Homary Legit & Worth It?
Ikaria Lean Belly Juice Reviews – Is It Really Worth Trying?
Also Read
K3 Spark Mineral Reviews – Is It Legit & Worth Your Money?
Keto Luxe ACV Gummies Reviews – Does Keto Luxe Work & Legit?
Madhoney.net Review – Is Mad Honey Nepal Legit or a Scam?
Also Read
Armra Colostrum Reviews – Is Armra Supplement Legit?
Power CBD Gummies Review: Do They Really Work? (The Ultimate Guide)
Also Read
Starlux Airlines Review: Economy Class vs. Business Class
Experiencing Luxury: Condor Airlines Business Class Review
Samsung F04 Review: Is Samsung F04 Worth Your Money?
Also Read
Shark Tank Weight Loss Gummies Review: Are They Worth the Hype?
Emma Relief Reviews – Is This Supplement Legit or Scam?
Is Spirit Airlines Safe?- Ultimate Review of Spirit Airlines
Also Read
Oats Overnight Review – Is It Worth It? (Complete Guide)
FlexPro Meals Review – Is FlexPro Meals Legit & Worth It?
Prosvent Review – Is Prosvent Any Good? (Must Read)
Dillip is a professional blogger and writer since 2017, known for creating captivating and informative content. With a passion for words and a knack for storytelling, Dillip excels in producing engaging blog posts, articles, and web content across various industries and niches. With a focus on delivering value to readers, Dillip's writing effortlessly combines creativity, authenticity, and expertise.