Are you considering taking a flight with Condor Airlines Business Class? If so, you're in for a real treat! This Condor Airlines Business Class review will take you through all the fantastic features and amenities that make this a luxurious option for air travel.
From the attentive staff to the spacious seating to the delicious meal options, you'll quickly see why Condor Airlines Business Class is one of the top choices for business travellers.
Table of Contents
About Condor Airlines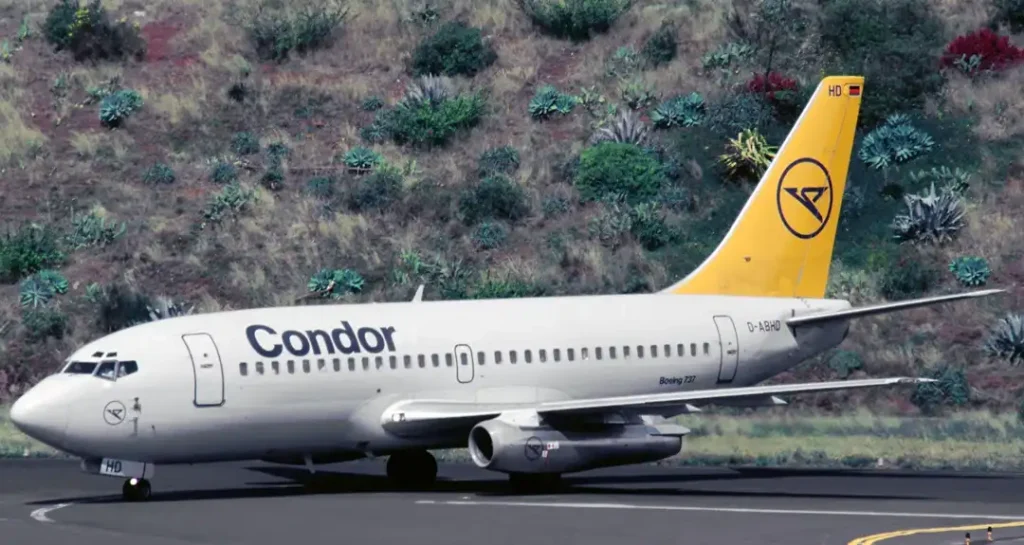 Condor Airlines was founded in 1955 and is headquartered in Frankfurt, Germany. The airline is a popular choice for international travel, offering flights to over 90 destinations across Europe, Africa, the Caribbean, and North America. The airline's main hubs are in Frankfurt and Munich, with secondary bases in Düsseldorf, Hamburg, and Berlin.
In addition to their economy class seats, Condor Airlines also offers a premium economy class and a business class option for those looking for a more luxurious travel experience.
This review will share our expertise flying in Condor Airlines' business class. From check-in to landing, we'll detail every aspect of our flight. So please sit back, relax, and enjoy our review of Condor Airlines' business class!
Condor Airlines Business Class Review In Depth
Condor Airlines Booking Process
Despite the inconvenience of their cancellation/refund policy, the actual booking process with Condor Airlines is relatively straightforward. The website is easy to navigate; you can search for flights by destination, date, and class.
One thing to note is that the website does not have the option to choose a specific seat when booking. You can only select your seat during check-in, which can be a downside for some travellers who want to ensure they have the best heart.
However, Condor does offer the option to book their Comfort Class, which is a step up from their Economy Class and includes additional amenities such as extra legroom and premium meals.
Condor Airlines Check-in Process
The check-in process at Condor Airlines can vary depending on the airport and flight route. During our experience, we found the gate check-in process to be a bit chaotic. Our flight was complete, and with additional U.S. regulations, everyone had to undergo a document screening before boarding.
The following documents were checked: passport, boarding ticket, Covid vaccine card, negative Covid test, and travel attestation provided by Condor Airlines. While the screening process was necessary, it caused a delay in boarding time.
Despite the chaotic scene, the Condor Airlines staff was courteous and helpful throughout check-in. We were directed to the correct lines, and the team ensured that all passengers had the required documents before proceeding to the boarding area.
One thing to note is that seat selection comes at an extra cost. We ended up with seats in the middle section of economy class, which we weren't thrilled about. However, after paying extra to change the flight, we didn't want to dish out even more money to choose different seats.
Condor Airlines Lounge
After boarding, I was warmly welcomed by the flight attendants and shown to my seat in the business class cabin. The first thing that struck me was the sleek and modern cabin design. The seats were arranged in a staggered configuration, which offered privacy and direct aisle access to every passenger.
The seat was incredibly comfortable, with ample stretching and reclining space. The 15.4-inch HD touchscreen entertainment system was impressive, with a great selection of movies, TV shows, and games.
One thing I appreciated about Condor Airlines was their dedication to sustainability. The airline uses eco-friendly materials for its cabin interiors, including carpets from recycled plastic bottles.
The service onboard was excellent, with attentive and friendly flight attendants who went above and beyond to ensure I was comfortable throughout the flight.
The menu offered various delicious options, including a three-course meal with appetizers, mains, and desserts. I also enjoyed the extensive beverage selection, which included a variety of wines, beers, and cocktails.
One standout feature of Condor Airlines' business class experience was their amenity kit, which included a range of high-quality skincare products from German brand L'Occitane. The equipment also had earplugs, a sleep mask, and a toothbrush and toothpaste.
Condor Airlines Seat
When flying in business class with Condor Airlines, you can expect to experience pure luxury and comfort, starting with the seats. The Skylounge Core seats, made by Safran, offer the perfect balance between functionality and elegance.
The staggered layout of the seats provides maximum privacy and personal space. Each centre has direct aisle access, so you never have to worry about disturbing other passengers when you need to get up or stretch your legs.
One of the standout features of these seats is the side-mounted footwell, which means that your feet can be tucked away without taking up too much space. Additionally, the seats are fully adjustable, so you can easily find the perfect angle to relax or sleep in.
The seats are made from high-quality materials and offer plenty of padding for a comfortable experience. They also come with various adjustable lumbar and backrest options, so you can customize the seating to suit your preferences.
In addition to the standard business class seats, Condor also offers four Prime seats. These seats are located at the front of the cabin, providing even more luxury and space. Prime seats have a unique ottoman and a large screen for in-flight entertainment.
Condor Airlines Service
One of the standout aspects of flying business class with Condor Airlines was the excellent service from the flight attendants. When we stepped on the plane, the attendants greeted us warmly and were always attentive to our needs.
During the meal service, we were impressed with the variety of options. We had a choice of two entrees, both delicious and well-presented. In addition to the main course, we were also served a starter, salad, and dessert. The flight attendants also regularly checked on us throughout the flight to see if we needed anything else, such as a drink refill.
One minor downside to the food service was that if we wanted alcoholic drinks, we had to pay extra. However, this was a minor inconvenience as the included non-alcoholic beverages were high quality.
Condor Airlines Food
Now let's talk about the food onboard Condor Airlines. As a business class passenger, you'll receive a complimentary meal during your flight. The food is essential but not harmful. I enjoyed a delicious German potato salad and chocolate pudding on my recent flight. Both were quite tasty and hit the spot.
While the menu options may be limited, the quality of the food is still impressive, considering that it's being served in flight. Condor Airlines also offers various beverages, including wine and champagne, to complement your meal.
If you have any dietary restrictions, you can inform the airline when booking, and they will make every effort to accommodate your needs. Vegetarian and gluten-free meals are available upon request.
Condor Airlines Amenities
Concerning Condor Airlines' business-class amenities, there is no shortage of comfort and luxury. The airline offers a range of amenities to ensure passengers are comfortable and relaxed throughout their flight.
Upon boarding the business class cabin, passengers will find a pillow and blanket waiting for them at their seats. The pad is good quality, while the blanket is super cosy and has a stylish striped pattern inside. These amenities help passengers settle in for a comfortable journey.
Passengers in Prime seats get additional perks, including a larger seat and a more extensive amenity kit. However, the standard amenity kit is still well-equipped. It includes essential items like socks, eyeshades, dental equipment, facial moisturizer, and lip balm. Earplugs are also available on request from the crew.
Passengers can use their headphones with Condor's A330-900neos, as the business class seats have Bluetooth audio capabilities. However, if you do not have your headphones, Condor provides a pair of headphones for each passenger.
Condor Airlines In-Flight Entertainment
When it comes to in-flight entertainment, Condor Airlines takes a unique approach. Unlike other airlines, where passengers are provided with complimentary entertainment options, on Condor Airlines, you have to pay for movies and other forms of entertainment. This can be a surprise, especially if you're used to watching movies for free on international flights.
That being said, Condor Airlines does offer a decent selection of movies, TV shows, and other forms of entertainment. You can choose from various genres: action, comedy, drama, and more. While the prices for in-flight entertainment can be steep, if you're willing to splurge, you can keep yourself entertained throughout your journey.
Another thing to keep in mind is that you'll need to bring your headphones, as Condor Airlines doesn't provide them for free. This means that you'll either need to pack your own or purchase them on board the flight. It's always a good idea to bring your own, as you'll likely find them to be more comfortable and better quality than the airline offers.
Condor Airlines Business Class Lavatories
Regarding the overall flight experience, the lavatories may not be at the top of your list. However, the bathrooms can add to the luxurious experience of business class. Fortunately, Condor Airlines does not disappoint with its restrooms.
There are three bathrooms around the business class cabin – one at the back of the house at each aisle and one by the cockpit. While they may not be the most enormous bathrooms in the sky, they are clean, modern, and well-maintained.
One thing to note is that the bathroom at the back of the cabin is next to some seats, as there is no galley behind the business class. If you're a light sleeper, you may want to avoid assigning a seat in the last row, which is situated near the lavatory.
Despite their relatively small size, the lavatories do not lack functionality. They are equipped with everything you need, from the toilet to the sink and mirror. Unfortunately, they don't offer unique amenities like premium toiletries or fragrances, but this is a minor complaint in an otherwise excellent flying experience.
Conclusion
As we approached our final destination, I couldn't help but feel a sense of sadness that my incredible journey in Condor Airlines Business Class was ending. However, I was eager to experience their landing process as well.
To my surprise, the landing was one of the smoothest ones I've ever experienced. The flight crew warned us about the impending touchdown, which allowed us to prepare accordingly. The touchdown was soft, without any bumps or jolts that usually make passengers anxious.
Once we landed, the flight crew announced that we could exit the plane in an orderly fashion. As a Business Class passenger, I was one of the first to disembark, and I was pleased to see that our baggage was already being unloaded from the cargo hold.
Overall, the landing experience on Condor Airlines was just as comfortable and seamless as the rest of the journey. The smooth landing and the quick baggage retrieval process made it easier for me to transition from air travel to ground transportation, and I couldn't have asked for more.
Also Read
Zipair Review: Is Japan's New Budget Airline Worth Trying?
Breeze Airways Reviews: Is This New Airline Worth Trying Out?
Avelo Airlines Reviews: A Comprehensive Analysis of Their Flights