Starlux Airlines Review – If you're considering flying with Starlux Airlines, you may be wondering what the difference is between their Economy Class and Business Class options. We've compiled a comprehensive Starlux Airlines review to help you make the best choice for your travel needs.
In this review, we'll explore the differences between Economy and Business Class in terms of cost, comfort, amenities, and more. Read on to learn more about Starlux Airlines and decide which class is right for you.
Table of Contents
About Starlux Airlines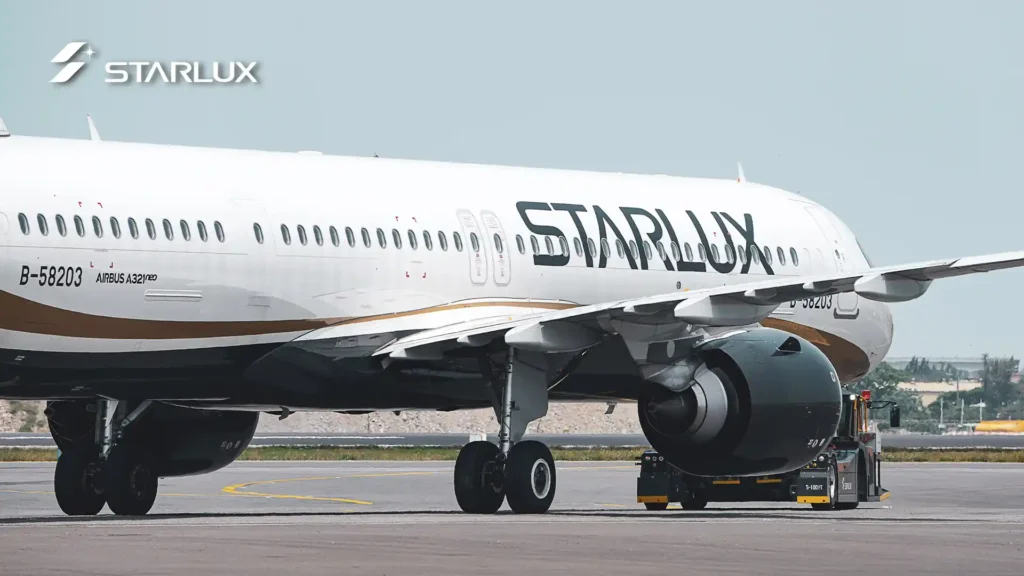 Starlux Airlines is a new Taiwanese airline that aims to take the aviation market by storm. With its ambitious plans to revolutionize the travel experience, it has set itself apart from other airlines in Asia and beyond.
The airline was founded in 2017 and had big plans for growth, but the pandemic forced it to put those plans on hold. Now that travel restrictions are easing up, Starlux Airlines is ready to pick up where it left off.
Starlux Airlines currently operates flights to 16 destinations in Asia, including Bangkok and Singapore, from its Taipei hub. It recently launched its first destination in North America with a flight to Los Angeles.
In addition to its expanding route network, Starlux Airlines has introduced an all-new long-haul product for business and first-class passengers, promising to elevate the travel experience.
If you're looking for an airline that offers more than just a means of transportation, Starlux Airlines might be the right choice for you. In this blog post, we'll explore what the airline has to offer in terms of in-flight experience, seat comfort, service, food and drink, and amenities, comparing the business and economy class.
Pros and Cons of Starlux Airlines Business Class
Pros of Starlux Airlines Business Class
Great value for money: Starlux business class provides excellent value for the price compared to other airlines.
Comfortable seats: Although the seats are similar to those on other airlines, they are spacious, comfortable and provide ample legroom.
Amazing meal options: Starlux business class offers incredible dining options. The food is restaurant-quality, and the options are fantastic.
Exceptional cabin crew: The cabin crew is professional, attentive, and friendly, making your flight even more enjoyable.
Excellent inflight amenities: Starlux provides high-quality amenities to enhance your flying experiences, such as blankets, pillows, and headphones.
Cons of Starlux Airlines Business Class
While Starlux Airlines Business Class offers a luxurious experience overall, there are a few downsides to consider.
One of the biggest drawbacks is the limited flight network. As a new airline, Starlux currently only operates a handful of flights, which can limit your travel options. This is especially true if you're looking to fly to less popular destinations.
Another area that falls short is the Starlux Lounge at the Taipei airport. While the lounge is decent, it's relatively small and doesn't offer many amenities or food options. If you're used to lounges offered by other airlines, you may find the Starlux Lounge a bit underwhelming.
It's also worth noting that Starlux Airlines is still a relatively new airline, so there may be some growing pains along the way. They are still working out the kinks and refining their services. This means that some aspects of the experience may be less polished than you're used to on more established airlines.
Starlux Airlines Review – Overall Review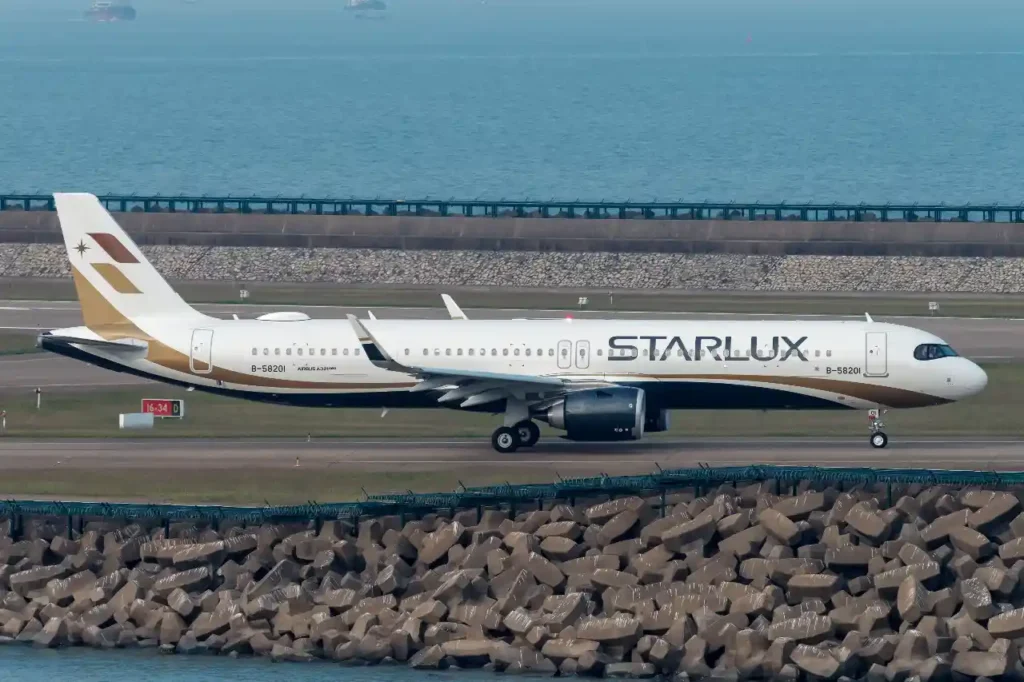 My experience flying with Starlux Airlines was nothing short of exceptional. From the moment I stepped onto the plane, I was blown away by the attention to detail and level of service. Despite being a new player in the industry, they have already surpassed many well-established airlines in quality.
The food and beverage program was a highlight of my flight. The meals were not only delicious but also presented elegantly and thoughtfully. The crew was attentive and ensured all passengers were well cared for throughout the flight.
The economy and business class seats were comfortable and provided ample legroom. I was pleasantly surprised that even the economy seats had a generous space. However, the entertainment system could use some improvement.
The only other area that Starlux Airlines could improve upon is their lounge offerings. While the lounge was adequate, it did not compare to other airline lounges I have visited.
Starlux Airlines Review In Depth
Ground / Lounge Review
After checking in, I went to the Plaza Premium Lounge as instructed. Unfortunately, the Starlux Lounge was closed due to COVID-19 restrictions. The lounge was spacious, clean, and modern, with plenty of seating options.
Several dining options were also available, including a buffet and made-to-order dishes. I enjoyed some delicious dim sum and fresh fruit while waiting for my flight. The lounge also had a variety of beverages, including alcoholic drinks. However, as it was early morning, I opted for some fresh juice.
The boarding process was smooth, and the friendly flight attendants greeted me. I immediately noticed the sleek and modern cabin design when I entered the aircraft. The economy class seats were comfortable, with enough legroom for a short flight.
The business class seats were even more comfortable and spacious with a larger recline, leg rest, and footrest. I especially appreciated the noise-cancelling headphones, which blocked out any surrounding noise.
Cabin / Amenities Review
Moving on to economy class, the seats are in a 3-3 layout, which is standard for most narrow-body aircraft. The seats are comfortable, with ample legroom and recline. Each centre has a pillow and blanket, but unfortunately, no slippers are provided in economy class.
The cabin design in economy class is also impressive. The seats are in subtle blue and have small touches of design elements that give it a premium feel. I particularly like the overhead bins, which have a sleek, modern design that blends seamlessly with the cabin.
As for the amenities, each seat has a personal TV with a decent selection of movies, TV shows, and music. The noise-cancelling headsets in economy class are not as premium as those in business class, but they do the job well enough. The inflight magazine is the same as in business class, which is a nice touch to give all passengers a cohesive brand experience.
Regarding food and beverage, the menu in economy class is limited compared to business class but still offers a decent selection of hot meals, snacks, and drinks. The meals are presented well and taste good, although not as gourmet as those in business class.
In-Flight Service Review
If you're considering flying with Starlux Airlines, you'll want to know what to expect from their in-flight service. As mentioned earlier, we had the opportunity to experience business and economy classes on a recent flight, so we can give you a detailed account of what to expect.
First, let's talk about business class. Our cabin crew, Molly and Joyce, were simply outstanding. They were attentive, professional, and friendly, making us feel like VIPs.
Even though there were only two passengers in business class on our flight, they still went out of their way to ensure we were comfortable and well taken care of.
We found it strange that the pilots seemed to be rotating through row 1 for rest during the flight. While we understand that they were probably taking advantage of the plane's light load, it struck us as odd for a 4-hour flight that turns. That being said, it didn't affect our overall experience.
Now, let's talk about the service itself. When we sat, Molly introduced herself and offered us cold towels and pre-departure beverages. We also had the option to have our blankets opened up if we wanted.
Throughout the flight, Molly and Joyce addressed us by name, always smiling (even behind their masks), and were more than willing to fulfil our requests. They periodically checked in on us during the flight, and if we needed anything, they were there within seconds.
The food and drink selection in business class was top-notch, with plenty of options for meals and snacks. We particularly enjoyed the hot pot noodles, which were flavorful and satisfying. The wines and cocktails were also of high quality.
Now, let's move on to economy class. While the service wasn't as personalized as in business class, we still found it friendly and efficient.
Food and Beverage Review
One of the highlights of my experience flying with Starlux Airlines was undoubtedly the food and beverage service. Everything was exceptional, from the canapes and post-departure beverages to the leading meal service.
One thing that stood out to me was the extensive non-alcoholic beverage selection. I appreciated the variety of local and international teas, coffees, cold press juices, and sodas.
And for those looking for a bit of a kick, the selection of liquors and cocktails, including the signature "Galaxy Sci-Fi" cocktail, was quite impressive.
But what blew me away was the wine selection. With offerings like Bollinger Champagne, two reds, two whites, and a port, there was something for everyone. And what's more, the wine menu included descriptions of each wine and a map of the wine's region – a thoughtful touch that elevated the experience.
As for the food, I could choose between the Longtail menu curated by Chef Lam Ming Kin or select a starter and lead from the "International" menu. I opted for the Longtail x Starlux menu and was pleasantly surprised by its deliciousness, even for an inflight meal.
Inflight Entertainment Review
The inflight entertainment on Starlux Airlines is, unfortunately, lacking in options. There were very few selections of movies and TV shows, and it was evident that the system had not been updated since January 2020.
Additionally, there was no free WiFi on the SIN route, although it was available on flights to BKK or Vietnam, which was a bit confusing since the same planes were used. On the bright side, the headsets provided were of excellent quality.
Despite the limited options, the TVs were large and had touchscreen capabilities, or you could control the system using the small handset provided, which had a touch mouse surface.
While the inflight entertainment left something to be desired, keeping oneself occupied for a few hours during the flight was possible.
Is Starlux Airlines Worth Trying?
If you're looking for a high-end flying experience, Starlux Airlines is worth trying. From its sleek and stylish cabin design to the attentive and friendly staff, the airline offers a premium experience that's hard to match.
The Business Class experience is worth the extra cost if you're travelling for business. The spacious seats, top-notch food and drink options, and exceptional service make it a comfortable and enjoyable journey.
Even in Economy Class, Starlux Airlines offers a superior flying experience compared to many other airlines. The comfortable seats, ample legroom, and delicious meals are just a few reasons to consider this airline for your next trip.
Starlux Airlines is worth trying if you're looking for a luxury travel experience. The airline offers excellent value for money, exceptional service, and a fantastic flying experience. Give it a try on your next trip, and see what the hype is about!
Conclusion
I had the pleasure of experiencing Starlux Airlines' business class on a recent flight from Los Angeles to Taipei, which was quite impressive. When I stepped onto the aircraft, I was greeted with warm smiles and impeccable service.
The seats were comfortable and spacious, with plenty of legroom and a lie-flat option for a more relaxing journey. The amenities included noise-cancelling headphones, a personal tablet, and a plush blanket and pillow.
The service on board was top-notch, with attentive flight attendants who checked on me regularly and ensured I had everything I needed. The food and drink options were also fantastic, with a variety of Asian and Western cuisine and a selection of alcoholic and non-alcoholic beverages.
One unique feature of Starlux Airlines' business class is the lounge area at the front of the cabin. It's a great place to stretch your legs, mingle with other passengers, and enjoy snacks and drinks.
Overall, my experience with Starlux Airlines' business class was exceptional. The only downside is the steep price tag, but with the new Mileage Plan partnership with Alaska Airlines, it's now possible to redeem miles for a more affordable option. I highly recommend trying Starlux Airlines if you're in the market for a luxurious and comfortable travel experience.
Also Read
Zipair Review: Is Japan's New Budget Airline Worth Trying?
Breeze Airways Reviews: Is This New Airline Worth Trying Out?
Avelo Airlines Reviews: A Comprehensive Analysis of Their Flights
Dillip is a professional blogger and writer since 2017, known for creating captivating and informative content. With a passion for words and a knack for storytelling, Dillip excels in producing engaging blog posts, articles, and web content across various industries and niches. With a focus on delivering value to readers, Dillip's writing effortlessly combines creativity, authenticity, and expertise.