If you're looking for a delicious and convenient snack, you must check out Nuchas Empanadas! This Nuchas Empanadas review will show why these hand-held treats are perfect for on-the-go snacking. 
With a wide variety of flavors, shapes, and sizes, there is something for everyone. These empanadas are made with high-quality ingredients and are sure to satisfy your hunger. Read on to find out why Nuchas Empanadas are so tasty and make the perfect snack for any occasion!
Table of Contents
History of Nuchas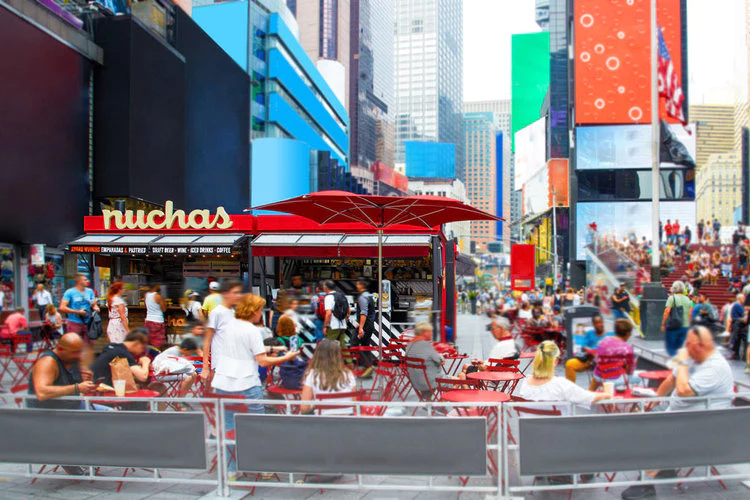 Nuchas is an Argentine-inspired empanada restaurant founded in 2009 by Ariel Barbouth. In 2010, Barbouth joined forces with fellow Argentinian native German Lucarelli, a celebrated chef from renowned restaurants such as Bice Ristoranti Group, Montenapo, and Da Silvano. Together, they crafted recipes that advanced Nuchas beyond traditional meat and cheese-filled empanadas.
In 2011, Nuchas was awarded one of the four concessions to debut at the Broadway Pedestrian Plaza in Times Square. They unveiled their unique restaurant concept with a flavorful, innovative empanada that redefined hand-held foods. Since then, they have grown to include locations across the U.S., Canada, and Australia, bringing their delicious empanadas to even more people.
Nuchas Locations
Nuchas offers multiple locations to enjoy their delicious empanadas throughout New York City, including the iconic Times Square, Greeley Square Park, Jacob Javits Center, and Wall Street Cart. They also have a location at the Georgia World Congress Center in Atlanta, Georgia. 
In addition, Nuchas has a truck and mobile sites updated on their Twitter account. With these different locations, customers can quickly get their hands on these delicious treats wherever they are. 
Each of the Nuchas locations offers an array of flavorful options for everyone. Whether you're looking for something savory, sweet, vegan, or gluten-free – there is something sure to satisfy your craving!
Specialities of Nuchas Empanadas
Nuchas Empanadas are a unique blend of Argentinian, Mexican and Spanish flavors that create an unforgettable experience. Every empanada is hand-crafted with fresh ingredients and baked to perfection in their special ovens.
One of the main specialties of Nuchas is their traditional Argentinian-style empanadas. These empanadas are made with all-natural ingredients, including ground beef, onions, olives, cumin, paprika, raisins, and hard-boiled eggs. The dough is made from organic flour and natural butter, then baked for a golden crust.
The Mexican-style empanadas are also one of Nuchas' specialties. They are filled with melted cheese, black beans, corn, and red bell peppers and served with guacamole or salsa. The dough is made from a mix of organic flour and natural butter, then baked to a light and fluffy perfection.
Finally, the Spanish empanadas are made with chorizo sausage, roasted potatoes, and a spicy tomato sauce. The dough is lightly spiced with smoked paprika and oregano, giving it an irresistible flavor.
No matter which type of empanada you choose, you can be sure that it will be full of flavor and made with the freshest ingredients. Enjoy your empanada with a side of hot sauce for an added kick!
Also Read –
Nulastin Reviews: Here's What You Need To Know
Royal Honey Reviews – Can Honey Improve Your Sex Life?
Superzilla Reviews – Is Superzilla The Best Stain Remover?
Tvidler Reviews – Is The Tvidler Ear Wax Remover Legit Or A Scam?
What are the Facilities Available at Nuchas?
Nuchas offers various facilities to ensure customers have an enjoyable experience. They offer delivery, takeout, and catering services so customers can enjoy their empanadas from the comfort of their homes or at their next event. 
Nuchas also offers vegan options for those following a plant-based diet. They accept credit cards for payment, so you don't have to worry about carrying cash. For those looking to dine outside, Nuchas has outdoor seating available. 
Additionally, Nuchas provides street parking for those driving to the store and bike parking for those who prefer to ride their bike. 
To top it off, they serve beer and wine to make your experience more enjoyable. And to make sure everyone can enjoy their empanadas, Nuchas is dog-friendly and wheelchair accessible. Open to all, Nuchas has something for everyone!
What is not Available at Nuchas?
Nuchas does not accept reservations for orders and also doesn't accept payments through Apple Pay or cryptocurrency. 
Additionally, no waitperson service, Wi-Fi, or TV is available at Nuchas. 
This means you'll have to order your food at the counter and take it to go or find a place to sit near the store to enjoy your delicious empanadas.
Also Read
Carbinox Watch Review (Features & Functions): Is This Carbinox Smartwatch Legit?
Ekster Wallet Comprehensive Review – Is It Worth Your Money? 
Erie Metal Roofs Reviews – Is It Worth The Investment?
Funding Hawk Reviews – Is Funding Hawk Legit Or A Scam?
Nuchas Empanadas Reviews: What is the Customer Saying?
Regarding customer reviews, Nuchas Empanadas has a lot of positive feedback. On Trip Advisor, Nuchas has an overall rating of 4.5 stars out of 109 reviews with comments such as "Empanadas to die for." 
Yelp.com shows 3.9 stars out of 266 reviews, while the Nuchas Food Truck has 4.1 stars out of 41. 
The reviews are glowing with praise for the delicious empanadas and fresh ingredients. Customers are impressed with the variety of flavors, from classic beef and cheese to more adventurous options such as chorizo and potato or spinach and goat cheese. People also love the convenience of hand-held treats, which make them perfect for on-the-go snacking. 
Overall, customers have nothing but good things to say about Nuchas Empanadas. They're impressed with the quality of the food, the variety of flavors, and the convenience of the hand-held treats. Nuchas Empanadas will satisfy you whether you're looking for a quick snack or a full meal.
Are Nuchas Empanadas Worth Trying?
Yes, Nuchas Empanadas are worth trying! This Latin-inspired snack is hand-held and perfect for on-the-go snacking. Made with fresh ingredients like sweet corn, potatoes, beans, beef, and even vegetarian options, these empanadas are sure to tantalize your taste buds. 
You can find them in select locations across the country, making it easy to get your hands on some of these delicious treats. Plus, the price point is relatively inexpensive compared to other snacks, so that it won't break the bank. Nuchas Empanadas are worth a try if you're looking for a quick and tasty snack that will save you time and money.
Also Read
Colon Broom Reviews – Does Colon Broom Really Work? Ingredients Exposed!
Alpha Heater Reviews – The Hidden Dangers Nobody Tells You About
Temu Reviews: The Most Downloaded New App In America
The history of empanadas
Empanadas have been around since the early 16th century when Spanish settlers brought the traditional pastry to South America. They have since become a popular snack in Latin America, the Caribbean, and Europe. While the filling and shape of the empanada may vary from country to country, the concept of the hand-held pastry remains the same.
The exact origin of the empanada is still unknown, but many people believe that the name is derived from the Spanish verb "empanar," which means to wrap or coat in bread. Early versions of the empanada often included a combination of meats, cheeses, and vegetables wrapped in a dough made from flour, water, and salt.
Empanadas were also seen as a sign of wealth during this time, as their preparation was labor-intensive and required expensive ingredients like cheese and meat. As empanadas became more popular, they began to be sold on street corners and at markets.
Today, empanadas have become an international snack with variations in countries worldwide. From Argentinian beef empanadas to French galettes, there are endless possibilities for creating unique flavor combinations. In addition to being a tasty snack, empanadas can also be a great way to use leftovers or get creative with ingredients!
How are empanadas made?
Empanadas are a delicious, hand-held treat perfect for on-the-go snacking! While the exact origin of empanadas is unknown, it is believed that they originated in Spain during the Middle Ages and have since spread throughout Latin America and the world. Empanadas are a traditional pastry made by folding dough over a filling and then baking or frying it.
The dough used to make empanadas can be made from wheat flour, corn flour, or a combination of both. Depending on the recipe, it is then mixed with water, lard or butter, salt, sugar, and other ingredients. 
The dough is kneaded until it is soft and pliable. Once the dough is ready, it is rolled into a thin sheet and cut into circles. The circles are filled with various fillings, including ground meat, vegetables, cheese, beans, fish, and eggs.
After the empanada filling is added to the dough circle, the edges are pinched together to form a seal. The empanadas are then either baked or fried in oil. Some recipes call for an egg wash to give the empanadas a golden color. Once cooked, they are ready to be enjoyed!
The unique thing about empanadas is that they can be filled with almost anything you desire. From savory to sweet, there are endless options to choose from. If you are looking for a delicious snack perfect for on-the-go snacking, try Nuchas Empanadas!
Also Read –
Thornton Chip Tuning Reviews – The Best Way To Boost Your Car's Performance
Reskine Review: Is Reskine Cosmetics Scam Or Legit?
Is Bask And Lather Legit? A Review Of The Luxury Bath And Body Brand
Crepe Erase Reviews – Is This Product Really Effective?
The benefits of eating empanadas
Empanadas are an incredibly versatile and convenient meal option, making them an ideal choice for busy lifestyles. Not only are they delicious, but there are also several health benefits to eating empanadas.
One of the primary benefits of eating empanadas is that they are a great source of carbohydrates and proteins. Empanadas are usually filled with meat, poultry, fish, or beans, providing an excellent source of protein. They also contain carbohydrates in wheat flour or cornmeal, which helps give the empanada its delicious flaky crust. 
Empanadas are also a great way to get your daily servings of vegetables. Many empanadas are filled with vegetables like potatoes, bell peppers, onions, carrots, zucchini, mushrooms, and more. Eating these vegetables in an empanada makes them much more palatable and enjoyable than eating them on their own.
Finally, eating empanadas can help to reduce food waste. Since the filling ingredients are often leftovers from other meals, eating an empanada helps ensure that no food goes to waste. 
Empanadas offer a delicious and convenient way to get the nutrition you need without sacrificing taste. Whether looking for a quick snack on the go or a satisfying meal at home, empanadas are always a great choice.
Also Read
Knix Bras Reviews – Are They Really The Most Comfortable Bras Out There?
Tovala Reviews – A Unique Service With Its Own Smart Oven
Australia's Reebelo Review: Is It Worth Your Money?
Flight Network Review: Is Booking With FlightNetwork.Com Safe?
The different types of empanadas
Empanadas are delicious, hand-held treats that can be enjoyed as a snack or meal. They come in a variety of flavors and shapes, which can make them great for any occasion. From traditional savory empanadas filled with beef and vegetables to sweet fruit-filled pastries, there is something to please everyone.
Some of the most popular types of empanadas include:
Cheese empanadas: These are filled with cheese, often a combination of cheddar and mozzarella. The dough is typically made with flour, lard, butter, and salt. Cheese empanadas are famous in Latin America, Spain, Portugal, and Argentina.
Meat empanadas: Meat empanadas are stuffed with ground beef, chicken, pork, or a combination of the three. The fillings often include onion, garlic, and spices like cumin and oregano. The dough is usually made with flour, lard, butter, and salt. Meat empanadas are famous in Latin America, Spain, Portugal, and Argentina.
Vegetarian empanadas: Vegetarian empanadas are filled with vegetables like spinach, mushrooms, onions, peppers, olives, tomatoes, and corn. The dough is usually made with flour, lard, butter, and salt. Vegetarian empanadas are famous in Latin America, Spain, Portugal, and Argentina.
Fish empanadas: Fish empanadas are usually filled with cod or tuna. The dough is traditionally made with flour, lard, butter, and salt. Fish empanadas are famous in Spain and Portugal.
Fruit empanadas: Fruit empanadas are filled with sweet fruit such as apples, bananas, blueberries, peaches, strawberries, raspberries, etc. The dough is usually made with flour, butter or lard, and sugar. Fruit empanadas are famous in Spain, Portugal, Latin America, and the United States.
No matter which type of empanada you try, they are sure to be delicious! With so many flavors to choose from, you can go right. Whether you opt for savory or sweet, you're sure to find a tasty snack you'll love.
Also Read
Fun With Feet Review: Is Fun With Feet Website Legit?
Nopalera Soap Review: Will It Totally Transform Your Bathing Routine?
Smileactives Review – Can It Help You Get Whiter Teeth?
Why Nuchas empanadas are the best
Nuchas empanadas are quickly becoming one of the most popular snacks around. Not only are they delicious and convenient, but they also offer several health benefits. With Nuchas, you can enjoy a traditional empanada's deliciousness without guilt. 
These hand-held treats are full of flavor and contain various fresh ingredients, including beef, chicken, potato, spinach, and more. They are also low in fat and cholesterol, making them an excellent choice for those looking to make healthier snack choices. The dough used in Nuchas empanadas is made from 100% natural ingredients, with no added preservatives or fillers.
The taste of these delicious snacks is sure to please everyone's palette. There's something for everyone, from the savory beef to the sweet potato filling. Additionally, because they are hand-held, they make the perfect on-the-go snack. They are also a great way to mix up your lunchbox routine.
Finally, Nuchas has facilities to ensure your empanadas are as fresh and delicious as possible. They have an in-house kitchen where the dough is made from scratch daily and refrigerated storage space to keep their products fresh until they are served. 
All in all, Nuchas empanadas are a great snack that offers both convenience and health benefits. With a wide variety of flavors and fillings, there's something for everyone to enjoy. If you're looking for a quick and tasty snack, then Nuchas is worth trying out!
Also Read
Ark Drops Review – Does It Work And Worth Your Money?
Streameast.Xyz Review – Is It Legit And Safe To Use?
The Magic 5 Goggles Review: Are They Worth The Hype?
The final verdict
Nuchas Empanadas are a delicious and convenient way to enjoy a quick snack without compromising taste. With a wide variety of fillings, there's something for everyone. The dough is light and flavorful, the fillings are fresh and tasty, and the overall flavor is delicious. 
The menu is also full of vegan, gluten-free, and even keto-friendly options, so no matter what your dietary needs, you can find something that suits you. The staff is friendly and helpful, and the prices are more than fair. All in all, Nuchas Empanadas are a unique hand-held treat that you should try.
Also Read
Regal Northtown Mall Reviews – Everything You Need To Know
Nailboo Dip Kit Review: Is Nailboo Legit & Worth It Or Total Hype?
Is Zolucky Legit Or A Scam Clothing Store? Our Honest Review
Apple Mac Mini M2 Review: A Comprehensive Look At Apple's Compact Powerhouse
HomePod 2 Review – A Deep Dive Into Apple's Newest Smart Speaker
Alpilean Weight Loss Pills Review – Is Alpilean Safe?
Prodentim Review – Is This Advanced Oral Probiotic Effective?