Are you looking for honest breeze airways reviews before you book a flight? If so, you've come to the right place. In this blog post, we'll dive deep into the new Breeze Airways and examine what customers are saying about the airline.
We'll look at flight prices, customer service, and other factors to help you decide if Breeze Airways is the right choice for your next trip.
Table of Contents
About Breeze Airways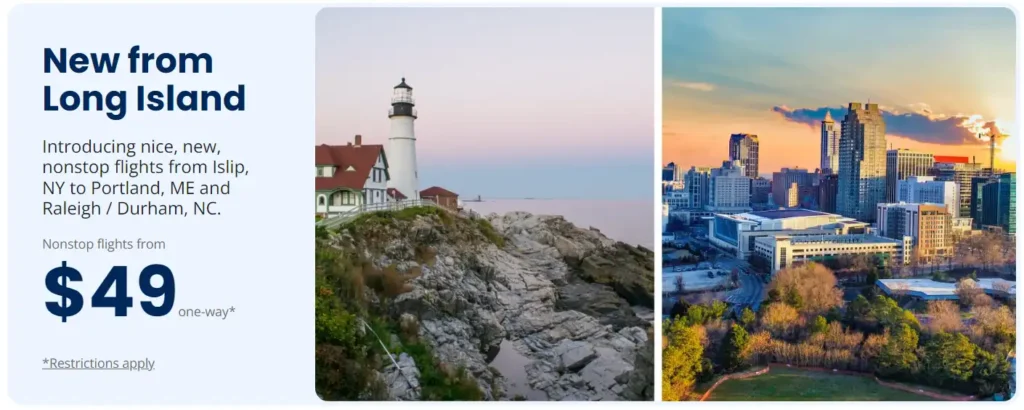 Breeze Airways is a low-cost airline based in the United States, founded in 2021 by David Neeleman. The airline currently offers flights from its base at Tampa International Airport to 30 destinations across the United States.
Passengers can expect free Wi-Fi, personal device entertainment on board, comfortable seats, snacks, and beverages. Breeze also offers a loyalty program called Breeze Points, which passengers can use to purchase rewards such as upgrades or lounge access.
Breeze Airways Routes Overview
Breeze Airways launched its inaugural flights in June 2021 with 39 routes between 16 airports across the Southeast and Eastern U.S. As of July 2022, Breeze has grown its route map to include 80 routes serving 30 destinations.
The airline focuses on travel between secondary cities that don't have nonstop airline service. It offers convenient routes between destinations like Oklahoma City and Tampa; Jacksonville, Florida; Knoxville, Tennessee; and Pittsburgh and New Orleans. 
And Breeze Airways is continuing to expand. Another 20 routes and four destinations are slated for launch by the end of Summer 2023. By then, Breeze's route map will span the entire continental United States. 
Breeze Airways Reviews In Depth
Breeze Airways Boarding and Deboarding Review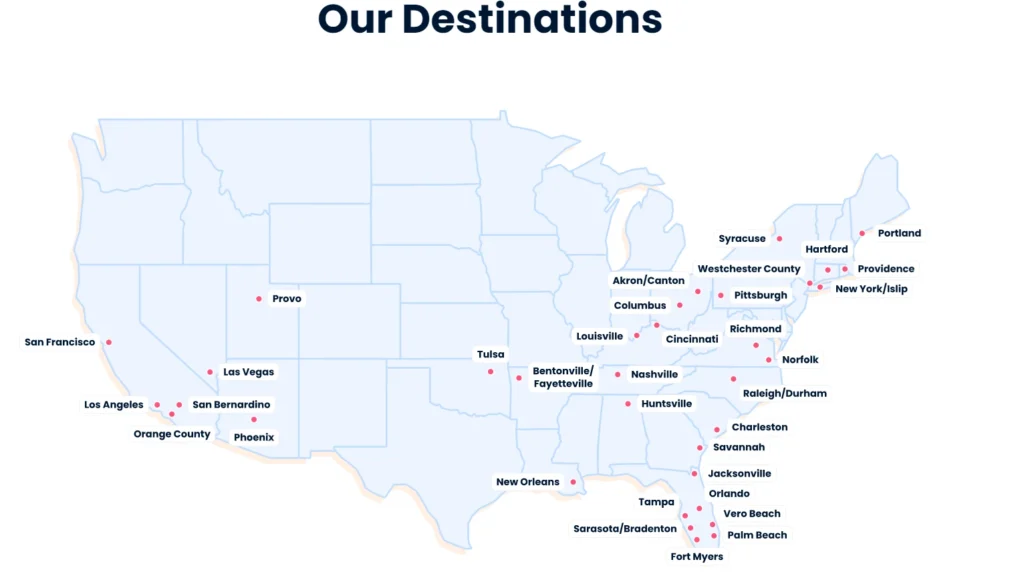 When you're ready to board a Breeze Airways flight, ensure you have your ticket and ID, as they will be checked before boarding. The flight attendants will then direct you to the gate to line up according to seat numbers and boarding groups.
Boarding usually begins with those seated in first class, followed by the rest of the passengers in their assigned order. Depending on the plane's size, several rows of people may be waiting to board. In this case, the flight attendants usually ask you to form two lines to speed up the process.
Once onboard, you'll be asked to stow your carry-on luggage in the overhead compartment. You can expect a friendly welcome from the flight attendants, who will gladly assist you with anything you need during the flight.
As you deplane, the flight attendants will wish you a safe journey and direct you to baggage claim.
Breeze Airways In-flight Refreshments Review
Passengers in most Breeze Airways sections must pay for food and beverages separately. Complimentary cups of water are provided, while sodas and bottled water cost $3.50, alcoholic drinks cost $9, and individual snacks like nut mixes and Pringles cost $4.50.
Those in the first-class section on flights longer than four hours are offered a light snack, one drink choice from their menu, full-sized snacks, and alcoholic drinks.
Meal services are not included on Breeze Airways as they might be on other first-class flights, but passengers can purchase a snack box for $8.50, including dried cranberries, a cheese spread, a flatbread, a brownie crisp, and almonds.
Breeze Airways Tickets and Bag Policies Review
Breeze Airways is a low-cost carrier offering the most basic fares known as "Nice." With these fares, you can bring one personal item onboard with you free of charge. However, all other carry-on and checked bags must be purchased. 
The bag fees for Nice fares are relatively inexpensive. On short routes, Breeze Airways charges a flat fee of $20 per bag, regardless of the road or whether you check the bag or plan to carry it. This fee applies to the first checked bag, second checked bag, and third checked bag. 
If you're looking for more room, you may want to consider upgrading to Breeze's Luxe fare. With Luxe, you can enjoy a carry-on bag and one checked bag at no additional charge. Additionally, you'll get access to a complimentary snack and beverage service on board. 
No matter which fare type you choose, check Breeze's website before flying, as they may have special promotions that could save you money on your bags. Additionally, you are eligible for free bags with your fare if you're an active duty or retired military member or veteran. 
Breeze Airways Aircraft Review
Breeze Airways operates a fleet of regional jet aircraft, with the majority being Embraer jets. The fleet includes 10 E190 jets which can seat up to 108 passengers, and three E195s, with a capacity for up to 118 passengers.
To accommodate the growing routes and travel demand, Breeze delivered their first Airbus A220-300 in late 2021. These larger A220 aircraft can seat up to 126 passengers and have 36 seats in Breeze's "Nicest" business class. These rows are arranged with two seats on either side of the aisle.
The airline has invested heavily in modernizing its planes, equipping them with more comfortable seating and spacious interiors.
Every seat on board the Embraer jet aircraft is fitted with adjustable headrests and leather cushions, and the Airbus A220-300 features larger overhead storage bins and mood lighting. With Breeze's modern fleet, passengers can expect a comfortable and enjoyable flight experience.
Breeze Airways Seats Review
For those looking for extra legroom, the Nicer seats are ideal. These seats are located toward the front of the plane and offer between four and six inches more legroom than the standard-legroom seats. There is no fee to select a Nicer seat when booking a flight, although availability may be limited.
The Nicest seats are the way to go if you want a luxurious flying experience. Located only on its A220 aircraft, the Nicest centers provide first-class-level comfort and amenities, including broader and more comfortable seats with up to eight inches of additional legroom and access to complimentary meals, snacks, and drinks. The cost of these seats varies depending on the route but is typically around $50 per person per flight.
Other Things to Know About Breeze Airways
Breeze Airways also offers "Light Fare" packages, which bundle discounted fares with discounts on baggage and other fees. These packages are only available for select routes and dates, so it's worth looking if you're hoping to save money. 
Breeze Airways offers a frequent flyer program called Breeze Miles for those who travel frequently. The program allows members to earn points for every mile flown, which can be redeemed for discounts on future flights. In addition to the points system, Breeze Miles members can access exclusive deals and promotions throughout the year.
Finally, for travelers who need a little extra legroom, Breeze Airways offers "Extra Legroom" seats for an additional fee. These seats offer more legroom than standard seats, allowing for a more comfortable experience.
BreezePoints Rewards
Breeze Airways has a generous rewards program for frequent travelers known as BreezePoints. With this program, you'll earn credit towards future travel through BreezePoints. You can accumulate these points by purchasing airline tickets and paying for bag and seat fees.
You'll earn 2% of your total ticket price (excluding taxes and fees) when you book a Nice fare, 4% when you book Nicer food, and 6% when you book the Nicest food. Additionally, you'll earn 4% on bag fees and seat fees. 
Your BreezePoints will be deposited into your account after you complete your flight, and they can be used towards discounts or free flights. To plan your dream vacation worry-free, you can use them to get discounted fares or free flights with no blackout dates. You can also donate your points to charity or gift them to friends and family. 
So, if you're looking for an airline that rewards its customers for their loyalty, Breeze Airways is the way to go. You can make your air travel dreams come true with excellent points, bonuses, and flexible redemption options.
The Bottom Line – Is the Breeze Airways Worth It?
The airline focuses heavily on customer experience to create an enjoyable and hassle-free experience for all travelers. It emphasizes personal touchpoints such as helping customers select the right seats, providing helpful customer service agents, and providing reliable flight operations. The airline also offers competitive fares and bundles designed to make air travel more affordable. 
Unfortunately, Breeze Airways has some downsides. For starters, the airline's fleet is smaller than many of its competitors, meaning fewer routes and destinations for travelers—additionally, the airline charges for checked baggage. Furthermore, there have been reports of long wait times when contacting customer service and delays in processing refunds. 
Despite some drawbacks, Breeze Airways offers a great value proposition for travelers seeking a low-cost option that won't break the bank. With competitive fares and plenty of amenities to keep passengers comfortable and entertained, Breeze Airways is worth considering if you're looking for an alternative to pricier airlines.
Breeze Airways Related Services
Viator offers more than 300,000 experiences throughout 200 countries, including wine tastings, walking tours, cooking classes, catamaran rides, tickets, passes to famous landmarks, and travel and transportation services, such as bus tours and day trips.
Trip.com provides one-stop travel booking services in 20 languages through the website and mobile app. Trip.com is a part of the Ctrip Group, a NASDAQ-listed company since 2003 (NASDAQ: CTRP) with over 30,000 employees and over 300 million members, making it one of the world's leading online travel agencies.
With thousands of tickets and travel experiences, specializing in Asia and expanding fast worldwide, RTE offers a diverse portfolio and competitive prices. As well as full tickets and tours, our unique offerings include online tours and exclusive experiences not found elsewhere.
Hotellook — a service that helps you find and compare prices on hotels worldwide, provided by a leading reservation system.
Today, Hotellook.com offered to gather information on more than 250,000 hotels in 205 countries.
Aviasales is a trusted service for buying cheap flight tickets. No extra fees or markups! In the mobile application and on aviasales.com, only the lowest possible rates from reliable agencies.
Intui.Travel transfer — is a platform for booking transfers in 175 countries from the best local transport companies.
Also Read
Also Read
Snaptravel Reviews: Is SnapTravel (Super Travel) Legit?
Traveluro Reviews – Is Traveluro Legit? Our In-Depth Review
Airmoto Reviews: Is This Air Pump Legit & Worth Your Money?
Also Read
Mirifica Bust Serum Review – Is It Truly The Best Breast Serum?
Sqairz Golf Shoes Reviews – Is This the Next Wave of Golf Footwear?
Mellanni Sheets Review – Are They Worth Buying?
Also Read
OnePlus 11 Review – Everything You Need to Know Before Buying
Rubmd Review- Is It A Reliable Local Massage Therapist Finder?
Alloned.com Review: Is This Dating App Legit or a Scam?
Also read
Ryabe Reviews – Is Ryabe Clothing Legit or a Scam?
Thermohandz Thermal Gloves Reviews – Is Thermohandz Legit?
Exipure Review: Does Exipure Really Work For Weightloss?
Also Read
Vibrosculpt Reviews: Does Vibrosculpt Massager Really Work?
BugMD Reviews – Does It Really Work? Explore Now
Inmod Landry Sofa Review – Is it Worth Your Money?
Also Read
Canon Autoboy Prisma Date Review – Is This Camera Worth It?
QuadAir Drone Review: The First High-End Drone at an Affordable Price?
Jurllyshe Reviews – Is Jurllyshe Legit? A Comprehensive Review
Also Read
Lumio Solar Reviews – Is Lumio Solar Legit?
Dillip is a professional blogger and writer since 2017, known for creating captivating and informative content. With a passion for words and a knack for storytelling, Dillip excels in producing engaging blog posts, articles, and web content across various industries and niches. With a focus on delivering value to readers, Dillip's writing effortlessly combines creativity, authenticity, and expertise.