Are you looking for a comprehensive review of Cluey Learning? Then you've come to the right place! In this Cluey Learning review, we'll explore all the features and benefits of this online tutoring platform. 
We'll examine what Cluey Learning offers, how it works, and why it's an excellent option for students. By the end of this review, you'll have a better understanding of Cluey Learning and be able to make an informed decision on whether it's the right choice for you.
Table of Contents
What Is Cluey Learning?
Cluey Learning is an online tutoring service based in Australia that provides tailored tutoring sessions in Maths, English, and Chemistry for students between the ages of 2 and 12. The sessions are designed to follow the Australian school syllabus and are held online in real-time.
Cluey Learning works with a team of qualified and experienced tutors with a minimum qualification of a Bachelor's degree in Education. 
The tutors are experts in their subject areas and use a personalized approach to create lesson plans that meet each student's learning needs. The focus is on helping the student to become a successful and independent learner. 
In addition to providing online tutoring, Cluey Learning also offers supplementary resources such as practice tests, review sheets, worksheets, and eBooks. 
The resources are designed to supplement online tutoring and to help students become more confident in their studies. 
The platform also provides parents with weekly progress reports outlining their child's performance during their tutoring sessions. This enables parents to keep track of their child's progress and ensure they get the most out of their lessons.
How Does It Work?
Cluey Learning provides one-on-one tutoring to students from Years 3 to 12. The tutors are knowledgeable, experienced teachers or top ATAR achievers who have all been vetted and had Working With Children checks completed.
Each lesson is custom-tailored to the student's individual learning needs, using a combination of the learning programs aligned with the NSW School Syllabus and the tutor's expertise. The lessons can also be adjusted based on a student's progress so they can learn at their own pace. 
The online platform is secure and safe, and parents can monitor their children's progress. Cluey Learning also has an Education Advisory Board of educators who are well-versed in Board of Education requirements for whatever state your child is learning in or whatever exams they are sitting. 
Parents can choose between a month-to-month subscription or a one-time payment plan that allows their child to attend up to 8 sessions with their tutor. 
With Cluey Learning, parents can rest assured knowing their child receives quality education from experienced and knowledgeable tutors in a secure online environment.
What Are the Main Features?
Cluey Learning provides students with access to expert tutors who know their stuff. These tutors are qualified teachers, high ATAR achievers, or subject matter experts. 
With Cluey Learning, students can extend their formal and traditional Education by building on the work they cover in class.
The program offers online and face-to-face learning using video, audio, and an interactive virtual whiteboard. This allows students to get personalized help with their studies, helping them achieve their personal goals. 
The program is designed to be fun and engaging, providing an interactive learning experience that students can enjoy. 
Additionally, the program offers real-time feedback and progress tracking, so students can monitor their progress and stay motivated.
What Are the Pros of Cluey Learning?
Cluey Learning offers several pros that make it an excellent choice for tutors and students. 
For tutors, Cluey Learning offers the ability to work from home or the office, flexible hours, and the students are allocated to you. 
The flexible working arrangements enable tutors to make the most of their time and take on as many students as they like. The streamlined process also makes it easy for tutors to manage their time and workload. 
The leadership team at Cluey Learning is also highly supportive of their tutors, providing guidance and assistance whenever necessary. This is a massive plus for tutors looking to take on a new challenge and learn from experts in the industry. 
Additionally, the platform is regularly updated with new content and features, allowing tutors to stay up-to-date with the latest trends in online learning. 
Overall, Cluey Learning provides an excellent opportunity for tutors to get involved in online Education and reach out to students who may otherwise need access to quality tutoring services.
What Are the Cons of Cluey Learning?
Although there aren't many cons to Cluey Learning, there are a few things to be aware of. The rapid growth of the platform can result in high-pressure situations for tutors. This may only be suited for some. 
Additionally, cancellations can have an impact on a tutor's pay. Although the customer is charged the full fee, the tutor receives a shallow cut. If a student cancels while waiting for them to log on, the company gets the total price, but you don't.
Customers Reviews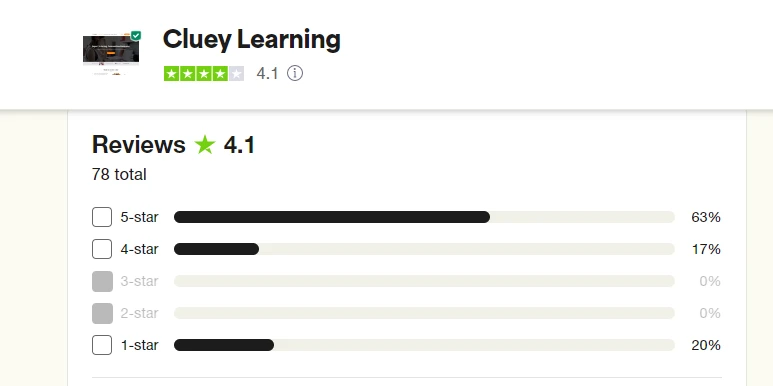 Cluey Learning has been overwhelmingly well-received by parents and students alike. Trustpilot has a rating of 4.7 out of 5 stars, with over 1,000,000 sessions now completed. Most parents and students report that the experience is engaging, inspiring, and effective for students of all levels. 
Many have commented on how convenient the platform is, allowing their children to learn at their own pace and receive instant feedback. 
The advanced analytics feature also helps parents and teachers track progress, understand areas of difficulty, and identify learning patterns to tailor their approach better. 
Overall, Cluey Learning has proven to be a powerful tool to help students learn better and faster while providing parents peace of mind.
Mum's Verdict about Cluey Learning
As a parent, it can be challenging to keep up with your child's learning needs and ensure that they understand the material taught in school. That's why I was so pleased to discover Cluey Learning, an online tutoring service designed to provide one-on-one help to students at their own pace. 
My son, who is in Year 8, began using Cluey Learning, and we saw some great results almost immediately. The online tutor, Clarissa, was knowledgeable and patient and worked with my son to ensure he understood the material. She tailored her lessons to suit his individual needs while providing comprehensive guidance and support every step of the way. 
The Cluey Learning platform was user-friendly, and I felt confident that my son was getting the best possible help from his sessions. He felt comfortable speaking to Clarissa, which is always crucial for learning. He also enjoyed the fact that he could progress at his own pace and didn't have to worry about other students or pressures from the classroom. 
I was delighted with the experience and would confidently recommend Cluey Learning to my friends. The online tutoring session with the Cluey tutor gave me the peace of mind that he was on track with his learning, but also showed me that some topics need to be explained in a different way for him to grasp the concepts, which Clarissa handled perfectly and fully.
Student's Verdict about Cluey Learning
Students are fond of the interactive approach of Cluey Learning. One student, in particular, found it quite enjoyable, saying they liked how their tutor could "just talk to me and make questions appear." The user-friendly interface allows students to draw and use text features. 
Furthermore, the difficulty of the tasks increases as the student progresses, making it useful for schoolwork. Judging from this student's response, they enjoyed the experience enough to want to do it again. This is a testament to the effectiveness of Cluey Learning's interactive and personalized approach to learning.
Is It Worth It?
When it comes to deciding whether Cluey Learning is worth it, there are a few factors that you need to consider. 
The first is the cost. Cluey Learning is reasonably priced and offers several subscription plans to suit different budgets. Furthermore, you can try out the program for free before committing to a full subscription. 
The second factor is the range of features offered by Cluey Learning. It provides comprehensive online lessons that focus on helping students understand the material and interactive quizzes and practice tests to help them prepare for exams. It also includes personalized guidance from experts and mentors.
The third factor is the effectiveness of Cluey Learning's services. Many users report improved results in their studies and tests after using Cluey Learning. 
Furthermore, the team at Cluey Learning is constantly updating and enhancing its programs and services, so they are always up-to-date with the latest trends and techniques in Education.
Cluey Learning is worth considering if you're looking for a comprehensive educational tool that can help improve your study habits and test scores. The range of features, affordability, and effectiveness make it an attractive choice for students of all levels.
Customer Care
When it comes to customer care, Cluey Learning has your back. They offer a friendly and helpful support team available Monday through Friday from 9 am to 9 pm (AEST) and Saturday and Sunday from 9 am to 6 pm (AEST). If you have any questions or need help using their program, call their support team at 02 8311 3964, and they will be more than happy to assist you. 
Cluey Learning also provides various helpful resources on its website for parents, teachers, and students. This includes comprehensive FAQs, detailed tutorials, and helpful articles. 
Overall, the customer care provided by Cluey Learning is top-notch, and you can rest assured that any question or problem will be addressed quickly and professionally.
Bottom Line
Cluey Learning is a comprehensive educational platform designed to help students learn better and faster. It uses personalized technology to give each student an individualized learning experience, providing targeted support and guidance to improve their understanding of core concepts and skills. The program is suitable for all learners, from early primary to senior high school.
The cost of Cluey Learning depends on the grade level of the student and the plan you choose. However, it is worth investing in since it can help your child develop critical academic skills and boost their overall performance. With its tailored learning experiences and dedicated tutors, Cluey Learning is one of the best options for improving your child's educational success.
Also Read – Eliving Furniture Reviews – A Comprehensive Guide
Also read :

The Sleep Republic Mattress – The Ultimate Guide to a Perfect Night's Sleep

King Koil Mattress Review – The Complete Guide
Also Read – Tick Travel Insurance Review – Explore Everything
Dillip is a professional blogger and writer since 2017, known for creating captivating and informative content. With a passion for words and a knack for storytelling, Dillip excels in producing engaging blog posts, articles, and web content across various industries and niches. With a focus on delivering value to readers, Dillip's writing effortlessly combines creativity, authenticity, and expertise.