Are you considering purchasing a Nishiki bike? If so, you may be wondering if it's worth the investment. With the wide selection of models, designs, and features available, it can take time to determine which is best for you.
Fortunately, plenty of Nishiki bike reviews are available to help you make an informed decision. This blog post will look at these reviews and help you decide if a Nishiki bike is the right choice for you.
About Nishiki Bikes
Nishiki is a well-known bike brand that has been around for many years, dating back to 1965. Kawamura Cycle Co. first manufactured the bicycles in Kobe, Japan, then later by Giant of Taiwan. Since 2010, Dick's Sporting Goods has had the rights to Nishiki bikes, selling bicycles and accessories under the Nishiki brand.
Nishiki bikes have earned a reputation for being high-quality and reliable. Their models include road, mountain, hybrid, commuter, cruiser, electric, and kids' bikes. They also offer an array of bike accessories, such as helmets, locks, lights, pumps, and racks.
The quality of Nishiki bikes is well-respected, and they come at an affordable price point. Whether you are looking for a bicycle for recreation or daily commuting, Nishiki has something to offer. With so many options available, there is sure to be a Nishiki bike to suit your needs and budget.
The Pros – Reasons to Buy
A child seat can be easily added to the bike, which users found to be a positive feature.
The bike's size 18″ frame made it a good choice for older children and teenage riders.
Five sizes are available in the Men's Pueblo.
There are five attractive color combinations available for the Nishiki bike.
A heavy rider found the Men's Pueblo easy to handle.
The leading retailer of the Nishiki Men's Pueblo offered excellent customer service for its users.
It is affordable to purchase the Nishiki Men's Pueblo.
With the bike's front suspension fork, riders feel less impact on bumpy roads and trails.
It is highly durable to have a steel frame.
According to a tester, the bike excels on paved trails and roads.
The Cons – Reasons not to Buy
There have been multiple reports of the bike shifting poorly.
Sweaty riders had difficulty using the grip shifters.
The tires wear out quickly and provide inadequate traction when riding loose trails.
Rough and rocky trails were not well suited for the suspension fork with only 60mm of travel.
Testers reported that the bike's handlebars broke quickly and did not stay in place.
According to several users, the chain frequently needed to be placed correctly.
Sitting on the seat is uncomfortable and challenging.
There is no kickstand included with the bike.
The wobble of the wheels was an issue for many drivers.
A frequent description of the plastic pedals was "flimsy" and "cheap."
It is heavy to carry the Pueblo.
What to Consider When Buying a Bike
Bike shopping can be tricky, especially when considering the many components of a bike. When deciding on the best bike for you, it is essential to consider the bike material, brakes, handlebars, and age requirements.
Bike Material: Depending on your riding style, certain materials may be better than others. Steel frames are durable and robust, while aluminum frames are lightweight and affordable. Carbon fiber frames are the lightest and most expensive. There are also various types of bikes, like hybrid bikes that mix elements of mountain and road bikes.
Brakes: The type of brakes you should look for depends on the riding you plan to do. Rim brakes work best for short distances and are cheaper than disc brakes. Disc brakes are heavier but provide superior stopping power, perfect for more aggressive riders.
Handlebars: It is essential to choose the right handlebar type for the riding you plan to do. Mountain bikes typically have more wide, flat handlebars, while road bikes have drop bars that are thinner and angled downwards. Hybrid bikes usually come with flat or riser handlebars which give a comfortable ride.
Age Requirements: It is also essential to consider the age requirements for different types of bikes. Kids' bikes usually have a lower seat height and shorter top tube length. It would be best if you always bought a bike that fits your size and age.
No matter what bike you decide to purchase, you should understand the materials, brakes, handlebars, and age requirements to get the best bike for your needs. With this knowledge, you can confidently choose a Nishiki bike that meets all your requirements and will last for years.
Where is Nishiki Bikes Made?
Nishiki is a Japanese brand of bicycles that have been around since 1950. The company is known for its quality construction and attention to detail, which is why Nishiki bikes are highly sought after by cyclists worldwide. While the company has shifted some of its production overseas, most bikes are still made in Kobe, Japan.
Kobe is an important port city on the southern coast of Japan and is home to some manufacturing facilities. Nishiki takes great pride in using traditional Japanese craftsmanship techniques and modern technology and processes to produce high-quality bicycles that have stood the test of time.
As a result, Nishiki bikes are highly regarded for their durability and performance. Whether you're looking for a mountain bike, road bike, or hybrid, you can trust that a Nishiki bike will provide you with years of reliable riding enjoyment.
Nishiki Bike Features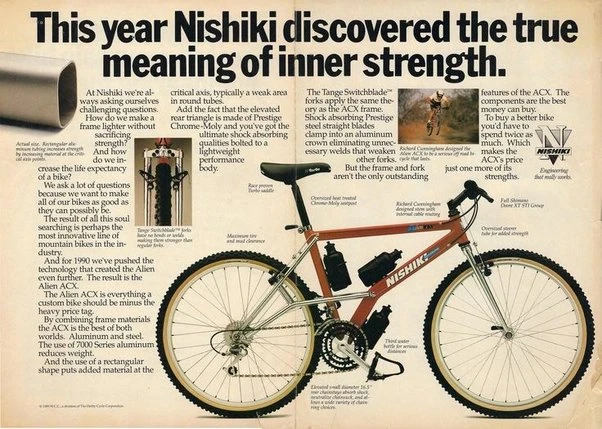 Regarding commuting, having a reliable and affordable bike is critical. The Nishiki bike offers just that with its sturdy build, a wide range of features, and affordability. This bike is perfect for those just starting with cycling or those looking for a reliable and durable ride.
The Nishiki bike is easy to ride and features an upright handlebar and adjustable stem. It also has a Shimano 21-speed shifter, alloy linear-pull brakes, and a chain guard for added protection. Its lightweight aluminum frame is also perfect for carrying around when you're not riding.
The only downside to this bike is the saddle, which can be uncomfortable if you're used to something more cushioned. However, most reviewers are generally pleased with their purchase and appreciate the value for money.
Overall, the Nishiki bike is an excellent option for commuters looking for a reliable, sturdy, and affordable ride. With its excellent range of features and attractive price tag, it's no wonder why this bike is so popular. The Nishiki bike is also easy to assemble as it comes partially assembled in the box.
As mentioned before, one potential downside of this model is the saddle, as some find it quite hard and less comfortable than others, but many still love how lightweight and stable the bike feels overall. One last feature worth noting about this model is that it includes 16 tires (more significant than usual), giving riders increased control over surfaces like gravel or snow.
Is it Worth Buying?
When it comes to bikes, you often get what you pay for, but the Nishiki bikes prove that doesn't have to be the case. While they may not have the flashy features of more expensive models, they are reliable, durable, and easy to use, making them perfect for everyday riders.
Best of all, they are priced so affordably that they are an excellent option for anyone looking to get a great bike without breaking the bank. Plus, because they come with free shipping and no tax charges, it's hard to find a better deal on any other bike in this price range. If you're in the market for an affordable road bike or an entry-level commuter bike with high-quality components, these bikes should be your first stop!
Nishiki Bike Reviews
Whether you're an adult looking for a reliable and durable mountain bike or you're shopping for your child, the Nishiki® Men's Pueblo 26′′ Mountain Bike and the Nishiki® Boys' Pueblo 20′′ Mountain Bike are both excellent options.
The steel frames are strong and provide great support, while the Shimano drivetrain on the adult version and the linear-pull brakes on both bikes make them perfect for tackling any terrain. The comfortable sports saddles make for a more enjoyable ride on long distances or hillsides!
With both the Men's Pueblo 26′′ Mountain Bike and the Boys' Pueblo 20′′ Mountain Bike, you can feel confident that you're getting a reliable and durable bike that will last you and your child for years to come. Whether looking for something to tackle the most rugged trails or to get around town, the Nishiki® bikes are sure to exceed your expectations.
The Bottom Line
The Nishiki Men's Pueblo is an economical option for anyone looking to dip their toes into mountain biking. While the bike is only best for entry-level trails or dirt pathways, it makes for a great starter bike for those just getting into the sport. The steel frame is durable and can handle heavier riders. Plus, it comes in various sizes to accommodate adults and children alike.
While the Nishiki Men's Pueblo is an excellent choice for the price, it has its challenges. Reports indicate the bike is prone to issues with handlebars, tires, wheels, and chains. It's essential to keep this in mind before you make your purchase.
Hawalili Reviews – Is Hawalili a Scam or a Legit Clothing Site?

SignalTech WiFi Booster Reviews – Find Out If This WiFi Booster Works!

Travelcation reviews – Is travelcation.us a legit travel booking site or a scam?

Vchics Clothing Review: Is This Store Worth Your Time & Money?

Upustyle Reviews: Is Upustyle Genuine or a Scam?

YoclubWear.com Review – Is YoclubWear Legit or a Scam?

Travellergram Reviews: Is this Travel Site Legit or a Scam?