Are you considering purchasing an Ascend Aeronautics ASC-2600 drone? If so, you are likely looking for an unbiased asc 2600 drone review. This blog post will look at the features, specs, and benefits of the Ascend Aeronautics ASC-2600 drone and determine if it is worth investing in. 
We'll also discuss the pros and cons of the drone and provide our overall verdict. So, if you're in the market for a new drone, read this Ascend Aeronautics ASC-2600 drone review before making your purchase.
Table of Contents
About Ascend Aeronautics ASC-2600 Drone
The Ascend Aeronautics ASC-2600 Drone is a compact, folding drone designed to be taken on the go. When unfolded, this drone has a 14″ full-sized frame, making it great for outdoor adventures. 
It has an HD camera that can capture footage and photos in 1080p resolution. Take to the skies with Ascend Aeronautics ASC-2600 HD Video Drone and capture life's special moments. This drone is designed to provide easy portability with a lightweight frame that can fold into a compact size. 
Its advanced features make it easy to capture stunning aerial shots, while its simple design makes it easy to operate. Whether a beginner or an experienced drone enthusiast, the Ascend Aeronautics ASC-2600 HD Video Drone is an excellent addition to your arsenal.
Ascend Aeronautics ASC-2600 Drone Features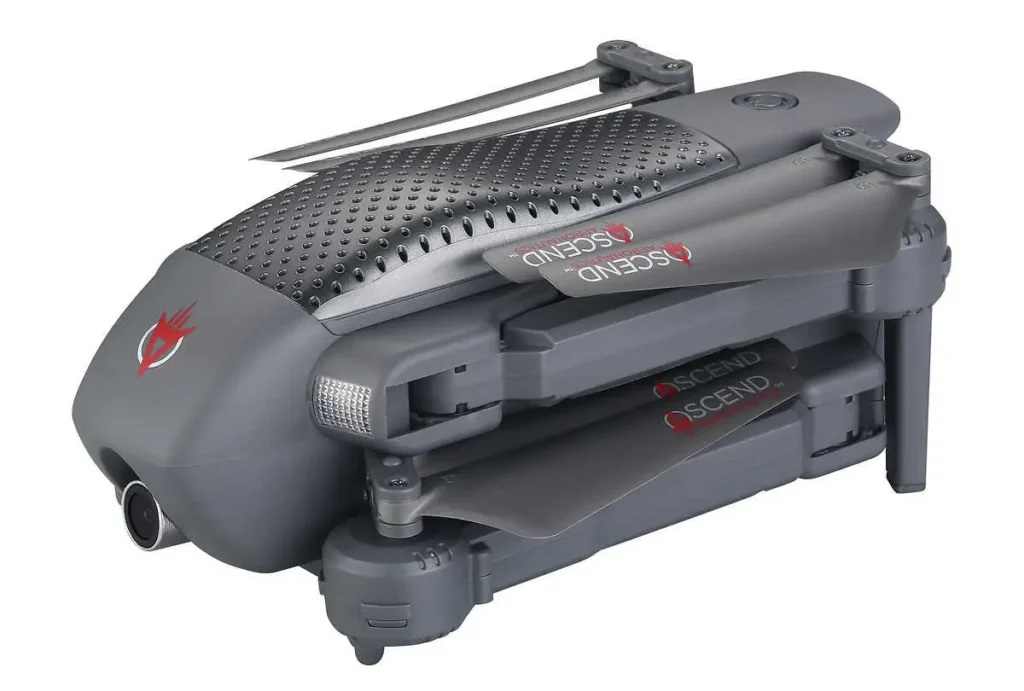 Advanced 1080p Camera with Wide Angle Lens: The Ascend Aeronautics ASC-2600 Drone features a high-quality camera with a wide-angle lens that captures stunning, clear images and videos. The advanced 1080p resolution delivers sharp details and vibrant colours for the perfect picture every time.
Stream HD Video to Mobile Device – With the free Ascend Aeronautics app, you can easily stream live HD video from your drone directly to your mobile device. This allows you to monitor your drone's flight and view photos and videos directly from your phone or tablet.
Compact Folding Design: The Ascend Aeronautics ASC-2600 Drone features a folding design that makes it easy to transport. When folded up, it takes up minimal space, so you can easily store it in a backpack or bag when not in use.
Air Pressure Sensor Locks Altitude for Stable Flight – This feature helps keep your drone steady by using air pressure sensors to lock its altitude. This allows you to focus on getting the perfect shot without worrying about maintaining stability.
Recommended Ages: 14+ – Due to the complexity of the features and controls, the Ascend Aeronautics ASC-2600 Drone is recommended for ages 14 and up.
ASC-2600 Drone Pros
1. Compact and portable design – The Ascend Aeronautics ASC-2600 is a compact, folding drone that can easily fit into a backpack or suitcase, making it ideal for those who want to take it on their travels.
2. High-definition video recording – This drone features an ultra-wide angle lens, allowing you to capture stunning HD video footage and still images with the press of a button.
3. Easy connectivity – The ASC-2600 is compatible with Android and iOS devices, allowing you to quickly transfer videos and photos directly to your smartphone or tablet.
4. Social media sharing – With ASC-2600, you can quickly upload photos and videos to your favourite social media sites.
5. Air pressure sensor – This drone is equipped with an air pressure sensor, which locks altitude for a more stable flight experience.
ASC-2600 Drone Cons
1. The controller that comes with the Ascend Aeronautics ASC-2600 drone needs to be stronger, so controlling the drone can sometimes be difficult and frustrating.
2. The range of the ASC-2600 drone is quite limited, so it's not suitable for larger projects or capturing aerial footage over a longer distance.
Ascend Aeronautics ASC-2600 Drone Reviews by Customers
There's a mix of opinions regarding the Ascend Aeronautics ASC-2600 Drone. On the popular retail site Costco, the drone has an average of 2.8 stars out of 5 with 139 customer reviews. 
Most customers reported that the drone was difficult to control, not very durable, and its battery life was shorter than expected. 
Customers also found that the video quality could have been higher, and its price was too high for the included features. 
On the other hand, some customers had positive experiences with the drone. They said it was easy to set up and control, and the flight time was better than expected. They also praised the video quality and found it a good value for money. 
Customers were divided in their opinion of the Ascend Aeronautics ASC-2600 Drone. While some were satisfied with their purchase, others found it inadequate and too expensive for what they received.
Is ASC-2600 Drone Legit?
Regarding the legitimacy of the Ascend Aeronautics ASC-2600 drone, opinions vary. While some users have had positive experiences with the drone, others have experienced problems with its flight stability or battery life. Additionally, some customers have needed help with customer service.
The drone has impressive features, including a 4K video camera, auto-follow mode, obstacle avoidance sensors, and an extended range. This makes it one of the top contenders in its price range. However, some customers have complained that the image quality could be better than advertised and that the drone is difficult to control.
Overall, the Ascend Aeronautics ASC-2600 is an excellent drone for beginners who want to try out the features of a more expensive model. However, its reliability and customer service may cause concern for some users. It's essential to research and read customer reviews before making a purchase to ensure you'll get the best drone for your money.
Is ASC-2600 Drone Worth It?
The Ascend Aeronautics ASC-2600 drone is an advanced model with many features, including a high-definition camera and long-range remote control. However, it is essential to note that there are some negative reviews from customers regarding the drone's performance. 
Some complaints include a lack of durability, poor battery life, and difficulty with the operation. Additionally, many users reported experiencing glitches with the drone's software. While the drone has several impressive features, there are more negative reviews than positive ones. 
If you are considering purchasing the Ascend Aeronautics ASC-2600 drone, we recommend reading the customer reviews first. This will give you an idea of what other users have experienced and allow you to make an informed decision. Additionally, it would be best to look into warranty options if anything goes wrong with your purchase. 
In conclusion, the Ascend Aeronautics ASC-2600 drone is an excellent choice for a powerful and feature-rich drone. However, some drawbacks must be considered before making a purchase. We recommend reading the customer reviews and researching warranty options before deciding if the drone is worth it.
Things to Consider Before Buying a Drone
1. Budget: Before investing in a drone, make sure you know your budget and what type of drone you want to buy that fits your budget.
2. Flight Time: Make sure you check the drone's flight time before buying it. A long flight time will allow you to enjoy longer flights and explore more areas with your drone.
3. Camera Quality: If you are looking for a drone for aerial photography, then camera quality should be one of your top considerations. Check the specifications and resolution of the camera before buying the drone.
4. GPS: GPS-enabled drones will give you better stability and control while flying. Most drones today come with GPS, so check if the one you buy has it.
5. Repairability: Before buying a drone, check how easy it is to repair or replace parts if something goes wrong.
6. Safety: Always check the safety features of the drone before purchasing. Make sure it has built-in obstacle avoidance sensors and other safety features. 
You can also look for crash-proof drones that can take minor crashes without damage. The battery life of the drone should also be considered. Depending on the drone's size, the battery life can vary from 10 minutes to an hour. Some drones come with extra batteries, so you can extend your flight time further. 
Also, consider how many people can use the drone simultaneously. This is important if you plan to use it with multiple people. Finally, find out about warranty policies before making your purchase. Many manufacturers offer their products warranties, which can help protect your investment.
Conclusion
The Ascend Aeronautics ASC-2600 drone is an excellent option for both novice and experienced pilots. Its lightweight design, easy setup, and intuitive controls make it a good choice for anyone looking into drone photography. 
It's also reasonably priced and comes with plenty of features. With that said, the ASC-2600 has some limitations regarding range, battery life, and video resolution. If you're looking for a high-end drone experience, this may not be the best choice. 
However, you're starting out or looking for an affordable drone to take photos and videos with. In that case, the Ascend Aeronautics ASC-2600 is definitely worth considering.
Also Read
Fruugo NZ Reviews – Is Fruugo NZ Legit?
Solarzero Review: Everything You Need To Know
Also Read
Shein NZ Reviews – Is Shein New Zealand Legit?
Samsung Galaxy S23 Ultra Review: The Best Smartphone Yet?
Apolla Socks Reviews – The Best Compression Socks?
Also Read
O'malleys On Fourth Reviews: Is It Worth Your Time & Money?
True Classic Tees Review: Is It Worth Your Money?
DRMTLGY Reviews: Is DRMTLGY Legit & Worth Buying?
Also Read
Snaptravel Reviews: Is SnapTravel (Super Travel) Legit?
Traveluro Reviews – Is Traveluro Legit? Our In-Depth Review
Airmoto Reviews: Is This Air Pump Legit & Worth Your Money?
Also Read
Mirifica Bust Serum Review – Is It Truly The Best Breast Serum?
Sqairz Golf Shoes Reviews – Is This the Next Wave of Golf Footwear?
Mellanni Sheets Review – Are They Worth Buying?
Also Read
OnePlus 11 Review – Everything You Need to Know Before Buying
Rubmd Review- Is It A Reliable Local Massage Therapist Finder?
Alloned.com Review: Is This Dating App Legit or a Scam?
Also read
Ryabe Reviews – Is Ryabe Clothing Legit or a Scam?
Thermohandz Thermal Gloves Reviews – Is Thermohandz Legit?
Exipure Review: Does Exipure Really Work For Weightloss?
Also Read
Vibrosculpt Reviews: Does Vibrosculpt Massager Really Work?
BugMD Reviews – Does It Really Work? Explore Now
Inmod Landry Sofa Review – Is it Worth Your Money?
Also Read
Canon Autoboy Prisma Date Review – Is This Camera Worth It?
QuadAir Drone Review: The First High-End Drone at an Affordable Price?
Skyquad Drone Reviews: Is Skyquad Drone Legit or Scam?
Also Read
Exo Drones Review – Are Exo Drones Good & Worth Your Money?