Are you considering buying a Fader 2 Drone? If so, you've come to the right place! In this Fader 2 Drone Review, we'll look at all the features, pros, and cons of this popular drone to help you decide if it's worth your money. 
We'll break down the design, performance, and overall value of the Fader 2 Drone so you can make an informed decision. Read on to find out if the Fader 2 Drone is worth your money!
Table of Contents
Fader 2 Drone Review in a Nutshell
The Fader 2 drone is the latest addition to the Fader drone family, offering advanced flying technology and a sleek, compact design. 
The 6-Axis Gyro Flight Control System gives you precise control in the sky, while features like headless mode and Auto Take Off & Land make it easy for anyone to fly the drone.
This next-generation drone has a longer battery life and increased flight time, so you can enjoy your time in the sky without worrying about running out of power. 
It also has built-in LEDs to give you a bright light show as you fly through the night. 
Plus, with its durable design, you don't have to worry about crashing or damaging your drone.
The Fader 2 also comes with a 1080p HD camera to capture your flight from new heights and angles. 
Relive your captured moments again, or get a first-person live view using the FADER 2 app on your smartphone. 
With 3-level speed control and the ability to make flips in every direction, both beginners and more experienced drone pilots can benefit from the intelligent FADER 2 features. So whether you're a beginner or a pro, the Fader 2 drone offers something.
With an increased battery life and remote control range, the drone can stay in the air for 10 minutes. It can be controlled from a maximum distance of 80 meters. 
The FADER 2 comes with the same comfortable grip controller as the FADER, equipped with a smartphone mount for first person's live view. 
The drone has pre-installed rotor protection guards, so it withstands bumps and crashes and protects the surrounding from its propellers. These features make the FADER 2 an excellent choice for first-time and experienced drone pilots. 
With its intuitive design and advanced features, you'll be sure to enjoy every minute of flight with the FADER 2.
Fader 2 Drone Features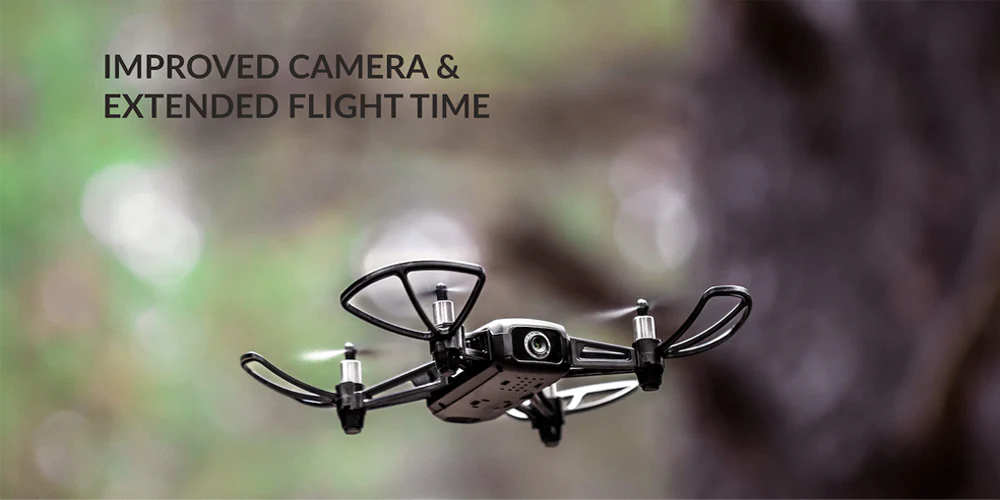 The Fader 2 Drone is equipped with a range of features designed to make flying more accessible and more fun. 
Here are some of the main features included in this drone:
Auto Take-Off & Land: This feature automatically takes off and lands the drone without any input from the user. This makes it simple to launch and land the drone quickly and safely.
Altitude Hold: This feature allows you to maintain a consistent altitude for the drone, making it easier to fly and capture images or video.
Full HD Camera (1080p): The Fader 2 Drone has a 1080p camera, allowing you to capture stunning visuals and videos from the sky.
Headless Mode: This mode makes it easy to fly the drone without worrying about orientation. The drone will always move in the direction that you specify, regardless of which way it is facing.
Live View via App for iOS and Android: The Fader 2 Drone can be connected to a compatible mobile device via its app, allowing you to view a live feed of what the camera sees in real-time.
RTF (Ready to Fly) Technology: The Fader 2 Drone is ready to fly straight out of the box. All you need to do is charge the battery, and you're ready to go.
6-Axis Flight Control System with Adjustable Gyro Sensitivity: This system gives you precise control over the drone's flight. You can adjust the gyro sensitivity for smooth, stable flight performance.
Stable & Easy to Fly: The Fader 2 Drone is easy to fly due to its stability and responsive controls.
Aerobatic "Flip" Capability: This feature allows you to perform stunts with the drone, adding excitement to your flights.
3-Level Speed Control: This feature allows you to adjust the drone's speed, giving you greater control over your flight.
Fader 2 Drone Specifications
Suppose you're looking for a powerful yet lightweight and agile drone with excellent features and a long flight time. In that case, the Fader 2 drone is worth considering. 
With its 6-axis gyro, this drone provides stable and responsive flight performance. 
The Fader 2 has a frequency of 2.4GHz and 4 channels, allowing for precise and swift manoeuvring. 
Additionally, it is equipped with an 850 mAh Li-ion battery that provides up to 10 minutes of flight time, with a charging time of 120 minutes. 
The controller uses 4 AAA batteries (included) and has a maximum distance of 80m when remote-controlled. 
The drone itself has a weight of 73 grams (2.58 ounces) and dimensions of 16.0 x 17.0 x 3.8 cm (6.3 x 6.7 x 1.5 inch). 
It also has a full HD camera with a 1-megapixel resolution and 120 degrees comprehensive angle view. 
It has a 4 GB MicroSD card for storing photos and videos. 
Furthermore, the smartphone holder has a maximum width of 80mm (3.15 inches).
What Does the Fader 2 Drone Package Contain?
The Fader 2 Drone package has all the necessary components for a successful flight. 
It includes the following items:
1 x FADER 2: The FADER 2 is the drone itself, made from high-grade, lightweight materials and featuring an array of cutting-edge features and technology that make it easy to fly and capture stunning aerial shots.
1 x Controller: The controller is designed for ease of use and features an intuitive LCD screen, ergonomic design and convenient buttons to control the drone. It also comes with a USB charging cable.
1 x USB Charging Cable: This USB charging cable allows you to quickly charge your controller and the FADER 2 battery.
1 x User Guide: This user guide will provide you with all the information you need to assemble, maintain and fly your drone. It includes clear instructions, diagrams and troubleshooting tips.
4 x Replacement Rotor Blades: The package also contains four replacement rotor blades, allowing you to quickly and easily replace any damaged blades and get back in the air soon.
Fader 2 Drone Reviews by Customers
The Fader 2 drone has been getting rave reviews from customers, with an average rating of 4.9 stars from 7 reviews on their official website. 
One customer said, "My boys and I have enjoyed this drone very much. We're still honing our skills before trying any of the trick flyings. We, too, have been limited due to weather." 
Another customer said, "Very cool! The first flight was NOT good, but being blonde and NOT paying attention, I flew into a bush! NO DAMAGE! Is a very nice piece!" 
Overall, customers are pleased with the quality and performance of the Fader 2 drone and can use it with ease despite the weather limitations.
Is It Worth Your Money?
The Fader 2 drone is an excellent choice if you're looking for an affordable yet high-performance drone. It is equipped with advanced features such as adjustable speed control, GPS positioning, and autonomous flight modes, making it an excellent choice for experienced and beginner drone pilots. 
The Fader 2 drone also has an impressive flight time of up to 10 minutes and can reach speeds up to 50 mph, allowing for some exciting aerial shots. 
In terms of value for money, the Fader 2 drone offers a great package at an affordable price. For its price tag, you get a quality drone with an impressive set of features and an impressive flight time. 
This makes it an excellent choice for those on a budget who still want a reliable and robust drone that can capture stunning images. 
Overall, the Fader 2 drone is worth your money if you're looking for an affordable, high-performance drone. It offers a range of features that make it an excellent option for both beginners and experienced pilots. With its long flight time, adjustable speed control, and GPS positioning, the Fader 2 drone is a perfect choice for anyone looking to capture amazing aerial footage.
The Bottom Line
The Fader 2 Drone is an excellent option for an efficient and reliable drone. It's easy to use, lightweight and has a long battery life. 
It has an impressive array of features and functions, such as multiple flight modes, a remote control with an LCD display, and a range of camera options. 
The customer reviews are overwhelmingly positive, and the price is surprisingly affordable. All things considered, the Fader 2 Drone is a great choice and well worth your money.
Also Read
Fruugo NZ Reviews – Is Fruugo NZ Legit?
Solarzero Review: Everything You Need To Know
Also Read
Shein NZ Reviews – Is Shein New Zealand Legit?
Samsung Galaxy S23 Ultra Review: The Best Smartphone Yet?
Apolla Socks Reviews – The Best Compression Socks?
Also Read
O'malleys On Fourth Reviews: Is It Worth Your Time & Money?
True Classic Tees Review: Is It Worth Your Money?
DRMTLGY Reviews: Is DRMTLGY Legit & Worth Buying?
Also Read
Snaptravel Reviews: Is SnapTravel (Super Travel) Legit?
Traveluro Reviews – Is Traveluro Legit? Our In-Depth Review
Airmoto Reviews: Is This Air Pump Legit & Worth Your Money?
Also Read
Mirifica Bust Serum Review – Is It Truly The Best Breast Serum?
Sqairz Golf Shoes Reviews – Is This the Next Wave of Golf Footwear?
Mellanni Sheets Review – Are They Worth Buying?
Also Read
OnePlus 11 Review – Everything You Need to Know Before Buying
Rubmd Review- Is It A Reliable Local Massage Therapist Finder?
Alloned.com Review: Is This Dating App Legit or a Scam?
Also read
Ryabe Reviews – Is Ryabe Clothing Legit or a Scam?
Thermohandz Thermal Gloves Reviews – Is Thermohandz Legit?
Exipure Review: Does Exipure Really Work For Weightloss?
Also Read
Vibrosculpt Reviews: Does Vibrosculpt Massager Really Work?
BugMD Reviews – Does It Really Work? Explore Now
Inmod Landry Sofa Review – Is it Worth Your Money?
Also Read
Canon Autoboy Prisma Date Review – Is This Camera Worth It?
QuadAir Drone Review: The First High-End Drone at an Affordable Price?
Skyquad Drone Reviews: Is Skyquad Drone Legit or Scam?
Also Read