Seoul, South Korea, has some of the best things to do in any city, period. From amazing food to incredible shopping and more historical attractions than you can count, Seoul will never leave you bored – even if you're there for only a few days.
Whether you're a tourist or an expat living in Seoul, these are the ten best things to do in Seoul that you just can't miss out on.
1) Nami Island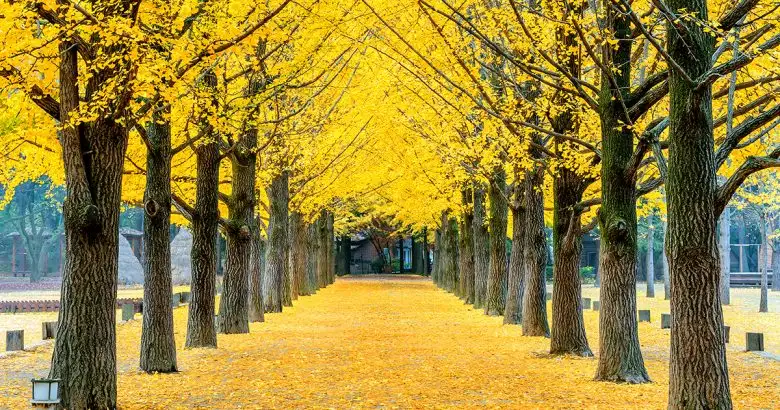 Nami Island is one of the most popular tourist destinations in Korea. And for good reason too! The island is absolutely beautiful, with its lush greenery and peaceful atmosphere.
Plus, there are plenty of activities to keep you busy, like hiking, picnicking, and even zip-lining! If you're looking for a relaxing day trip, Nami Island is a great place to go. You'll want to get there early though because the parking lot fills up quickly!
While it's certainly not a cheap vacation spot, it's definitely worth your time. Just remember that this is an active destination so bring lots of water and comfortable shoes before setting out on your adventure!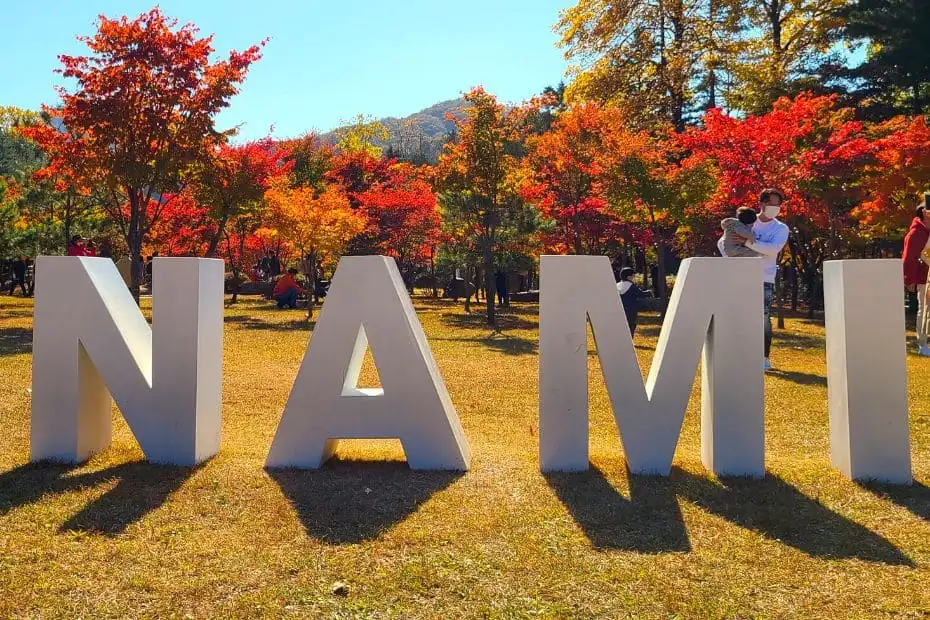 There are also lots of cool cafes and restaurants nearby, if you want to stop for a break after all that exploring.
If I had to choose between exploring Nami Island or seeing Mt. Gwanak (near where I live), I would pick the former any day. It has such an awesome natural beauty that can't be found in many other places.
2) Bukchon Hanok Village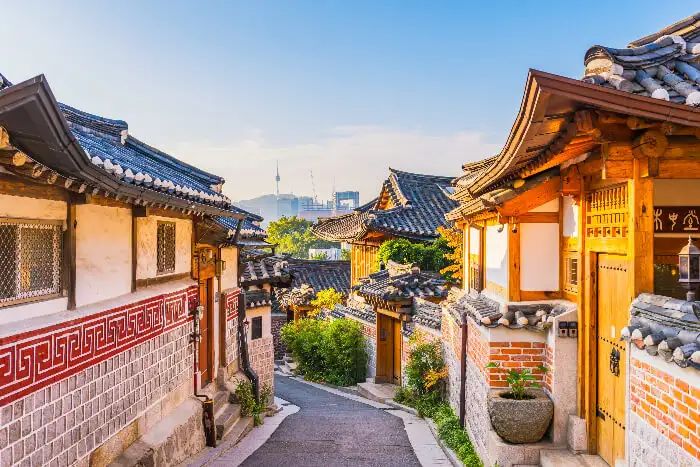 Bukchon Hanok Village is one of the most popular tourist destinations in Seoul. The village is home to over 900 traditional Korean houses, known as hanoks.
Visitors can explore the village and learn about the Korean culture and history. The village is also a great place to shop for traditional Korean goods and souvenirs.
There are plenty of shops that sell a variety of items like traditional costumes, decorative bowls, silk paintings, postcards, and more. It's easy to spend hours exploring this wonderful village.
For those who enjoy walking and would like to burn some calories, take a stroll through the alleyways. They will be rewarded with glimpses into people's everyday lives from centuries ago.
When you get hungry or thirsty, head to one of the many restaurants or cafes scattered throughout the village.
For those looking for entertainment after dark, visit Hyehwa-dong which has many lively bars and pubs where you can dance all night long with friends.
3) Namdaemun Market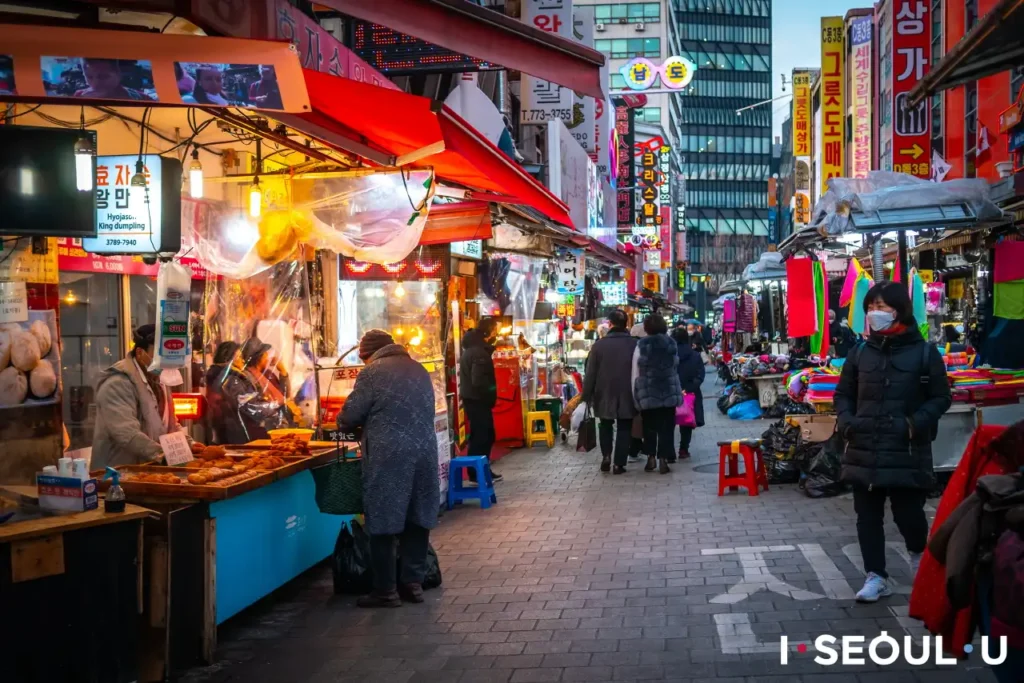 Namdaemun Market is one of the largest traditional markets in Korea and has been around for over 600 years.
The market is open 24 hours a day and is a great place to find traditional Korean goods, clothes, and food. Be sure to haggle with the vendors for the best prices!
Don't forget to stop by Jinjja Chicken for their fried chicken (located inside the market). If you are looking for something sweet then stop by the Choco Patisserie Cafe inside Ilshin Bookstore.
The cafe offers European-style pastries, desserts, and coffees. Don't forget to try their signature drink – an ice coffee iced latte made with cold brewed coffee!
All of their espresso drinks can be ordered as ice blended, which means they will be blended with ice cream instead of milk or cream. They also offer a variety of tasty waffles on weekends!
4) Hangang Park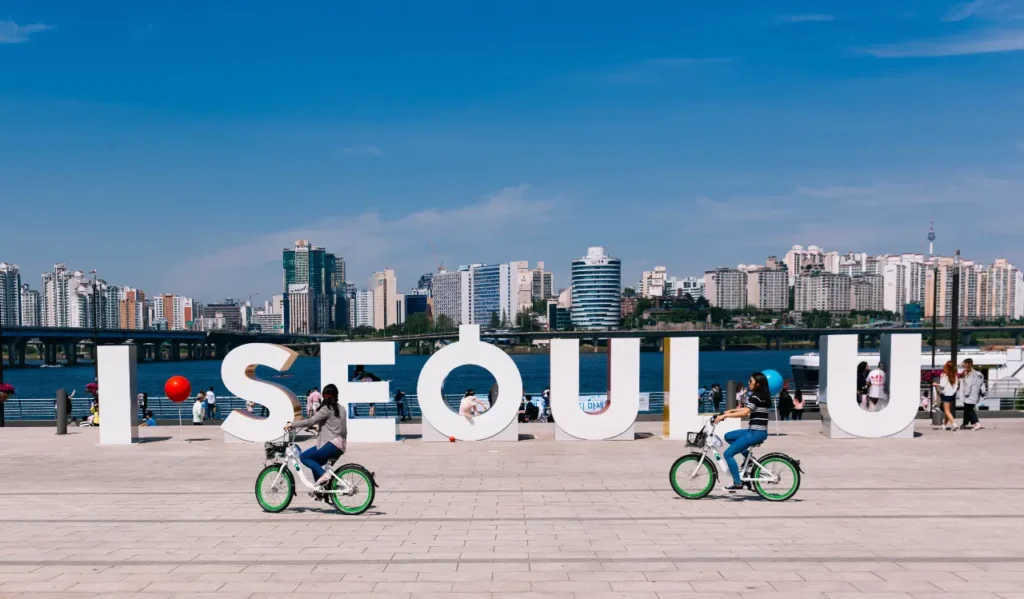 Hangang Park is one of the most popular parks in Seoul, and for good reason. This massive park stretches along the Han River, offering stunning views of the cityscape.
Within the park, there are plenty of activities to keep you busy, from picnicking and fishing to visiting one of the many museums.
The southern end of the park has a walking path that loops around some pretty scenery, but if you want to see what's on the other side of the river then make sure to head north.
There's also a ferry station near Hangang Park so it's easy to take an excursion across town and enjoy an entirely different view while passing through Yeouido.
The nearest subway stop is Anguk Station (Line 3), and bus stops can be found all over the place.
5) Insadong Street and Haebangchon Neighborhood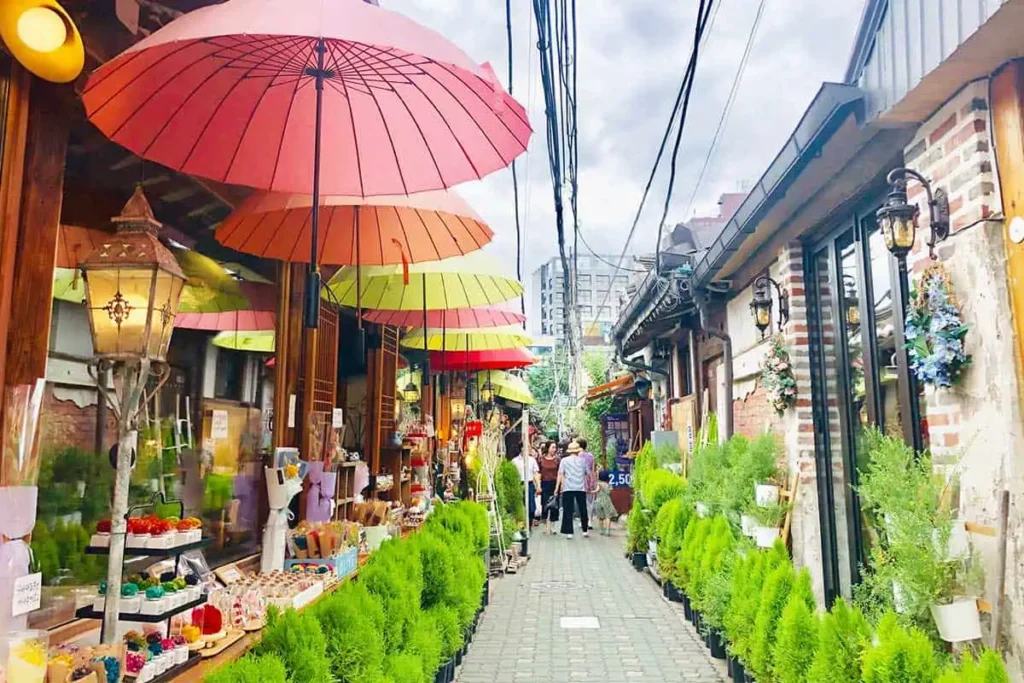 If you're looking for a place to start exploring Seoul, look no further than Insadong Street and the Haebangchon neighborhood.
This area is full of traditional Korean culture, with plenty of shops and restaurants to keep you busy. Plus, it's a great place to people watch and get a feel for the city.
And don't miss the Naksan Park at the end of the street; this park is home to one of Korea's best-known landmarks, which you'll want to see if visiting Seoul.
Be sure not to skip over Boseong Green Tea Field either; one of Korea's most well-known green tea plantations can be found here and you'll find dozens of shops selling fresh green tea as well as locally made jams and taffy.
Nearby are other things to do in Seoul including the majestic Gangjin Station House that was once used by Japanese occupation forces.
Not far from there is Danggogae Falls (or Danggogae Stream), where visitors can see some pretty impressive waterfalls or even cool off on hot days by taking a dip in the falls' pool.
6) Jogyesa Temple & Seodaemun Prison History Hall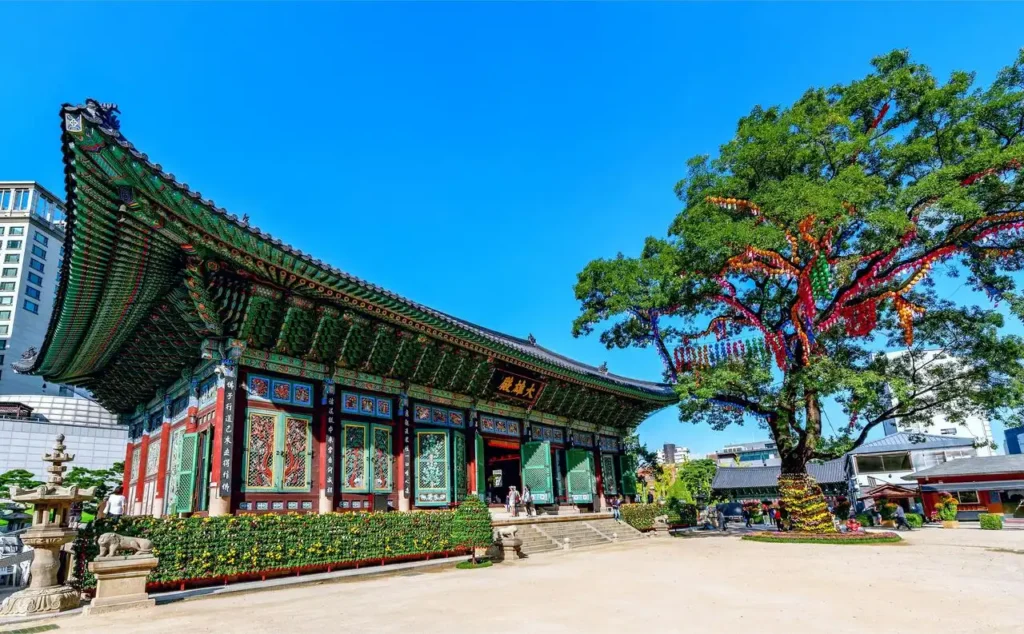 Jogyesa Temple is the chief temple of the Jogye Order of Korean Buddhism, and it is located in the heart of downtown Seoul.
Seodaemun Prison History Hall is a museum that tells the story of the prison that was used during the Japanese colonial period.
Both of these places are great for getting a taste of Korean history and culture. Additionally, at Jogyesa Temple you can climb up the mountain on a long set of stairs where you will be greeted by spectacular views overlooking all of Seoul.
At Seodaemun Prison History Hall, visitors can see exhibitions about prison life as well as videos about resistance against imperial Japan.
Next door is an art space called The Door of Empathy which features artwork with themes related to human rights.
Located nearby is Mangwon Cultural House which has rotating exhibits focusing on aspects of contemporary art from around the world.
7) War Memorial of Korea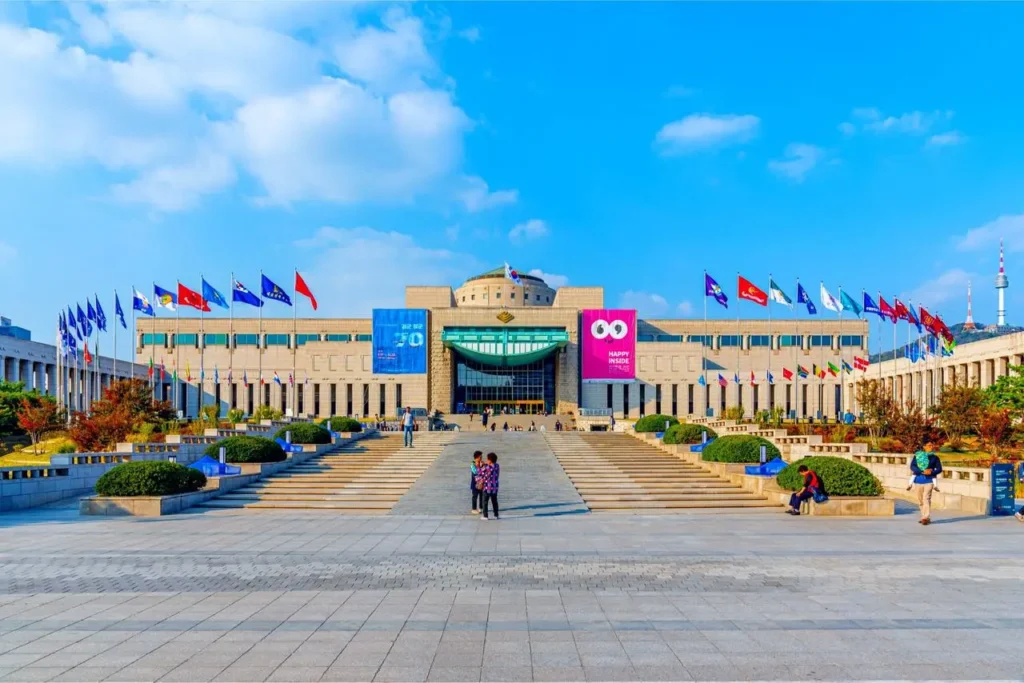 The War Memorial of Korea is a national museum dedicated to the history of the Korean War. It's one of the most popular tourist attractions in Seoul, and for good reason – it's a moving and informative experience.
The museum is divided into four main exhibition halls, each with its own focus. There's also an outdoor exhibit area with tanks and aircraft, as well as a memorial garden.
The galleries are filled with artifacts from the war, including uniforms, photos, and letters from soldiers on both sides.
If you can only visit one place at the War Memorial of Korea, make sure it's Hall 3: Invisible Wounds. Focusing on post-war problems like family separation and social discrimination against veterans, this gallery will open your eyes to another side of the story.
Walking along the walls lined with individual portraits and military medals, you'll be taken through different stages of life: childhood, teenage years, and adulthood.
Take some time to read about individual stories before heading upstairs to take in the panoramic view of Hapjeong Train Station from 1950s America.
8) Dongdaemun Design Plaza (DDP) and Lotte World Mall (LWFC)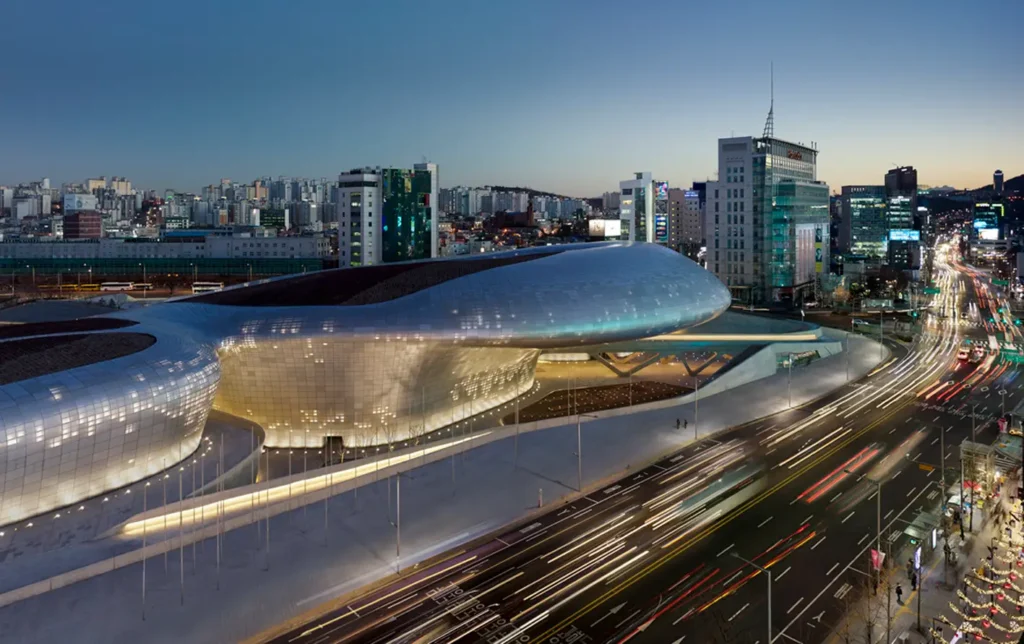 Of course, you can't come to Seoul without doing some shopping. The Dongdaemun Design Plaza is a must with its futuristic design and multitude of shops.
For a more traditional market feel, Lotte World Mall is an excellent choice and has something for everyone. There are also plenty of great restaurants in both malls if you need a break from shopping.
Or take the escalator all the way up to see spectacular views of Seoul. And don't forget about the ferris wheel for even better views! Once you're done exploring those two malls, head over to Bukchon Hanok Village.
It's a historic area that used to be home to noblemen and scholars during the Joseon Dynasty (1392-1910). But it doesn't look like any other hanok village, as this one has been beautifully restored and preserved by a special preservation law.
Get your picture taken at the iconic 龍山寺公園 (Dragon Mountain Temple Park) while gazing out at Namsan Mountain; it's one of the most famous tourist attractions in Seoul. Make sure to check out the folk museum too before continuing on your tour.
9) Gyeongbokgung Palace & Changdeokgung Palace
Gyeongbokgung Palace is the largest and most beautiful of the Five Grand Palaces built by the Joseon Dynasty.
Changdeokgung Palace is a UNESCO World Heritage Site and is considered one of the most well-preserved royal palaces in Korea. Both palaces are must-sees when visiting Seoul!
The National Museum of Korea (three sentences): The National Museum of Korea is a great place to learn about the history and culture of Korea.
Located near Daehangno, this museum has three exhibition halls with more than 40,000 pieces on display including Buddhist art, sculptures from prehistoric times, artifacts from ancient Egypt, and paintings from all periods of Korean art.
It's located on the north side of Seoul near the Han River Park so be sure to check it out if you're nearby!
10) National Folk Museum of Korea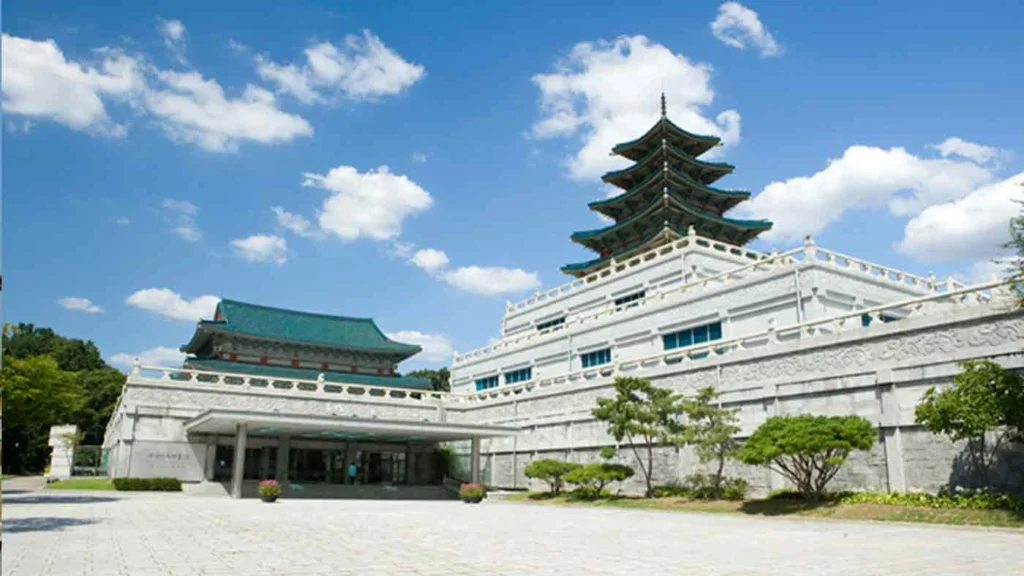 The National Folk Museum of Korea is a great place to learn about the history and culture of Korea. The museum has a wide variety of exhibits, and the staff is very knowledgeable.
I would definitely recommend this museum to anyone interested in learning more about Korea. It's worth visiting if you're only going to be in Seoul for a short time, as well.
If you do plan on spending some time here though, I would also highly recommend checking out the Korean House of Emotion and the Leeum Korean Art Museum (both located near Namsan Park).
Another must-see is Insa-dong where you can find lots of traditional art shops, street vendors selling crafts, souvenirs and traditional food.
You can walk through the area or take a bus tour that will show you some highlights.
Wrapping Up
If you're looking for an amazing and culturally rich travel destination, Seoul is the perfect place for you.
The city has a lot to offer, from delicious food to historical sites and beautiful scenery.
To help you make the most of your trip, we've compiled a list of the 10 best things to do in Seoul.
From exploring ancient palaces to shopping at bustling markets, there's something for everyone in this vibrant city.
So, what are you waiting for? Make sure to check out these top 10 places to visit in Seoul today!