Hawaii's natural beauty and warm tropical climate make it one of the most appealing vacation destinations on the planet, but it's also one of the most popular.
Because there are so many people flocking to Hawaii each year, you'll want to be careful that you don't end up in any overcrowded locations that will ruin your vacation experience.
To ensure you have the most enjoyable experience possible, check out this list of some of the best things to do in Hawaii!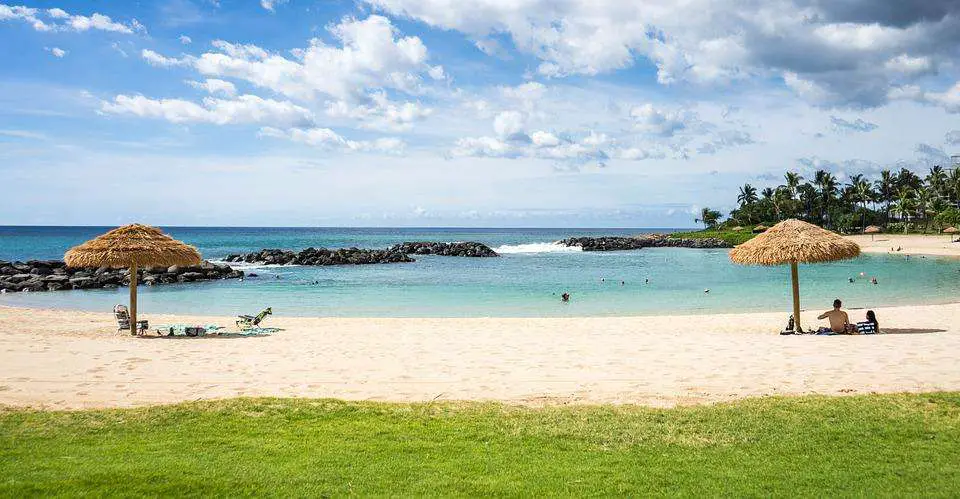 Hike Diamond Head Crater
Hiking to the top of Diamond Head Crater is one of the best things to do in Hawaii. The views from the top are incredible, and it's a great way to get some exercise.
Be sure to wear sunscreen and bring plenty of water, as it can be quite hot. As you hike up, you'll find a few short trails that lead off to viewpoints overlooking Honolulu and Waikiki Beach.
You can also take an easier route down, or if you're feeling adventurous, climb all the way back down on your hands and knees! One of the coolest things about hiking up Diamond Head Crater is going inside the crater itself at the end.
Here you'll find huge lava rocks formed by past eruptions, perfect for sitting and gazing out over Honolulu Bay with friends and family.
Kayak on the Waterfalls of Oahu
One of the best things to do in Hawaii is kayak on the waterfalls of Oahu. This is an activity that the whole family can enjoy, and it's a great way to get some exercise while enjoying the stunning scenery.
Here are a few tips for making the most of your experience ! Be sure to bring along sunscreen, a hat and plenty of water. Bring a waterproof camera with you so you can capture these memories as they happen!
If you're lucky, you may even spot some local wildlife like sea turtles or dolphins. If this is your first time kayaking, remember to take it slow at first and keep close to shore until you get used to the rhythm of paddling and steering. Have fun!
Snorkel in Maui's Famed Molokini
Molokini is a crescent-shaped volcanic crater that's now a popular snorkeling destination. The clear waters and abundance of marine life make it a must-do activity when visiting Maui.
To get there, you can take a boat tour from any of the major resorts or from the town of Lahaina. Once you're in the water, be on the lookout for turtles, reef fish, and even sharks!
Another good spot to see these sea creatures is Hanauma Bay, where coral reefs offer protection from waves. If you want a more personalized experience, try renting a kayak at Waikiki Beach and paddling around yourself.
The best part about this activity is that you'll have no shortage of things to look at; there are plenty of shops, restaurants, and hotels lining the shoreline so don't forget your camera!
If you're looking for something a little less crowded than the beach, head inland towards Manoa Valley. Though not as well known as some other hikes in Oahu (such as Diamond Head), Manoa Valley has many beautiful views and a small waterfall perfect for cooling off after the hike.
Swim with Sharks at Shark Reef
Take a dip in the ocean and get up close and personal with some of the most feared creatures in the sea. Shark Reef at the Maui Ocean Center is one of the best places to swim with sharks in Hawaii.
You'll be able to see sharks, stingrays, and other fish swimming around you as you swim in the protected lagoon. After your shark encounter, make sure to visit the underwater observatory where you can peer into the ocean depths from the safety of a glass-bottom boat.
There are also daily presentations on topics like marine biology, natural history, and ecology. Finally, don't forget to stop by the gift shop for souvenirs before heading back out onto Wailea Beach.
Visit the Sea Life Park on Oahu
Sea Life Park is one of the best things to do in Hawaii. It's a great place to learn about Hawaiian marine life and get up close and personal with some of the sea creatures.
You can even swim with dolphins!
Plus, the park has a number of other fun activities, like the Penguin Encounter and the Shark Cage. If you're really into aquariums, this should be on your list of places to visit.
If you want to plan your trip for when you'll have kids along for the ride, this is a perfect place for families with little ones who are still learning how to swim.
Plus, it doesn't hurt that it's an easy drive from Honolulu.
If you love animals or just need a break from the beach, there are plenty of reasons to go visit this spot.
Stop by Lanikai Pillbox Trail on Oahu: Lanikai Pillbox Trail is another fantastic destination on Oahu. The views are stunning and it's worth the hike just to see them all from up high.
Be sure to bring plenty of water and snacks, though – it can take awhile!
The trail starts out pretty wide but soon narrows down as you head inland.
Towards the end, the trail becomes quite steep so those afraid of heights might not enjoy themselves here too much.
Explore Kahuku Ranch
Kahuku Ranch is one of the best places to explore on the island of Kauai. With its miles of hiking trails, waterfalls, and stunning views, it's no wonder why this place is so popular.
Plus, there's plenty of wildlife to see, making it a great place for nature lovers. Be sure to bring your camera! The most beautiful sights at Kahuku are not only found with your eyes but also through the lens.
At certain times of year, you might be able to find some Hawaiian monk seals lounging on the beach or perched atop cliffs. You can also take an unforgettable hike to Kalalau Lookout where you'll have an awe-inspiring view of Wainiha Valley.
If you're lucky, you may even spot a rare nene or two (Hawaii's state bird).
Experience Windward Coastline Sunset at Ka'ena Point
If you want to experience a true Hawaiian sunset, then you need to head to Ka'ena Point. This is the westernmost point of Oahu, and thus, where the sun sets first. It's a beautiful spot for a picnic dinner as you watch the sun dip below the horizon.
And if you're lucky, you might even see some dolphins swimming by. Catch the Spectacular Sunsets at Hanauma Bay: One of the most popular beaches on all of Oahu, Hanauma Bay has spectacular views day or night.
But at dusk, it's an especially gorgeous sight. Watch an Unbelievable Sunset at Waimea Valley: For breathtaking views that are more like what you'd expect from southern France than Hawaii, visit Waimea Valley's Kaupo Gap lookout point.
Catch a Broadway Show or Concert Under the Stars
The open-air amphitheater at the Honolulu Zoo is one of the best places to catch a Broadway show or concert under the stars.
With a capacity of over 2,000 people, the venue has hosted everything from musicals and dance performances to comedy shows and rock concerts.
And since it's located right next to the zoo, you can also check out the animals before or after the show! The Waikiki Shell hosts music and cultural events on the water's edge throughout the year, while both he Royal Hawaiian Center and Ala Moana Center offer great shopping, restaurants, and entertainment options as well.
For art lovers, downtown Honolulu is home to galleries featuring local artists that are always showcasing new works.
Kayak Up Close With Dolphins at Kealakekua Bay
One of the best things to do in Hawaii is kayak up close with dolphins at Kealakekua Bay. It's an amazing experience to see these beautiful creatures up close and personal.
Plus, it's a great workout! Here are some tips for making the most of your experience Wear a wet suit or have someone on shore throwing you towels to keep you cool.
Bring snacks like energy bars and fruit that can be eaten while on the water. Pack all equipment before getting into the water (including sunscreen!).
Be sure not to get too close or disturb any wildlife while they're feeding or resting–it's important to be mindful of their natural habitat!
Visit Pearl Harbor Memorial
A visit to Pearl Harbor is a somber reminder of the costs of war and a powerful tribute to those who died during the attack on Pearl Harbor.
The memorial is free to visit, and there is also a museum on site that is worth checking out. You can catch a ferry to the memorial from downtown Honolulu.
Visit Hanauma Bay Nature Preserve (three sentences): Hanauma Bay is one of the most popular snorkeling spots on Oahu. It's best known for its natural beauty and its abundant fish population.
Admission fees are $7 per person for adults, $4 per child aged 3-11 years old. There are facilities for changing clothes and showers, as well as snack bars with food concessions. While visitors may not be able to swim all the way around Hanauma Bay, they'll still be able to see coral reefs teeming with marine life up close.
Wrapping Up
Now that you know the best things to do in Hawaii, it's time to start planning your trip! Whether you're looking for adventure, relaxation, or a little bit of both, Hawaii has something for everyone.
So what are you waiting for? Start packing your bags and get ready for an unforgettable vacation. Here are some tips on how to get the most out of your visit.
Read up on Hawaiian culture before you go so you can experience everything with more understanding
Book accommodations in advance
Make sure to take advantage of island hopping opportunities like the Polynesian Cultural Center and Waimea Valley
Don't forget about our Must Try experiences; they make for great souvenirs!