The worlds most breathtaking college campuses have one thing in common–they've got beautiful scenery and architecture to match!
Whether you're looking to go back to school or just daydreaming about what could be, scroll through this collection of photos of the most impressive college campuses around the world.
And don't worry if you're not enrolled–there's plenty of inspiration here even if you never plan on setting foot on these incredible campuses yourself!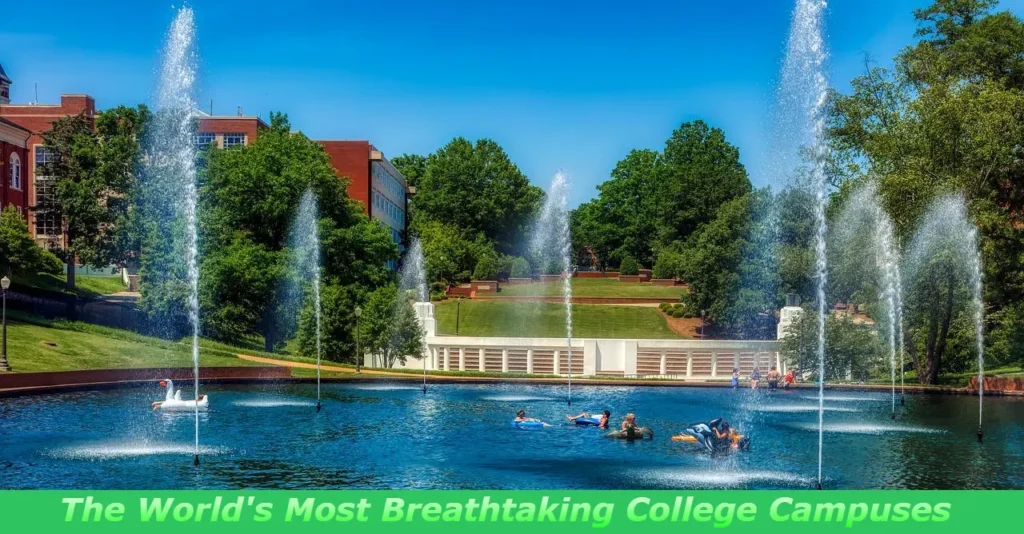 The World's Most Breathtaking College Campuses
When it comes to college, what's most important? Getting your degree, of course, but also enjoying your experience while you're there.
Nothing helps you enjoy the time you spend on campus more than beautiful surroundings, and the world's most breathtaking college campuses are exactly that—offering more than just book-filled classrooms and dormitories, they provide environments that make your four (or more) years at school memorable in all the right ways.
Check out our gallery of stunning colleges, and start planning your visit!
1. Vanderbilt University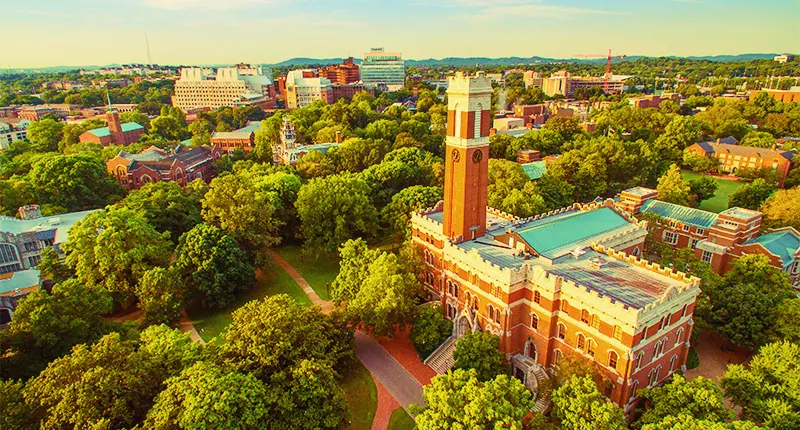 Located in Nashville, Tennessee, Vanderbilt University is home to a beautiful campus that features a mix of classic and modern architecture.
The school's central location makes it easy to explore the city, and the campus itself is full of green space, making it a peaceful place to study.
Vanderbilt also has an excellent reputation for academics, so you know you'll be getting a top-notch education if you attend.
Along with strong academics, Vanderbilt is well known for its medical center and its football team.
Their mascot the Commodore appears on merchandise all over town, making this one of the most well-known schools in America.
2. University of Cambridge
The University of Cambridge is located in Cambridge, England. The campus is made up of 31 colleges and over 100 departments, making it one of the largest universities in the world.
The university is known for its research and teaching excellence, and has produced some of the world's most famous alumni, including Isaac Newton, Charles Darwin, and Stephen Hawking.
The beautiful architecture and grounds make the University of Cambridge one of the most breathtaking college campuses in the world.
Highlights include a magnificent Great Court which occupies the center of the oldest part of the University, King's College Chapel, and New Court.
A number of other colleges also boast incredible architecture such as Trinity Hall (which is set out around a lawn) and Corpus Christi (whose buildings are reminiscent of Oxford's medieval style).
3. University of Notre Dame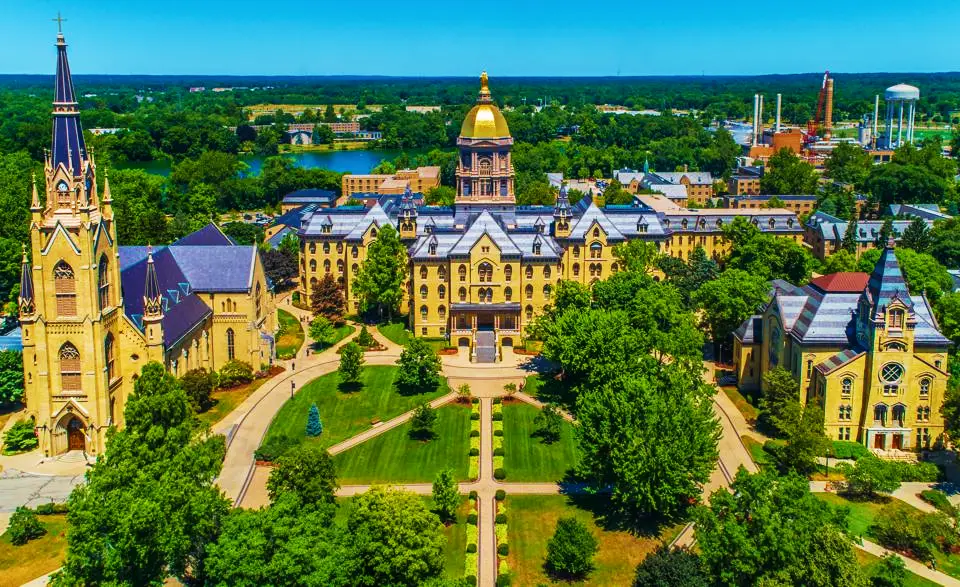 The University of Notre Dame is located in South Bend, Indiana and was founded in 1842. The campus is made up of over 1,250 acres of land and features beautiful Gothic architecture.
In addition to the main academic buildings, the campus also includes 31 residence halls, 4 libraries, and 2 museums. The University of Notre Dame is truly a stunning place to learn and live.
For example, one of the most iconic structures on campus is the Golden Dome which serves as both an architectural landmark and an emblem for the university.
It has been considered by many architects to be one of America's most successful examples of gothic architecture.
In total, there are 125 buildings on campus that make it a fascinating location for any college student to attend school at.
4. University of Chicago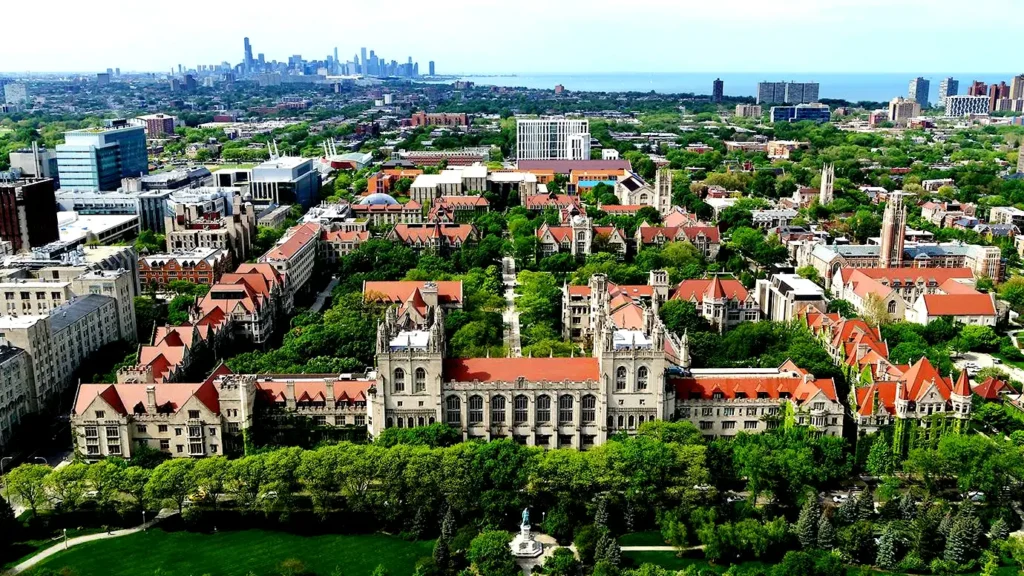 The University of Chicago is located in one of the most beautiful areas of the city, with its Gothic architecture and ivy-covered buildings.
The campus is also home to a number of famous landmarks, including the Rockefeller Chapel and the Midway Plaisance.
Plus, the university's location in Hyde Park means that there are plenty of scenic places to explore nearby. If you're feeling adventurous, try biking or walking across the iconic 606 elevated trail!
Some other great attractions include the UChicago Arboretum, where over 6,000 different types of plants thrive in 20 acres; the Museum of Science and Industry; and Willis Tower (formerly known as Sears Tower), the tallest building in North America.
5. Duke University
Nestled in the quiet town of Durham, North Carolina, Duke University is a private research university with a stunning campus.
The Gothic-style architecture of Duke Chapel and the opulent West Campus Union building are just two of the reasons why Duke made our list.
With its rolling hills, lush gardens, and picturesque lakes, the Duke campus is truly a sight to behold. As it turns out, there are plenty more sites to see around campus than just the buildings:
Fenway Park, one of America's oldest baseball stadiums; Cameron Indoor Stadium, home court for Duke's legendary basketball team; the Sarah P. Duke Gardens, which houses over 8 miles of trails with more than 10,000 plant species from around the world; and East Campus Complex with acres of land for outdoor activities like hiking or playing soccer.
6. Pepperdine University
1. Nestled atop a bluff in Malibu, Pepperdine University offers one of the most stunning views of any college campus in the world.
2. The 830-acre campus is home to more than 5,000 students and features Mediterranean-style architecture.
3. The beautiful setting has been used as a filming location for numerous movies and TV shows, including The O.C., Transformers, and Pirates of the Caribbean: At World's End.
4. Along with some natural beauty, there are also plenty of academic highlights at Pepperdine. Forbes ranked it #3 on its list of America's Top Colleges in 2014, noting that 93% of freshmen return for their sophomore year.
5. It was also rated the #1 best value by U.S News & World Report because it had an average graduation rate of 97%, with 71% of graduates finding jobs within six months after graduating from their degree program.
7. Trinity College Dublin
Founded in 1592, Trinity College Dublin is Ireland's oldest university. The college is located in the heart of Dublin, on a beautiful campus that spans over 50 acres.
Trinity College is home to over 17,000 students, and its striking buildings and lush gardens make it one of the most breathtaking campuses in the world.
While there are many points of interest on campus, some highlights include the Long Room Library – which holds around 200,000 historic volumes – as well as the Book of Kells (an illustrated manuscript), housed in the Old Library.
Wrapping Up
So there you have it, the seven most breathtaking college campuses in the world! From stunning architecture to idyllic settings, these schools offer students a truly unique and beautiful experience.
If you're looking for a school that will take your breath away, one of these may be the perfect fit for you.
Whether you want a smaller, more intimate setting or something big and impressive with hundreds of buildings spread out over miles of land, you'll find something on this list.
Make sure to do your research before making any decisions so that you can find the right school for your needs!
Dillip is a professional blogger and writer since 2017, known for creating captivating and informative content. With a passion for words and a knack for storytelling, Dillip excels in producing engaging blog posts, articles, and web content across various industries and niches. With a focus on delivering value to readers, Dillip's writing effortlessly combines creativity, authenticity, and expertise.