Are you considering purchasing John Hancock Travel Insurance to cover you on your next trip? You're in the right place. This blog post will look closely at John Hancock Travel Insurance reviews to help you decide if it's worth the investment.
We'll break down the features and benefits of John Hancock Travel Insurance and provide customer reviews to help you decide whether John Hancock Travel Insurance is right for you.
Table of Contents
About John Hancock Travel Insurance
John Hancock Travel Insurance offers travellers three plans that provide comprehensive coverage for domestic and international trips. Projects range from basic coverage for domestic trips to more comprehensive coverage for international trips and cruises.
The most comprehensive plan includes optional coverage options like Cancel for Any Reason, Medical Evacuation, and Trip Interruption/Cancellation.
John Hancock's travel insurance plans are underwritten by Starr Indemnity & Liability Company and offer a 14-day free look period, so travellers can cancel their policy and receive a refund if the trip departure date hasn't passed a claim hasn't been filed.
All plans include 24-hour emergency assistance services and reimbursements for eligible medical expenses, trip delays, and cancellations.
John Hancock Travel Insurance Review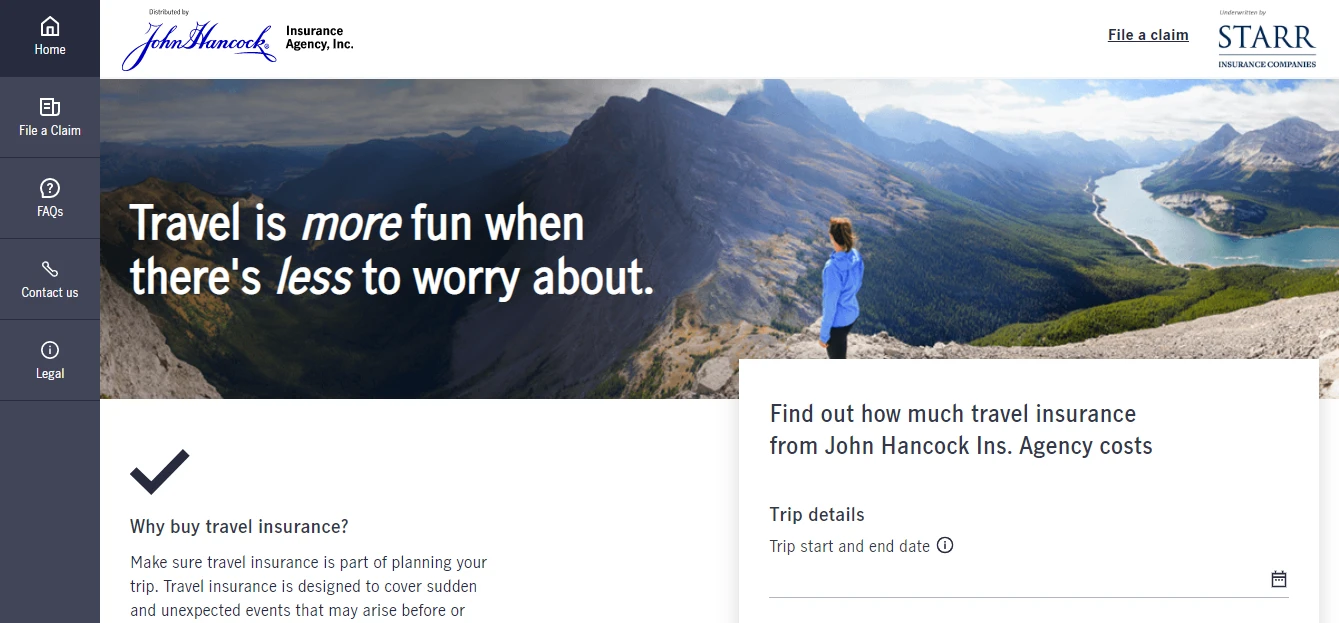 John Hancock Travel Insurance Plans
John Hancock offers a wide array of travel insurance options. These include coverage for things like cancellation, interruption, lost luggage, and emergency medical care, to name just a few.
They offer plans of bronze, silver, and gold.
You can view coverage limits for each of the plans here.
Coverage
Bronze
Silver
Gold
Trip cancellation
100% of the trip cost
100% of the trip cost
100% of the trip cost
Trip interruption
125% of the trip cost
150% of the trip cost
Emergency medical
$50,000 (primary coverage)
$100,000 (primary coverage)
$250,000 (primary coverage)
Medical evacuation & repatriation
$250,000
$500,000
$1,000,000
Travel delay
$500 ($150 daily limit, 6+ hour delays)
$750 ($150 daily limit, 3+ hour delays)
$1,000 ($200 daily limit, 3+ hour delays)
Baggage delay
$250 ($250 daily limit, 12+ hour delays)
$500 ($500 daily limit, 12+ hour delays)
$500 ($500 daily limit, 12 hour delays)
Baggage & personal items loss
$750 per person$250 per item$750 specific items limit
$1,000 per person$250 per item$1,000 specific items limit
$2,500 per person$250 per item$2,500 specific items limit
Missed connection
$200 (3+ hour delays)
$750 (3+ hour delays)
$1,000 (3+ hour delays)
24-hour accidental death & dismemberment
$25,000
$100,000
$100,000
John Hancock Travel Insurance Plans
What Does John Hancock Travel Insurance Bronze Plan Cover?
The Bronze plan, offered by John Hancock Insurance, is the most economical policy. It includes coverage for standard comprehensive benefits such as trip interruption, trip cancellation, baggage, travel delay, and medical coverage. It allows a person to insure their trip costs up to $10,000 per person.
This plan covers if a trip must be cancelled due to unforeseen death, injury, or illness. Natural disasters, adverse weather preventing you from arriving at your destination, and other incidents can also be covered with the Bronze plan.
The policy also provides 24/7 emergency assistance and a full range of travel benefits and services. These include emergency medical and dental services, roadside assistance, and more.
For those travelling internationally, the plan also includes coverage for repatriation of remains if the trip is cancelled or interrupted due to illness or injury. With John Hancock's Bronze plan, you can be sure that you are covered for your next trip, no matter where you're headed.
What Does John Hancock Travel Insurance Silver Plan Cover?
The John Hancock Silver plan covers up to $100,000 in trip cancellation and interruption costs if your trip is cancelled or interrupted due to a covered reason.
Additionally, the Silver plan provides up to $10,000 in baggage coverage and up to $25,000 in medical coverage. There are also higher coverage limits for emergency medical evacuation ($250,000) and travel delay ($1,500).
Finally, there is optional rental car collision coverage available. If you are looking for a comprehensive travel insurance plan, John Hancock's Silver plan is a great choice. With its high limits and optional coverage available, you can customize your plan to suit your needs.
Moreover, this plan offers reimbursement for airline ticket change fees which can be very costly when dealing with last-minute changes in plans.
This can help ease the burden when such situations arise. In addition, John Hancock offers 24-hour customer service so that you have help whenever you need it. This makes filing a claim much easier than with other companies.
What Does John Hancock Travel Insurance Gold Plan Cover?
John Hancock's Gold Plan provides comprehensive coverage for travellers, including emergency medical and emergency medical evacuation, baggage protection, travel delay, trip cancellation, and trip interruption.
This plan also includes optional rental car collision coverage and cancel coverage on the checkout page for any reason.
The Gold plan offers up to 100% trip cancellation and 150% trip interruption coverage. It also includes coverage for terrorism as a covered reason under trip cancellation and trip interruption coverage.
If you have a medical emergency while travelling, you'll have up to $250,000 coverage per person available. Your pre-existing condition can be covered if the insurance is purchased within 14 days of the trip deposit, and you insure 100% of your prepaid and non-refundable trip costs.
If you face a medical evacuation, you'll have up to $1,000,000 coverage per person. This can include a stretcher, air ambulance service, or even returning home after hospitalization.
The policy also covers lost or damaged luggage up to $1,500, with an additional $500 each for personal effects like cameras, jewellery or electronics. There's also financial default coverage included in case your airline or cruise line goes out of business before you depart.
Additionally, John Hancock has a 24/7 hotline that customers can call in the event of an emergency or for any other assistance needed during their travels. With its extensive coverage options, John Hancock Travel Insurance offers peace of mind when protecting your vacation investment from unexpected events.
How Much Does John Hancock Travel Insurance Cost?
The cost of your policy will depend primarily on your age and your trip so premiums can vary significantly.
The industry average for travel insurance is 4% to 8% of the total trip cost, which is a reasonable benchmark.
The process of getting a quote from John Hancock is simple. Go to the company's website and enter the traveller's information. It will be necessary for you to provide information such as:
Your state of residence
Age
Destination
Travel dates
The cost of your trip
Here are a few sample prices of how much a John Hancock policy may cost.
First, we'll discuss the coverage options for a 30-year-old resident of Kansas taking a two-week trip to Thailand and spending $3,000.
Premiums range from $111 to $160, and it is estimated that around 4% to 5% of the traveller's total trip costs will cover these.
For this example, a 55-year-old resident of Maryland will be travelling to the U.K. for two weeks. They expect the trip to cost $6,000.
In line with industry averages, premiums range from $305 to $451, depending on your coverage level.
In addition, we compared the costs of three John Hancock plans for a 40-year-old Oregon resident spending $8,000 on a South Africa trip.
The premiums range from $422 to $545, which may seem high, but they are still within 5% to 7% of the total trip cost.
All of these quotes are found to be between 4% and 8% of the total trip cost, which aligns with industry averages.
| Travelers and trip | Cost |
| --- | --- |
| Two travelers age 30, $5,000 trip cost, traveling to Turks and Caicos | $282 |
| Two travelers age 40, $5,000 trip cost, traveling to Mexico | $336 |
| Two travelers age 65, $7,000 trip cost, traveling to Greece | $614 |
| Two travelers age 70, $5,000 trip cost, traveling to the U.K. | $654 |
Additional Coverage from John Hancock Travel Insurance
John Hancock Travel Insurance provides a few additional coverages that customers can add to their policy for an additional cost. These coverages are:
Rental-car Collision Coverage: John Hancock's rental-car collision coverage pays for damage to your rental car due to an accident, theft, vandalism, or weather events. This coverage can provide peace of mind if you're planning a road trip or using a rental car.
Cancel For Any Reason (CFAR) Coverage – John Hancock's CFAR coverage allows you to cancel your trip for any reason and receive a portion of your prepaid trip costs back. It is important to note that this coverage must be purchased within 21 days of the initial deposit, and you must cancel at least 48 hours before your scheduled departure. 
Accidental Death & Dismemberment Coverage (for Air Travel Only) – John Hancock's unexpected death and dismemberment coverage protects in the event of death or disability from an accident while travelling. The coverage amount varies depending on the plan purchased. 
These additional coverages from John Hancock Travel Insurance can provide extra peace of mind when travelling. When considering your travel insurance options, be sure to weigh the cost of the add-ons with the amount of coverage they provide to determine if they're worth the extra expense.
How do I file a claim with John Hancock?
To file a claim with John Hancock, you must first visit their claims website and fill out an online claim form. After submitting the form, you will be asked to upload any relevant documentation, such as receipts or invoices.
You can also mail or email this information to the address or email address provided above. If you have any questions about the claims process, contact their customer service line at 866-511-9104.
A claim can be filed by visiting the company's claims website. You can also contact the claims department by phone at 855-422-6462 or by email at Affinityclaims@us.crawco.com. 
If you have any documentation related to the claim that you'd like to include, you can either email it to the email address listed or mail it to
Claim Benefit Services
P.O. Box 459084
Sunrise, Florida 33345
For a trip cancellation claim, the company provides individual submission requirements.
Please fill out the "Reason for Claim" section of the claim form.
Please provide information about the primary insured, including their name, date of birth, policy number, and contact information.
Input information about the travel supplier, such as the company number, their contact information, the date the bookings were made, the departure and return dates, etc.
You should note which expenses you want to claim, including airfare, lodging, tour, cruise ship, other, total costs, and refunds. Documentation is required for each of these expenses.
If you are travelling with them, write down other people's names and policy numbers on the John Hancock Insurance claim form.
In the comment, jot down the reason for the flight's cancellation.
If you had to cancel due to a doctor's note, the physician would need to fill out the Physician's Statement.
Additionally, you will need to provide evidence that the claimed expenses are being paid by submitting a photocopy of the paid bill, for instance, a photocopy of the check for initial fees or a credit card statement for related costs.
You will also need to include copies of the itinerary, which show where you have booked the hotel, tours, or cruises.
For example, attach the airline e-ticket and the cancellation notice from your travel supplier.
What are its Exclusions?
John Hancock Travel Insurance, Inc. doesn't cover only a few things
One thing that Kids Covered For Free offers is free coverage to children 18 and under. If you use John Hancock Travel Insurance, you'll be glad to know that their policy covers kids, unlike other companies. That's why we believe that John Hancock is best for travellers who go on solo adventures.
Extreme sports like scuba diving, mountain climbing, and skydiving do not qualify for insurance. It would be best if you turned to other companies specializing in travel insurance, like Travelex, to be appropriately covered.
John Hancock does not provide coverage to travellers from high-risk countries such as Iran, North Korea, Syria, Cuba, or Crimea.
John Hancock Customer Service
John Hancock offers exceptional 24/7 travel assistance to its customers who sign up for the Bronze, Silver, or Gold Plan. Whenever you have any problem, the support staff is happy to lend a hand, no matter the hour or how tricky it is. Multilingual phone support is also offered by Seven Corners customer service.
John Hancock Insurance Company's website is relatively simple and contains necessary links to documents you must fill out if you have any coverage.
They also have a phone number to call if you need their help finding the nearest hospitals. In addition to their quick customer service representatives, they will also make sure you can pay your medical bills, and they will pay the costs.
Apart from that, they can find you an interpreter, contact your regional embassies and help you with a lost passport.
Customer service is available to all, regardless of country.
John Hancock website: www.johnhancocktravel.com
John Hancock customer service phone number:1-866-888-7803
John Hancock customer care and claims office address: 303 Congressional Blvd, Carmel, IN, 46032
What Do John Hancock Customers Say?
According to Trust Pilot, its claim handling process is well-rated by policyholders, and John Hancock Travel Insurance has 3.7 out of 5 stars.
BBB's (Better Business Bureau) rating of John Hancock is A+, and the company has 54 complaints, which it is responding to.
In terms of financial strength, John Hancock Travel Insurance has a strong record of paying out all its claims. It has an AM Best rating of A or Excellent, the third-highest rating category at the credit rating agency.
John Hancock Travel Insurance Pros
A top-of-the-line medical evacuation plan.
There is an option to cancel at any time.
Only a 3-hour delay triggers travel delay benefits.
Each person is covered for a baggage loss of up to $2,500.
Coverage of hurricanes and other weather events is excellent.
A sports equipment loss policy is included.
Contains $100,000 in accidental death and dismemberment (AD&D) coverage per person 24 hours a day.
John Hancock Travel Insurance Cons
This plan offers superior benefits, but it is among the most expensive.
To qualify for baggage delay benefits, you must wait 12 hours.
What's Not Covered?
To get the most from your travel insurance policy, you must familiarize yourself with its exclusions. Here are some examples of the exclusions of the John Hancock Insurance Agency Gold plan.
Except for accidental injuries, dental treatment is not available
Damages caused by intoxication or narcotics (unless prescribed by a physician and taken according to their instructions)
An emotional or mental disorder
Physical exams, hearing aids, eyeglasses, contact lenses, and other non-emergency treatments.
Injuries caused by accidents should not result in cosmetic surgery
The most common injuries are those suffered during contact sports, hang gliding, skydiving, mountaineering, horse racing, car and motorcycle racing, parachuting, scuba diving (unless accompanied by a dive master), spelunking, and bungee jumping.
Learn to fly an aircraft or become a pilot
Attempts at suicide or suicide by suicide
Involvement in a riot or civil disturbance
John Hancock Travel Insurance FAQ
Do John Hancock Insurance Agency Travel Plans Cover Covid?
Plans are available that include coverage for Covid-related medical expenses and coverage for canceled trips.
These plans allow you to be refunded for 100% of your deposit, should you cancel your plans due to contracting Covid. Additionally, if you contract Covid during your trip, these plans may be able to cover your medical expenses.
Do John Hancock Insurance Agency Travel Insurance Plans Cover Pre-Existing Medical Conditions?
Getting a preexisting medical condition waiver from John Hancock Insurance Agency is possible. Be sure to review your policy details.
Pre-existing conditions won't be excluded from coverage when you have this waiver. For instance, John Hancock Insurance Agency's Gold plan will cover pre-existing conditions if you buy it within 14 days of making your first trip payment. At the time of your policy purchase, you must be medically able to travel and your policy must be the first and only to cover your travel dates and destination.
Do John Hancock Insurance Agency Travel Insurance Plans Have "Cancel for Any Reason" Coverage?
John Hancock Insurance Agency allows New York residents to include the cancel for any reason upgrade in some plans, but not in all.
One of the cool things about traveling insurance with us is that if the forecast predicts too many stormy days for your liking, you can cancel for that reason, get some reimbursement of your expenses, and live to vacation another day.
Be sure to look at CFAR's Terms and Conditions and Plans if you're planning on buying a plan. For instance, the Gold Plan reimburses 75% of your expenses for certain claims. But in order to do that, you must pay the appropriate fee and cancel at least two days prior to departure.
Is john hancock travel insurance good?
Yes, John Hancock travel insurance is a good option for those looking to protect their investment when planning a trip. With three plans to choose from – Bronze, Silver, and Gold – there are plenty of options to suit different needs and budgets.
All plans provide coverage for unexpected medical emergencies, trip interruption, baggage loss or delay, rental car damage and more. The higher-level plans also offer additional benefits, such as coverage for pre-existing medical conditions and accidental death and dismemberment.
The Bottom Line
When it comes to travel insurance, John Hancock offers comprehensive coverage that is tailored to your specific needs. Their Bronze, Silver, and Gold plans provide various benefits, including emergency medical and dental care, trip cancellation and interruption protection, baggage delay and loss coverage, and more.
They also offer additional coverage options such as pet medical insurance and emergency medical evacuation. The cost of their policies depends on the plan you choose, but they are generally very affordable.
John Hancock's customer service is friendly and helpful, and their customers have primarily positive reviews about their experience.
Although their plans come with some exclusions and not all risks are covered, their policies provide a solid level of protection for travellers. John Hancock may be an excellent option if you're looking for an affordable and reliable travel insurance policy.
Also Read

Sofomy.com Reviews: Is Sofomy Legit or a Scam?

Snipes USA Review: Is This Sneaker Store Legit?

Hawalili Reviews – Is Hawalili a Scam or a Legit Clothing Site?

SignalTech WiFi Booster Reviews – Find Out If This WiFi Booster Works!

Travelcation reviews – Is travelcation.us a legit travel booking site or a scam?

Vchics Clothing Review: Is This Store Worth Your Time & Money?

Upustyle Reviews: Is Upustyle Genuine or a Scam?

YoclubWear.com Review – Is YoclubWear Legit or a Scam?

Travellergram Reviews: Is this Travel Site Legit or a Scam?

Fashiontiy Reviews – Is Fashiontiy Legit?

Nishiki Bike Reviews: Is it Worth Buying?

Gosplitty Reviews: Legit or Safe to Book Hotel Rooms?